CPF ready to digitise broiler supply chain
THAILAND - Charoen Pokphand Foods PCL (CPF) announced today (14 June 2018) a digital transformation that will revolutionise its broiler supply chain. Cloud technology and Big Data will play important roles in synergising all of CPF's business units while and improving the efficiency of operation from farms to fork
CPF today signs a memorandum of understanding with US-based JDA oftware Co Ltd, a world-class supply chain and logistic developer, to revamp CPF's broiler business supply chain. This partnership aims at digitising the business from top to bottom, including stores, distribution centres, logistics, and manufacturing in a digital network, matching demand and supply continuously, at every point in the supply chain.
The big data analytic will play a big part in providing better trend forecasting, cross-functional planning and plant execution. Ultimately, it will result in cost savings, less environmental impacts and improved customer experiences.
Sooksunt Jiumjaiswanglerg, CEO of Agro Industrial Business and co-president of CPF, said implementing the best-in-class technology has always been one of the company's main strategies in increasing the efficiency in management, manufacturing and stakeholder services. The company's products and services are well recognised in more than 30 countries to which CPF exports.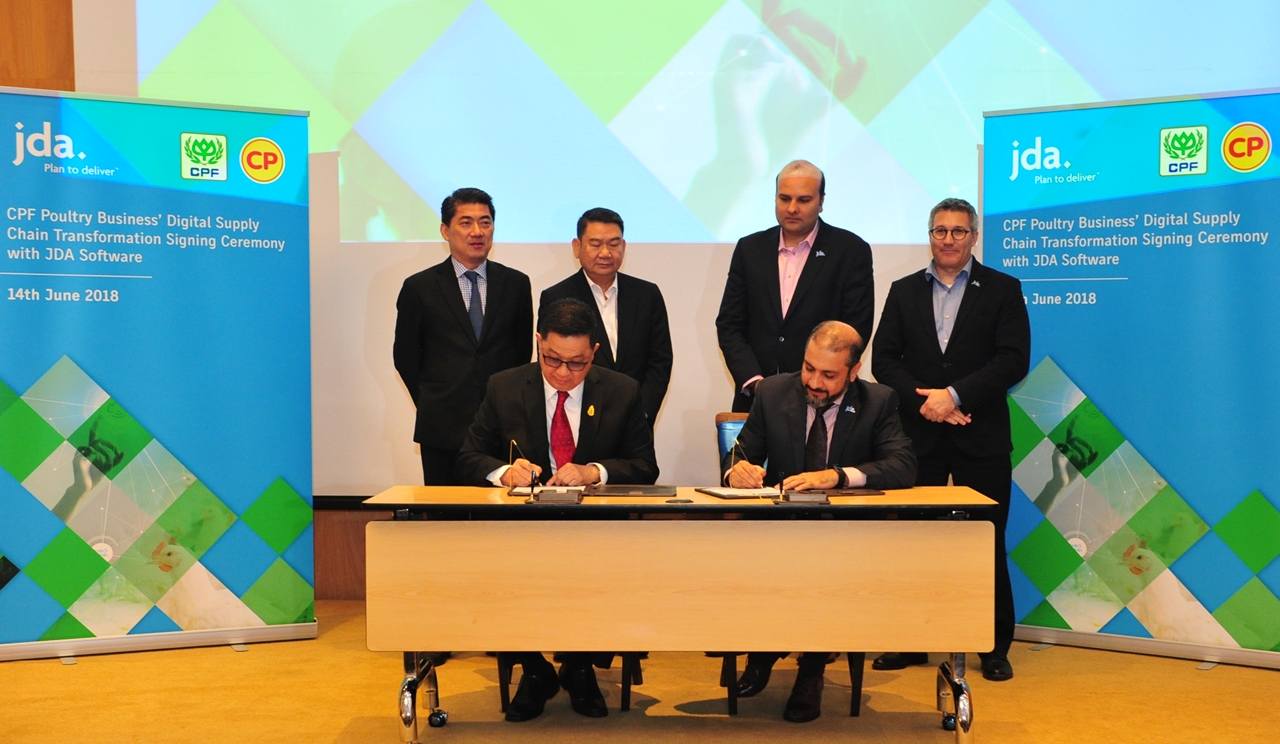 "CPF has adopted change to strengthen its competitiveness in the world market. It is my honour to say that we are the first company in Thailand's food sector to make a Digital Supply Chain Transformation. The digitalisation helps us to attain the finest and safest food quality as well as ensuring consumers that our products will be delivered in a timely manner," he said.
Mr Prasit Boondoungprasert, Chief Operating Officer, Chicken Business and International Trade at CPF, explained that with the revamped supply chain, the company can integrate all units involved in broiler operation harmoniously.
The company will also reform database structure at the plant to be compatible with corporate strategic planning. The new structure will lead to better sales and operation planning decisions as well as more accurate and agile supply change management.
The digital transformation will start from broiler business in Thailand and expand overseas later on.
"As a leading integrated agro-industrial and food business, it is of the upmost importance for CPF to attain the best supply chain visibility to ensure strength in our production as well as demand and supply planning accuracy. Digitalisation is allowing us to improve our consumer experience, reduce risk, rightsise inventory and reduce wastes," Mr Prasit said.
Mr Prasit added that nowadays consumers are becoming more and more conscious of food safety, contamination and foodborne illnesses. Rightsising inventory can reduce the risk of tainted supplies in a complex production line and enable the company to track every process accurately. Consumers can be confident that CPF's products are fresh and safe.
Mr Amit Bagga, President of JDA Software in Asia Pacific Region suggested that it is necessary for organisations to digitalise supply change to bring the best capacity
"As consumers become more demanding and regulations get stringent, supply chains are becoming more complex and processing more intricate. To stay competitive and agile, organisations need to leverage supply chain technologies and accelerate their digital transformation," said Amit Bagga, President, Asia-Pacific, JDA.
"With JDA solutions, CP Foods will now be able to direct and track every touch point along the way, move with agility, efficiency and control, while being a trusted, low-risk partner to its customers," he added.
As reported by CPF