New opportunity for arable farmers: Grow your business with free range chickens
UK - Traditional Norfolk Poultry, a leading producer of free range chickens in the UK, has chosen the Cereals event in Cambridgeshire this week to launch its latest project to offer arable farmers a new opportunity for diversification
"There is an increasing demand for our high-welfare poultry and we are looking to work with farmers across East Anglia to expand our production," said Mark Gorton, co-founder and joint managing director of Traditional Norfolk Poultry (TNP).
"We are targeting farmers willing to invest up to £1 million to set up a poultry unit. This will generate a substantial addition to the farm income as well as returning their investment within ten years. With farming facing a more uncertain future after Brexit, we believe this is an exciting and profitable opportunity to diversify into a growing market."
Over the last 30 years TNP has become one of the leading suppliers of high-welfare chickens to major UK retailers. This growth has been based on contract production across more than 50 sites in the region– owning the birds, housing and equipment and paying farmers for their facilities and management of the flocks.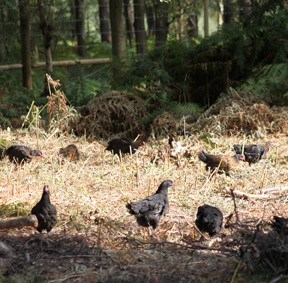 Norfolk Black Chickens unique to TNP
"From our conversations with the major retailers, we know there is no stopping the increase in popularity of free range poultry," said Mark Gorton. "To meet this demand we need to bring a new generation of farmers into the industry by providing them with a strong business case for investing in production.
"Our new business model is based on farmers investing in purpose-built static housing that we have specifically designed for larger flocks while providing the birds with the highest possible welfare and the best utilization of a fully enriched range.
"We have put together a package that covers everything from the initial planning / screening, house design and build and range design through to comprehensive in-house training for new growers. Importantly, we have established contacts for funding to finance the whole project. Unlike some other types of diversification, this does not depend on the marketing expertise of the farmer - but it does require the farmer to 'buy in' to our whole high welfare farming ethos."
The optimum site requires five hectares of land with three houses for a total of 40,000 birds which is projected to cost around £1 million to construct. There are also smaller options.
The project has been designed with help and advice from two colleagues with vast experience of the UK poultry industry - Jim Lambert, who joined TNP as agricultural manager last autumn after almost 25 years with Cobb, and Lionel Halls who has a lifetime's experience within the poultry industry and who has developed many poultry units across the UK during his career.
"Through the years TNP has built up a vast wealth of expertise in planning and obtaining approval for free range sites, housing, equipment, fencing, tree planting, biosecurity and biomass as well as how to manage birds on free range for maximum welfare and profitability," said Jim Lambert.
"We will share this expertise with farmers seeking to invest in this type of production. We also have our own academy farm near Ely where we provide residential and day-to-day practical training."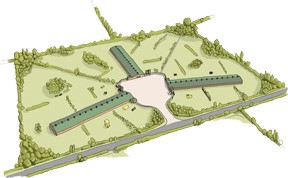 Ideal site for 40,000 birds
Although the model scheme will typically provide a return on investment in ten years along with enhancing farm income, it can be tailored to a longer period if the farmer opts to take a higher income each year. Alternatively, TNP offers the option of renting back the facility if a farmer does not want to be involved in running the unit.
"We believe the scheme will appeal to farmers who are seeking to diversify into an enterprise with a high welfare ethos," added Mr Gorton. "High standards of welfare and environment are increasingly shaping the future of farming in this country and we are seeking to help farmers take advantage of this in a way that will also enhance returns from a typical East Anglian farm."