Ross 400 Clubs see growth, success in Balkan region
Rise in membership, performance in Slovenia, Serbia stems from commendable stockmanship and hard work
Aviagen® Kft is very pleased with customers in Serbia and Slovenia, and for good reason. Due to their expert and diligent flock management, they are maximising the genetic potential of Ross® broilers, and as a result, membership in the Ross 400 club is rising.
Since the beginning of the Kft Ross 400 Club in the region in 2013, the number of new members has more than quadrupled, with 2017 seeing 22 club inductees and 1 addition already in 2018.
Agromerkur and Hrana Produkt set performance records
Complementing the upswing in membership are outstanding European Production Efficiency Factor (EPEF) scores, a standard measure of efficiency and performance. As a case in point, customers Agromerkur, Slovenia, and Hrana Produkt, Serbia, have reached EPEF levels of 450 and beyond, setting a record for broiler production in the region.
Part of EPEF scoring considers feed conversion, or the rate at which feed is converted to live weight. The winning customers achieved average rates of 1.5 to 1.6 of feed per 1 kilogram of broiler weight.
Accomplishing these results requires hard work, skillful management and close attention to detail in areas such as biosecurity, nutrition and environmental management, which contribute greatly to bird health and welfare.
Introducing…Ross 400 Club winners 2015-18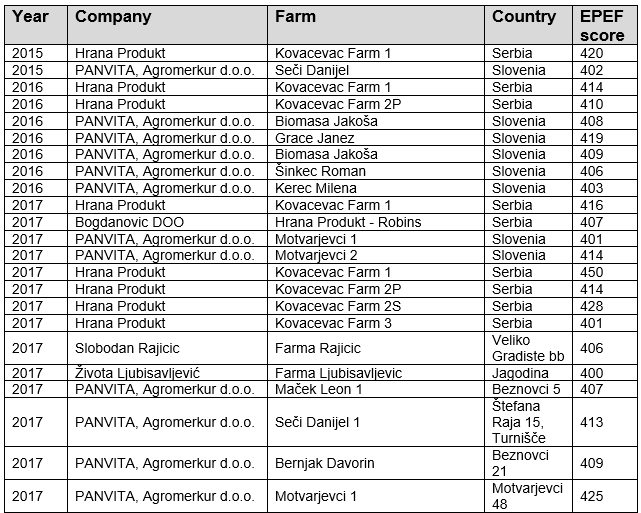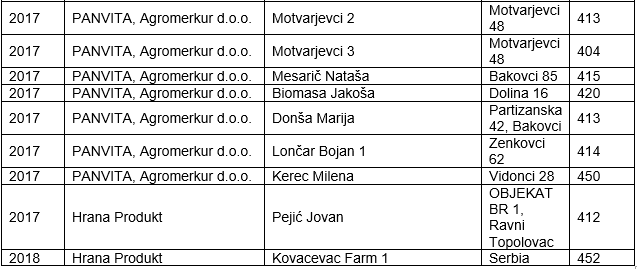 Aviagen Kft Technical Service Manager Dejan Bosanac said, "In the past years we've realized noticeable improvement in the genetic potential of our Ross broilers, which subsequently shows up in field performance. This year-by-year improvement is especially visible in our recurring Ross 400 Club members such as Agromerkur and Hrana Produkt. Some of the results are truly amazing, ranking with the high levels we are seeing worldwide. Congratulations to all of our customers who've achieved Club membership, which will no doubt continue to grow in the near future and beyond."
"With Aviagen's continuous focus on improving the genetic potential of Ross birds, as well as our company's focus on improving efficiency and productivity on broiler farms, we were able to achieve these excellent results on our broiler farm in the village of Kovačevac, Serbia," said Milan Mitrić, poultry specialist from Hrana Produkt.
"Good production results are the basis of good financial results," Jurij Bertalanič primary production manager of Agromerkur. We've achieved excellent results in broiler production during the past few years. In 2013, for the first time ever, we reached an EPEF score of over 400, and from then on have added new members to the Ross 400 Club year on year. We're seeing equally strong success on the breeder side, with a 10 percent improvement over the past three years, thanks to careful flock management and expert advice from Dejan and the Aviagen team. We look forward to continued improvement and success with our Ross birds."
Aviagen Kft sales and customer service representatives visit the winning customers, personally congratulating them and presenting them with Ross 400 Club certificates.
About Aviagen
Aviagen® is a global poultry breeding company that develops pedigree lines for the production of commercial broiler chickens under the Arbor Acres®, Indian River®, and Ross® brand names. The Rowan Range® and Specialty Males® are specialty breeding stock from Aviagen that offer greater flexibility for customers to meet specific or niche market requirements. The company is based in Huntsville, Alabama, USA with a number of wholly-owned operations across the United Kingdom, Europe, Turkey, Latin America, India, Australia, New Zealand, and the U.S., and joint ventures in Asia. Aviagen employs more than 3,900 people and has a distribution network serving customers in more than 100 countries.
For further information, please visit www.aviagen.com.