Ceva Santé Animale and Olam Hatcheries sign MoU to further develop poultry production in Nigeria
Ceva Santé Animale S.A. ("Ceva"), a leader in innovating poultry vaccines, and Olam Hatcheries Limited ("Olam Hatcheries"), a wholly owned subsidiary of Olam International Limited ("Olam"), a leading agri-business operating across the value chain in 66 countries, today jointly announced the signing of a Memorandum of Understanding ("MoU") to further develop poultry production in Nigeria.
Ceva is currently supporting Olam's hatchery vaccination programme for day-old-chicks ("DOC") in its hatchery by supplying vaccine, vaccination equipment and technical assistance. Olam inaugurated its US$150 million state-of-the-art poultry feed mill and DOC facilities in Kaduna State in September 2017.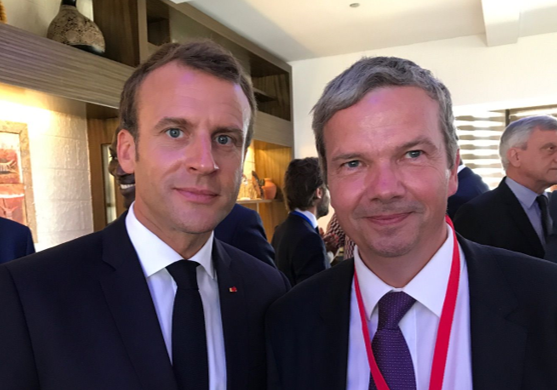 Emmanuel Macron, President of the French Republic, during his Presidential visit to Nigeria congratulates Dr Marc Prikazsky, CEO, Ceva Santé Animale, on the signature of the new partnership.
The MoU will see the formation of a joint committee consisting of experts and managers from Ceva and Olam to explore four main potential areas of collaboration and technical cooperation, specifically:
Upgrading of Olam's Veterinary Diagnostic Laboratory ("Lab") at Kaduna to become a reference Lab for Sub-Saharan Africa
Development of new private labs in other regions of Nigeria to provide cost-effective and timely diagnostic support for Poultry and other animal husbandry farms
Training of Olam's managers and field employees by Ceva on proper vaccination techniques, on-farm diagnosis and Lab analysis, with an option for the training to be extended to select customers of Olam's feed and DOC at a later stage
Setting up of research projects locally and internationally involving other scientific partners for deeper epidemiological evaluation of diseases and appropriate solutions for Nigeria's poultry sector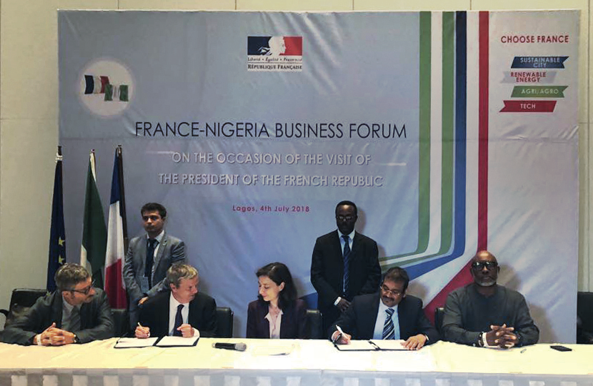 From left to right: Dr Pierre-Marie Borne, Director of Public Health, Zoonoses and Food Safety, Ceva Santé Animale, Dr Marc Prikazsky, CEO, Ceva Santé Animale, Delphine Gény-Stephann, French Secretary of State to the Minister of Economy and Finance and Sharad Gupta, Senior Vice President of Olam Grains and Head of Animal Feeds & Protein
Dr Marc Prikazsky, Chairman and CEO of Ceva, commented: "We are delighted to be partnering Olam in its journey to grow its animal feeds operations. This partnership is very much in line with our 'Together, beyond animal health' vision, one key element of which is to help ensure the supply of healthy food for a growing world population. It also continues our history of investment in Africa, where leading countries such as Nigeria will need to deploy the latest available agricultural technologies to maximise the production of food in-country."
Sharad Gupta, Senior Vice President of Olam Grains and Head of Animal Feeds & Protein, explained the rationale for the partnership: "Our collaboration with Ceva is timely as Olam Grains scales our animal feed operations in Nigeria and beyond. As commercial poultry production in Nigeria experiences rapid growth, so does the need for vital veterinary and scientific support. Ceva brings its expertise in vaccination to our hatcheries, allowing purchasers of DOCs to be even more assured of safety and quality."
The two companies will bring a network of international partners, including the National Veterinary School of Toulouse, France and local experts, to develop training programmes for managers and technicians in the poultry sector in Nigeria. The partnership will also make available all scientific data to the wider veterinary community, to strengthen epidemiological evaluation and simplify the search for appropriate solutions.