Japan Chunky Association journeys to VIV Europe and Aviagen SAU
EDINBURGH, Scotland - 31 July 2018: Aviagen recently welcomed a delegation from the Japan Chunky Association (JCA) to its stand at VIV Europe 2018 in the Netherlands and to Aviagen SAU in Spain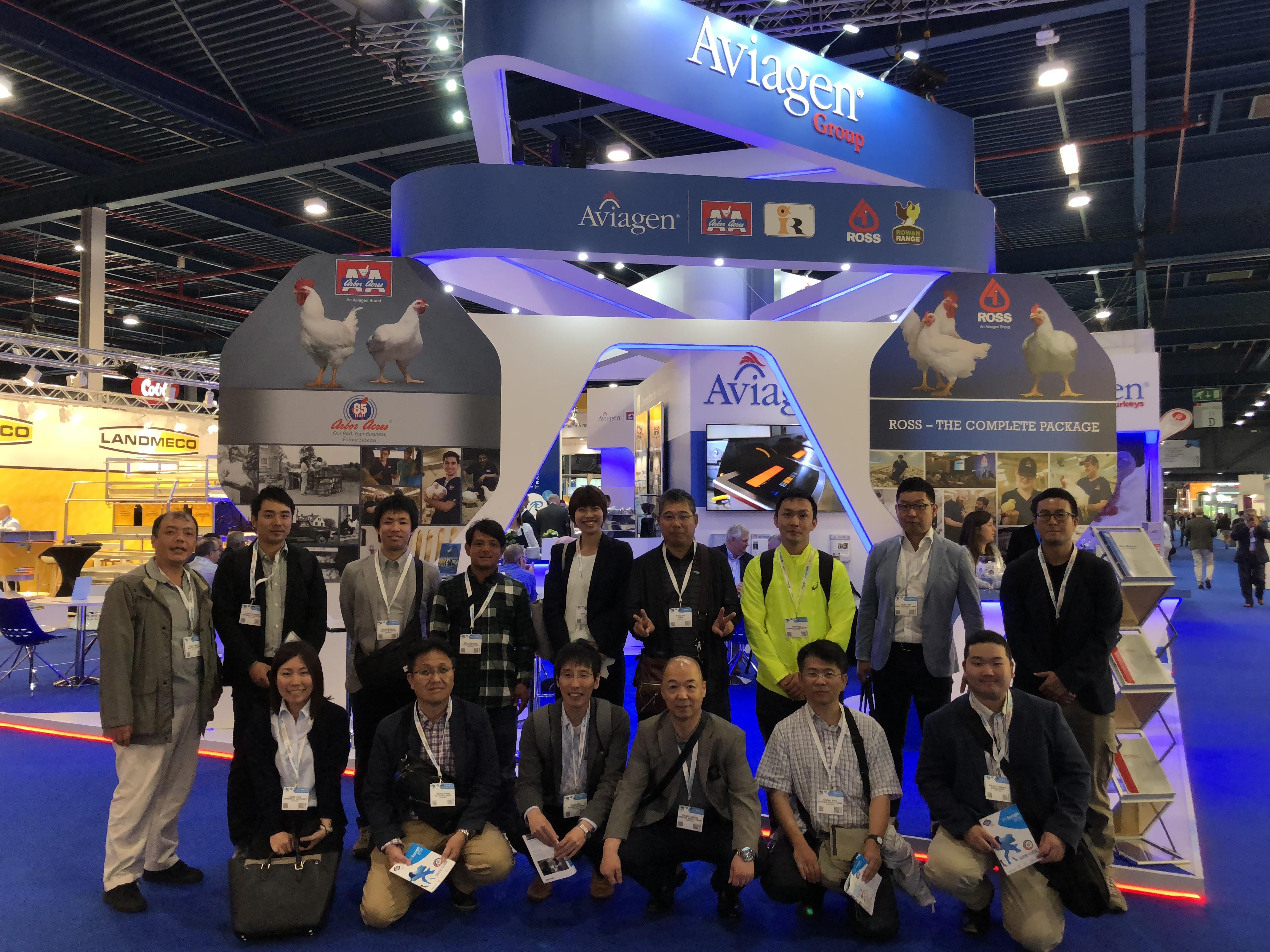 Japan Chunky Association (JCA) pays visit to Aviagen stand at VIV Europe 2018
The JCA delegation, made up of 15 high-profile members of the Japanese poultry industry, represented integrated firms, independent hatchery owners, feed suppliers and Nippon Chunky, the longstanding Ross distributor in Japan. The visits to VIV Europe and Aviagen SAU were accompanied by Ross Vice President of Asia Orapan Chansawat.
Productive experiences at VIV Europe and Aviagen SAU
The delegation began their mission by attending VIV Europe during 20-22 June. At the show, they were welcomed by the Aviagen Europe and TMEA teams, touring the stand with its "Committed to the Poultry Industry" theme.
From there they headed to Aviagen SAU in Spain, where they spent time at the new Parent Stock (PS) hatchery built to meet a growing demand for Ross products in Spain, Portugal and Morocco as well as Grandparent Stock (GPS) farms.
According to Hideaki Kokubo, executive officer of Nippon Chunky, the experience was beneficial for the entire JCA group. "We enjoyed our discussions with the Aviagen team at VIV Europe, and our tour of the new Aviagen SAU PS hatchery and GPS farms. We were impressed with the facilities, which integrate the latest in cutting-edge technology, biosecurity and cost and energy efficiency. The modern equipment, along with best management techniques, helped us gain insight that we can apply to our own operations in Japan. This year marks our 36th mission to collaborate with our poultry industry colleagues around the world, and we look forward to future visits."
Orapan Chansawat said, "We enjoyed the opportunity to welcome the JCA to our stand at VIV Europe and to Aviagen SAU in Spain. This cross cooperation between our business units enables us to better demonstrate our commitment to our valued customers. Through our investment in facilities and equipment, as well as our efforts to share the most recent and effective management practices, we aim to help our customers achieve the highest quality and performance with their Ross broiler breeding stock."
About Aviagen
Aviagen is a global poultry breeding company that develops pedigree lines for the production of commercial broiler chickens under the Arbor Acres, Indian River, and Ross brand names. The Rowan Range and Specialty Males are specialty breeding stock from Aviagen that offer greater flexibility for customers to meet specific or niche market requirements.
The company is based in Huntsville, Alabama, USA with a number of wholly-owned operations across the United Kingdom, Europe, Turkey, Latin America, India, Australia, New Zealand, and the U.S., and joint ventures in Asia. Aviagen employs more than 4,600 people and has a distribution network serving customers in more than 100 countries.
For further information, please click here