Sovereign Foods admitted to "Proudly South African" Hall of Fame on 70th Birthday
SOUTH AFRICA - Uitenhage-based Sovereign Foods, South Africa's third largest poultry producer and one of Nelson Mandela Bay metro's largest food manufacturing firms and employers, has received the highest honour of South Africanness on the 70th year of its existence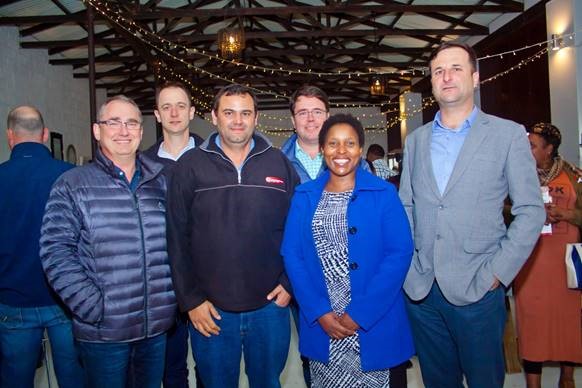 Sovereign Foods celebrated their admission as a 'Proudly South African' poultry producer at their recent EXCO Roadshow held in Port Elizabeth. The EXCO Committee is made up of, back from left, Grant Coley (CFO), Blaine van Rensburg (Group Executive: Products) and, front from left, Chris Coombes (CEO), Ettienne du Preez (Group Executive: Agriculture), Thuto Maepa (Group Executive: Human Resources) and Gerald Walter (Group Executive: Sales and Marketing)
"We are pleased to announce that our company was rigorously assessed by and admitted to the Proudly South African league which celebrates organisations with the highest standards and compliance in relation to local content, fair labour practices, sound environmental standards, and product quality," announced Gerald Walter, Sovereign Foods Director of Marketing and Sales.
Sovereign Foods began in 1948 as a family business in the Rocklands Valley in the Eastern Cape and today holds fully integrated agro-processing operations in Port Elizabeth and Hartbeespoort serving major consumer, retail and catering markets in South Africa.
The company supplies raw and manufactured value-added poultry products and meal solutions for South African households through the retail and quick service restaurant (QSR) channels.
Sovereign Foods admission to Proudly South African was achieved through assessment criteria which covered four areas:
For local content, Proudly South African requires that 50 percent of cost of production occurs within South African borders; for quality, ISO accreditation is required; for fair labour practices, the company must have an excellent track record to fair labour practices and strong compliance with labour legislation; and for environmental standards, the company must comply with environmental legislature and lead in carbon footprint reduction, recycling and waste management.
Proudly South African was formed to address South African government's socio-economic developmental goals of rural development, land reform, education, health, and job creation through the advent of a "buy local" initiative that bolsters local procurement, local economy investment and unlocking of economic multiplier effect.
"The Proudly South African admission, in the seventh decade of the company's existence, is not only special for all Sovereign staff, but also for our strategic partners and clients as well as suppliers.
"It is only through harmonisation of this tripartite comprising employees, clients, and our service providers and vendors which has delivered excellent results to date that we can really celebrate what the Proudly South African initiative sets out to do in terms of engendering socio-economic change, progress, poverty alleviation, South African economic growth and retaining employment opportunities on home ground," said Walter.
Commenting on Proudly South African, Chris Coombes Sovereign Foods' CEO said:
"In the coming years and as we prepare the company for another 70 years of successful business, we will continue to pursue and deliver programmes, strategies and investments focused on transformation, empowerment and development in the broadest sense.
"This will on the one hand support the development and growth of Sovereign Foods, the prosperity of our communities and clients, and on the other hand achieve the attainment of goals set out by the Department of Trade and Industry (dti) and the Department of Agriculture, Fisheries and Forestry and the realisation of future private public partnerships especially with the Department of Health as Avian Flu becomes part and parcel of the South African and global landscape in the distant future."
"As much as we plan to invest in communities with innovative CSI programmes and in the development of staff, we also plan to invest in world-class farming and processing assets. And, by embracing innovation and disruption across the social, business and environmental dimensions of our business, we plan to make haste on our goal of being the number one poultry producer in South Africa based on production volumes," Coombes said.
As reported by Sovereign Foods