Ross 140 Club breaks new ground in Egypt
Aviagen® Middle East and Africa (MEA) has received its very first member to the Egyptian Ross® 140 Club. Dakahlia Poultry, customer of Ross parent stock (PS) distributor Wadi Poultry, earned membership by achieving a performance of 141.61 chicks at 60 weeks at its Minya Farm 4.
To welcome Dakahlia to the 140 Club, Wadi and the Ross MEA team presented the poultry company with an award in Cairo on July 25.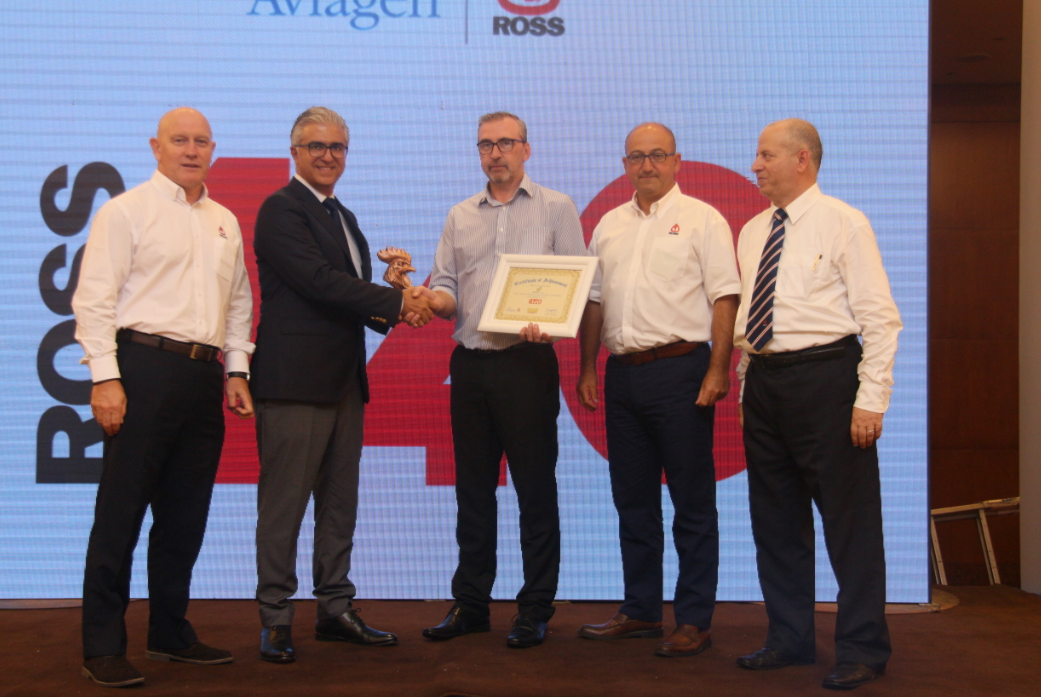 Clubs reflect skill, commitment
In order to gain entry into the Ross 140 Club, farmers must reach a breeder performance of 140 chicks per hen housed at 60 weeks. Wadi and Aviagen introduced the Ross 140 Club as an encouragement to poultry producers throughout Egypt, demonstrating the benefits to be gained with Ross broiler breeding stock.
"We're proud to welcome Dakahlia as the first producer in Egypt to earn membership to the Ross 140 Club. Membership indicates top skill and commitment, and we congratulate the entire Dakahlia team," exclaimed Bulent Tanyildizi, international commercial manager for Ross MEA. "The Ross clubs are extremely important as an encouragement to customers in our region. We look forward to receiving more Egyptian companies to the club and also to introduce the Ross 400 Club, for which Dakahlia is already a strong candidate."
Jim Scoular, production director of Dakahlia Poultry, spoke on what entry to the Ross club means to his team: "We are delighted to be the first in our country to achieve this level of performance in such a challenging environment, and would like to thank the Wadi and Ross MEA teams for their continued support and service. This outcome highlights the Ross 308's excellent performance and genetic potential. I would also like to thank our breeder and hatchery teams at all levels whose hard work, dedication and attention to detail has made this outstanding result possible."
About Aviagen
Aviagen® is a global poultry breeding company that develops pedigree lines for the production of commercial broiler chickens under the Arbor Acres®, Indian River®, and Ross® brand names. The Rowan Range® and Specialty Males® are specialty breeding stock from Aviagen that offer greater flexibility for customers to meet specific or niche market requirements. The company is based in Huntsville, Alabama, USA with a number of wholly-owned operations across the United Kingdom, Europe, Turkey, Latin America, India, Australia, New Zealand, and the U.S., and joint ventures in Asia. Aviagen employs more than 4,600 people and has a distribution network serving customers in more than 100 countries.
For further information, please visit www.aviagen.com.