Aviagen UK Broiler Roadshow delivers the latest information on broiler husbandry
Historic 18th century Oulton Hall, near Leeds, was the first venue for Aviagen® UK's Broiler Roadshow in early September, bringing the latest broiler information and husbandry advice to Ross® growers and other UK industry professionals.
Moving on to Telford, Taunton and Cambridge in succeeding days, the Roadshow was entitled 'Growing for Success', and focused on how growers could optimise their flock management strategies for even better bottom-line results. "The Roadshow demonstrates our commitment to supporting the UK poultry industry," says Stuart Thomson, Aviagen's head of sales & technical – UK. "Over the four days of the Roadshow, more than 200 delegates attended, representing the UK broiler industry – and this provided the perfect opportunity for us to share knowledge, to get closer to customers, as well as support growers through face-to-face discussion and dialogue."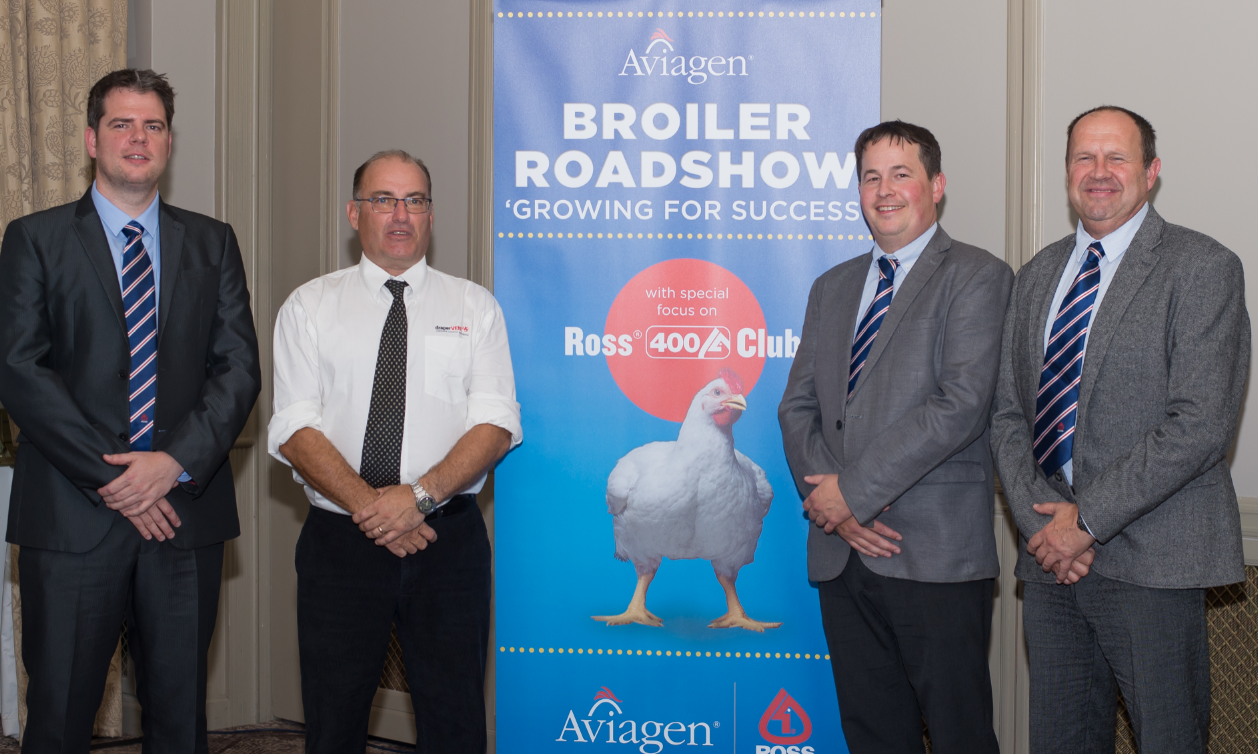 Topical information on best-practice broiler management
The Roadshow comprised four presentations, followed by audience questions, discussions and debate. Glenn Bushell, Aviagen's technical & commercial manager -UK, commenced proceedings with a discussion on seasonal broiler trends - whilst Richard Bailey, poultry health scientist at Aviagen, gave an in-depth analysis of gut health and antibiotic-free husbandry. House ventilation was discussed by guest speaker Justin Emery, ventilation consultant – and Stuart Thomson summarised the activities of the Ross 400 Club, which celebrates those Ross growers who have achieved an EPEF (European Production Efficiency Factor) rating of 400 or more.
The Ross 400 Club – offering major benefits to top growers
"The Ross 400 Club has grown from a handful of members to several hundred," comments Stuart Thomson, "and we're always looking for more growers who've scored 400-plus. Our motto is: 'Every entry counts', so we invite those who have repeatedly hit an EPEF of 400 or more to register every such score." Stuart also mentioned that the 400 Club is soon to introduce an online Forum, where members can initiate discussions and exchange information. "There'll also be a new 400 Club Gold Award scheme," he adds, "to recognise exceptionally high and consistent EPEF performance."
After each Roadshow presentation, delegates enjoyed a buffet supper, providing invaluable opportunities to mingle and network. "The Roadshow has been an ideal opportunity for me to top up my knowledge and meet other growers," said one attendee, whilst another commented: "What I've learned here is directly relevant to my operation and will help me get even better results."
About Aviagen
Aviagen® is a global poultry breeding company that develops pedigree lines for the production of commercial broiler chickens under the Arbor Acres®, Indian River®, and Ross® brand names. The Rowan Range® and Specialty Males® are specialty breeding stock from Aviagen that offer greater flexibility for customers to meet specific or niche market requirements. The company is based in Huntsville, Alabama, USA with a number of wholly-owned operations across the United Kingdom, Europe, Turkey, Latin America, India, Australia, New Zealand, and the U.S., and joint ventures in Asia. Aviagen employs more than 4,600 people and has a distribution network serving customers in more than 100 countries.
For further information, please visit www.aviagen.com.