Biomin sees vision, business sligned with a sustainable livestock future as it further commits to Africa
Many of the factors influencing the feed and livestock industry can be understood as a 'mega-trend' of sustainability—setting a trajectory that promises to shape the future protein economy, according to Biomin.
"Producing affordable food, generating employment, reducing the environmental footprint of farm animals, ensuring their health and welfare, along with the responsible use of antibiotics can all be seen as a move toward greater sustainability," observed Jan Vanbrabant, CEO of ERBER Group and Managing Director of BIOMIN, in remarks made shortly before the official opening ceremony of the 2018 World Nutrition Forum in Cape Town, South Africa.
"At the same time, both climate change and technological innovation have begun to have a greater impact on agriculture in recent years—introducing new opportunities and challenges for the feed and livestock industry where scientific advancement can play a role," he added.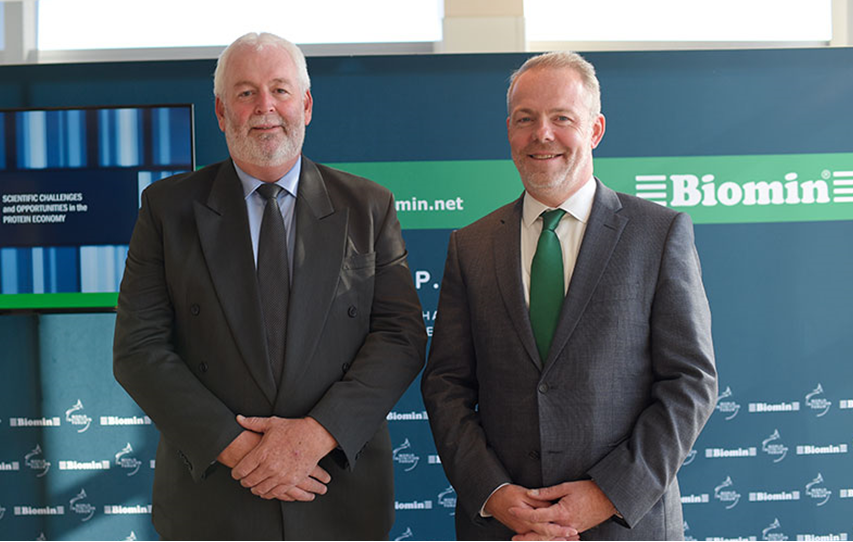 Guiding vision
Since its founding in 1983, BIOMIN has embraced natural ways to support animal nutrition using cutting-edge technologies that benefit animals, producers and the environment. Biomin is a part of ERBER Group, which has committed to sustainability by setting a goal to be carbon neutral by 2023.
"Our goal has always been to support sustainable agriculture, now and in the future," explained Mr Vanbrabant.
Achieving this vision has involved decades of investment into scientific research and development, conducted by an in-house team of over 100 scientists and researchers. This has resulted in a full portfolio of innovative, proprietary solutions in the fields of enzymatic mycotoxin deactivation and farm animal gut performance that deliver return on investment for customers.
"Our main contribution to sustainability is the application of our solutions in livestock," noted Mr Vanbrabant.
Growth and expansion
With a customer base situated in 120 countries, Biomin expects to growth its business and expand customer support as it deepens its contribution to sustainable livestock and aquaculture.
Recent initiatives include:
Investments in additional production capacity in Europe and China
Creation of regional business units in China and Africa
Launch of a new mycotoxin detection service, Spectrum Top 50®
"Bringing scientific innovation to feed and livestock producers throughout the world follows our value proposition, the 3 S's, which stand for Science, Service and Speed," explained Mr Vanbrabant.
Biomin in Africa
With Africa projected to be home to a quarter of the global population by 2050, agriculture and food production will continue to play a major role in the region's economics and development.
The 8th World Nutrition Forum in Cape Town, South Africa provided the appropriate setting for Biomin to expound upon its business activities on the continent. Biomin South Africa began operation in 2011, and has recently expanded its scope to support feed and animal producers throughout sub-Saharan Africa.
"We are committed to Africa, and supporting sustainable livestock in a way that benefits all stakeholders," noted Albert Van Rensburg, Regional Director Africa and Managing Director of Biomin South Africa, adding "Our commitment to Africa means bringing the full value proposition of Erber Group –Science, Service and Speed— to South Africa and beyond."
On 2 October 2018, Biomin hosted the kick-off meeting of MycoSafe-South, a research project to tackle mycotoxin-related food safety issues in sub-Saharan Africa.
In addition, the creation of a new regional business unit that encompasses Africa and the Middle East is expected to provide further focus and enhanced customer support.
"We have set high ambitions for ourselves—not just for sales but also for successful customer outcomes and stakeholder engagement," stated Mr Van Rensburg.
He sees considerable room for growth in terms of product and service offering, as well.
"As a part of Erber Group, we are in a position to bring a broader set of solutions to the feed and food sectors, such as premixes, mycotoxin detection and more," Mr Van Rensburg concluded.
About the World Nutrition Forum
First held in Salzburg in 2004, the World Nutrition Forum hosted by Biomin has become the leading opportunity for industry practitioners to share ideas and exchange knowledge. These biennial summits are consistently well rated by attendees. Each iteration draws upon the uniqueness of the location, speakers and participants while maintaining the highest quality standards for both content and organisation.
Visit http://www.worldnutritionforum.info or contact your local BIOMIN representative for more information.