Strasbourg "flash" group spotlights unfair food trade
EU - 25 October 2018: West Midlands MEP Anthea McIntyre has joined farmers and producers' groups in a "flash" event outside the European Parliament to highlight unfair trading practices by retail giants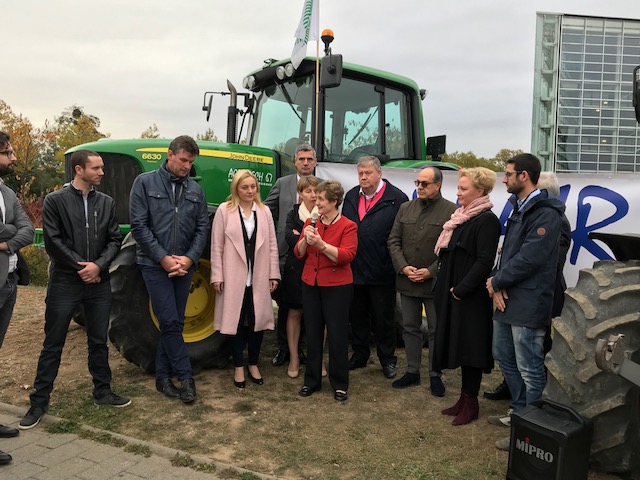 Miss McIntyre, Conservative agriculture spokesman, joined the action in Strasbourg ahead of key vote on proposals to deliver a fairer deal for growers and protection from bullying by major supermarket chains.
COPA COGECA, the European farmers' and co-operatives trade body, organised the event which saw tractors parked outside the parliament building with a message "#CutTheUnfair".
Miss McIntyre has played a key role in shaping EU-wide proposals put forward by the parliament's Agriculture and Rural Affairs Committee. They aim to protect farmers and suppliers from sharp practice including late payments and last-minute cancellation of contracts for fresh produce.
They also demand greater clarity in supply agreements.
At Miss McIntyre's recommendation, the proposals draw on the experience of the UK's Groceries Code Adjudicator, a position created in 2013 to re-evaluate the relationship between supermarkets and their suppliers.
After the event, Miss McIntyre said: "We were aiming to send a clear message to any wavering MEPs that farmers and growers are not seeking special status - just respect and fairness from the businesses which ultimately depend on them.
"It would be good if this could happen everywhere without the intervention of politicians or regulation, but sadly there a some big businesses out there that will seek to take unfair advantage from what they see as a one-sided relationship.
"I am pleased that the UK has taken a lead in providing a solution and set the course for the rest of Europe."