Study shows how unchanged boots disrupt biosecurity
Poultry farmers looking for ways to reduce the spread of viruses and bacteria in their facilities need look no further than the boots on their feet, according to a University of Guelph/University of Montreal study presented at the 2018 Western Poultry Health Disease Conference. [1]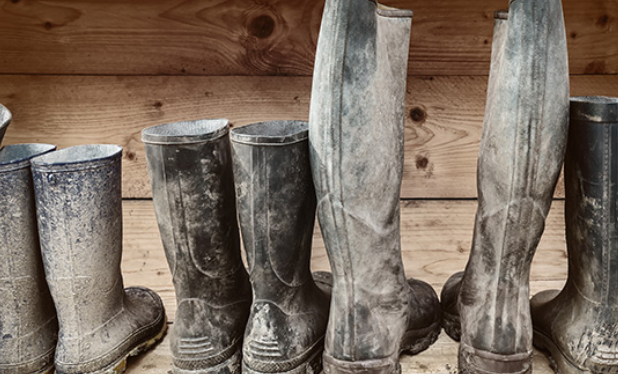 Using real pathogens applied to both boots and floors, the researchers in this study measured contamination levels where employees changed their boots on a Quebec poultry farm. The pathogens applied were a generic E. coli ampicillin-resistant strain and a T4 bacteriophage that provided a surrogate for viruses. The researchers also assessed contamination based on the number of steps employees took into dirty and clean areas.
Overall, the two most common biosecurity breaches found were putting boots on in either clean or dirty areas instead of in hygienic changing areas located between dirty and clean areas, and not changing boots at all — which caused more pathogenic contamination than changing them in the wrong areas.
If boots aren't changed, the first step into either a clean or a dirty area is always the worst for causing pathogenic contamination, and contamination levels do not significantly diminish with subsequent steps, the researchers found. Even after 10 steps, according to the study, "the underside of the boot is still heavily contaminated."
References:
1 Huard G, et al. Assessment and mitigations of contamination risks: Critical knowledge to reduce diseases and increase biosecurity compliance. Proceedings of 67th Western Disease Conference. 2018 April:110-116.