Nutriad premium sponsor of 1st Latin American Poultry Nutrition Conference.
Multinational feed additives producer Nutriad, supported the first Latin American Poultry and Nutrition Conference (LPN) held in Miami (USA) in October as a premium sponsor.
The event attracted more than 1,500 industry professionals representing broiler and egg production companies from Mexico, Central America and South America as well as feed producers and academics. Technical workshops allowed for interactive sessions on the key topics that challenge the poultry industry in the Americas and beyond. Nutriad was present with senior commercial and technical management and once more confirmed its' commitment to the Latin American poultry industry.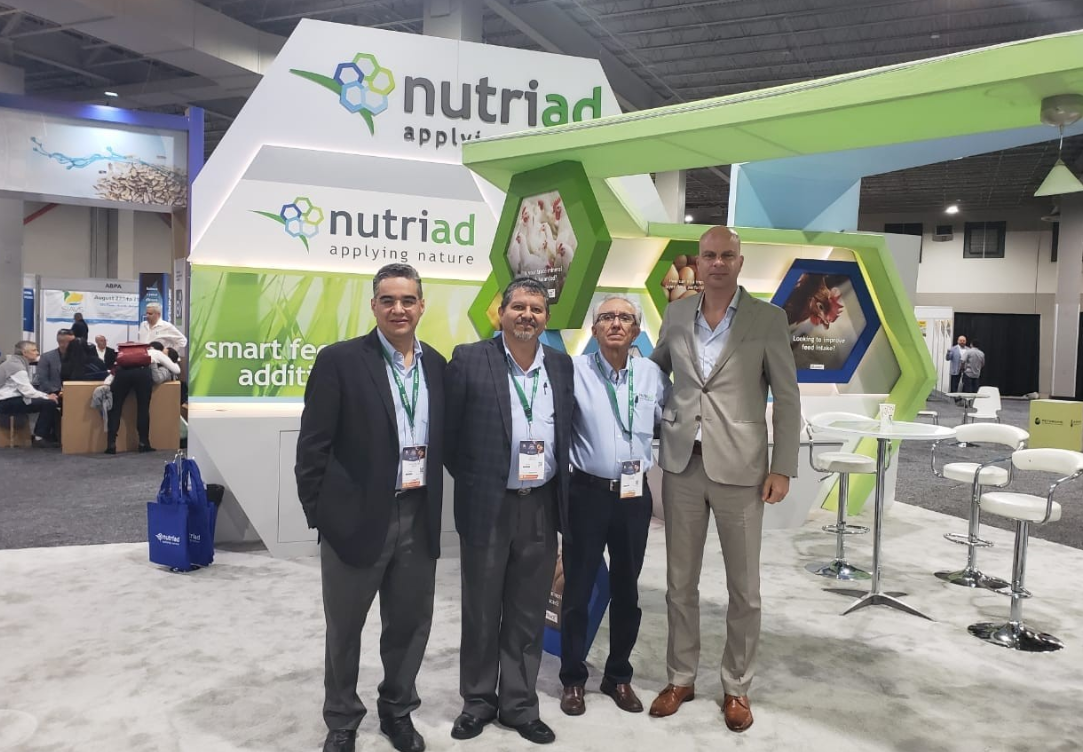 Well know researches presented the various technical workshops. Guilherme Bromfman, a mycotoxin specialist for Nutriad spoke on "The impact of Mycotoxins in Antibiotic Free Production". In his presentation Mr. Bromfman highlighted that most problems that poultry producers face when trying to remove antibiotic growth promoters (AGP) from the diet, can be directly influenced by a mycotoxin contamination and overall grain quality.
The various studies presented by Mr. Bromfman, showed that the quality of raw materials used in AGP diets, should be carefully selected and monitored, as low-quality grains can have lower nutritional value and can cause an impact on weight gain and feed conversion. Mycotoxins, when present, play an important role in the deterioration of the intestinal health of animals, even more so in production free from growth promoters, since these can affect the gastrointestinal tract in different ways: increase the impact of the coccidia, negative effect on the intestinal mucosa, increased colonization of pathogens, impacting the absorption of nutrients from the intestinal microflora imbalance and a deregulation of immunity and efficiency of vaccines.
Commented Mr Bromfman: "Due to weather patterns throughout the US corn season, an early dry season followed by wet conditions during dough and harvest, we see an increased level of mycotoxins contamination. We see this corroborated in Nutriad's current harvest analysis, which shows levels of Deoxynivalenol (Vomitoxin), Zearalenone, and Fumonisin that are significantly higher than previous years."
"We are proud to be premium sponsors of the 1st LPN. It further confirms our commitment to the Latin American poultry industry, in supporting an event that brings industry professionals and researches together in an exchange of information aimed at improving nutrition and health standards across the industry, against the backdrop of changing consumer preferences and increased government regulation. We believe that Nutriad can support finding solutions for today's and tomorrow's challenges, however we can only be truly successful if we manage to combine insights, experiences and knowledge across the entire chain."
NUTRIAD delivers products and services to over 80 countries, supported by 4 application laboratories and 5 manufacturing facilities on 3 continents. Find out more at www.nutriad.com