"We need you to handle antimicrobials with care," says OIE
FRANCE, 14 November 2018 - The World Organisation for Animal Health kicks off World Antibiotics Awareness Week 2018 with a call to action for all animal health stakeholders: "We all have a role to play to protect these invaluable medicines"
To support these efforts, the OIE has developed the WE NEED YOU communication campaign to help stakeholders protect the efficacy and availability of antimicrobials by promoting the actions to be implemented by each player. The complete toolkit, built on the basis of the OIE international Standards, is now available on the WE NEED YOU campaign website.
To welcome the beginning of World Antibiotic Awareness Week 2018, the OIE calls upon all animal health stakeholders, from veterinary services and policy makers to industry to veterinarians and farmers.
---
"We all have a role to play to ensure antimicrobials are handled with care"
---
The emergence of antimicrobial resistance is a major concern, said the OIE in their news release, and effective medicines to control and treat animal and human diseases may soon no longer work. "Animals count on us all to ensure that we preserve and protect the future of these crucial medicines."
The updated OIE campaign and new website provides stakeholders with actionable key messages to handle antimicrobials prudently and responsibly. This is part of a joint Tripartite effort between the OIE, FAO and WHO since the inaugural week in 2015.
"Join us in the fight against antimicrobial resistance by discovering the actions animal health stakeholders can take to protect the efficacy of antimicrobials, follow the OIE international Standards, and unlock key messages to promote behaviour change," they said.
World Antibiotics Awareness Week 2018 follows the 2nd OIE Global Conference on Antimicrobial Resistance and Prudent Use of Antimicrobial Agents in Animals where representatives from all animal health sectors gathered in Marrakesh, Morocco to renew their commitment to the fight against antimicrobial resistance. The engagement of participants, country representatives and the OIE resulted in recommendations to be adopted from the conference, which represent the common action of all animal health stakeholders to ensure the sustainability of livestock production and the maintenance of terrestrial and aquatic animal health and welfare.
To strengthen international collaboration and coordination, the recommendations engage all stakeholders in surveillance and monitoring of antimicrobial use and resistance, engage stakeholders to strengthen the economic case for sustainable investment, build national capacities of Member countries, encourage priority research initiatives, and expand communication activities within national action plans to involve all stakeholders.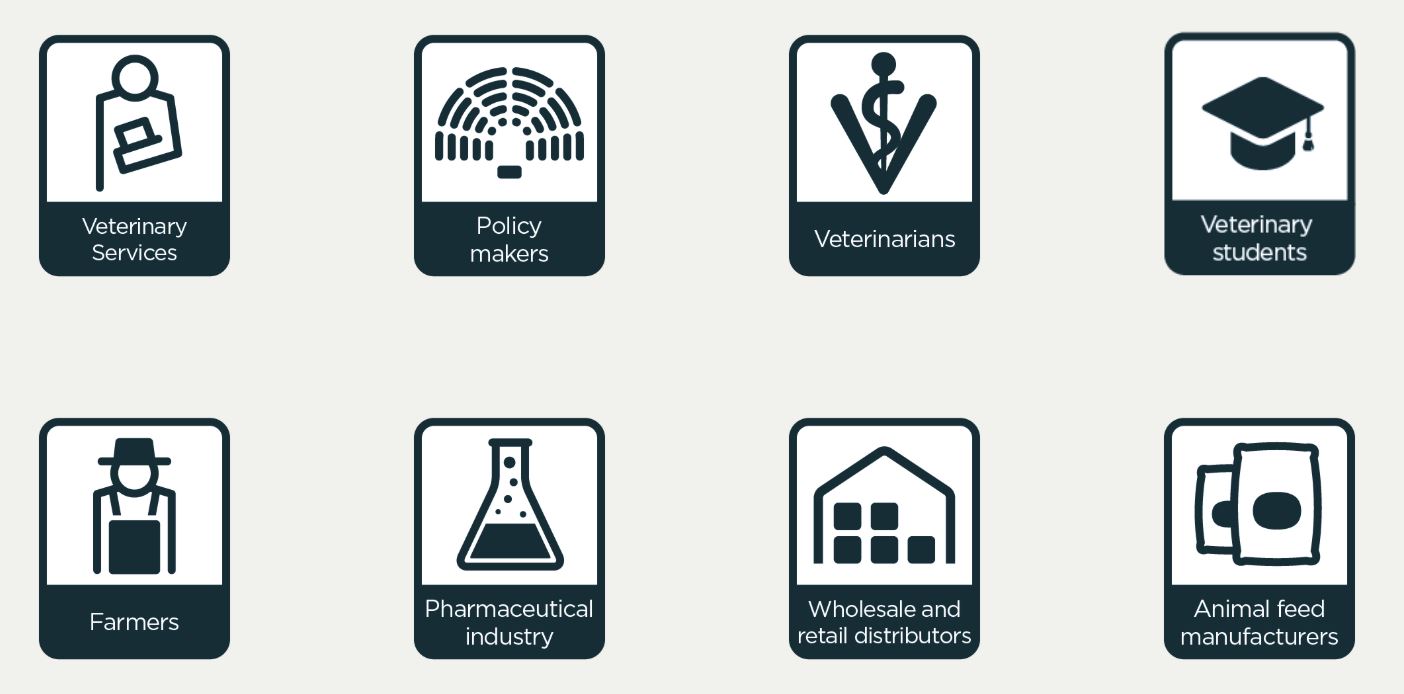 Explore the tools and discover what role each animal health stakeholder can play