New US turkey hatchery shows industry's focus on automation, biosecurity
Between sinking unemployment rates, the challenge of retaining good labour to conduct repetitive tasks and the increasing need to optimise biosecurity, more and more poultry companies are turning to robotics to improve efficiency and production.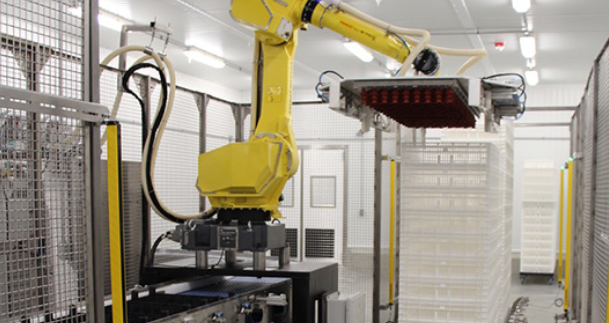 The latest example is Hendrix Genetics, which equipped its new $25 million turkey hatchery with the latest automation technology available — including robotic systems used in both the egg-transfer and poult-processing rooms.
Completed this fall, the new hatchery is designed to handle 35 million eggs a year from its location in Beresford, South Dakota. It will hatch Hybrid Turkeys. Hendrix Genetics is a global turkey breeder and provides both parent and commercial stock to customers.
Efficient robotic egg transfer
According to Hendrix Genetics, the facility is the first turkey hatchery in the US to automate the egg-transfer process. A robot gently moves eggs from trays to baskets — technology that is expected reduce cracked eggs by 2%, according to Jeff McDowell, general manager-Americas, Hendrix Genetics.
"A robot can do a much better job of placing those eggs in a basket than a person can," McDowell told Poultry Health Today. "A more efficient and better handling process that reduces cracked eggs and improves hatches in the facility will reduce costs in the end."
The automation also makes the facility more attractive to prospective hires at a time when South Dakota's unemployment rate is 2%.
"Automation and robots are put in areas where there is lifting or constant repetitive motions…to help alleviate those jobs from a person's daily tasks," McDowell said.
Some of these systems include a robotic de-stacker, chick-shell separator, and a poult-moving system, all produced by KL Products Inc., a robotics company owned by the animal health company Zoetis.
"We think our employees will be happier especially with reduced lifting," he continued. "We want to create a place where employees want to come to work and are proud of the products."
Without the tedious and repetitive tasks, Hendrix Genetics will also need fewer hatchery workers – 50 to 60 instead of 75 or 80 workers McDowell reported.
High biosecurity measures
The new hatchery was built to accommodate increasing biosecurity standards. Biosecurity features range from shower-in and shower-out facilities to KL-produced automatic washing and drying systems for trays, baskets and dollies.
"We have a level of biosecurity with clean side and processing side," McDowell added. "Also, the less people moving around in a facility, the better (for biosecurity)."
The new hatchery's 83,000-square-foot space includes room for future automation.
Eggs for the new hatchery are produced on farms in South Dakota and Minnesota. The poults hatched at the facility are shipped to clients in the Midwest.
Hendrix Genetics hosted a grand opening of the new facility on Nov. 27 — an event that attracted more than 400 public, poultry industry and government officials. That was their only opportunity to see the inside of the state-of-the-art hatchery. Once production starts, the hatchery closes its doors and becomes a carefully controlled environment to ensure good health of its newborn poults.
The hatchery is part of a $70 million investment Hendrix Genetics announced in 2017 to establish their own turkey poult distribution in the US. The rest of the investment went to building another hatchery, updating breeding farms and a new transportation fleet.