Zoetis presents biodevices and automation solutions at Poultry India exhibition in Hyderabad
Zoetis teams presented the Embrex Biodevice, from November 28 to November 30, at the Poultry India Exhibition in Hyderabad, India.
Through live presentations and an interactive booth, Zoetis demonstrated the benefits of the poultry automation system for accurate, compliant, secure and stress-free production. The event featured the most innovative and reputed solutions for the poultry industry, poultry feeds and poultry equipment.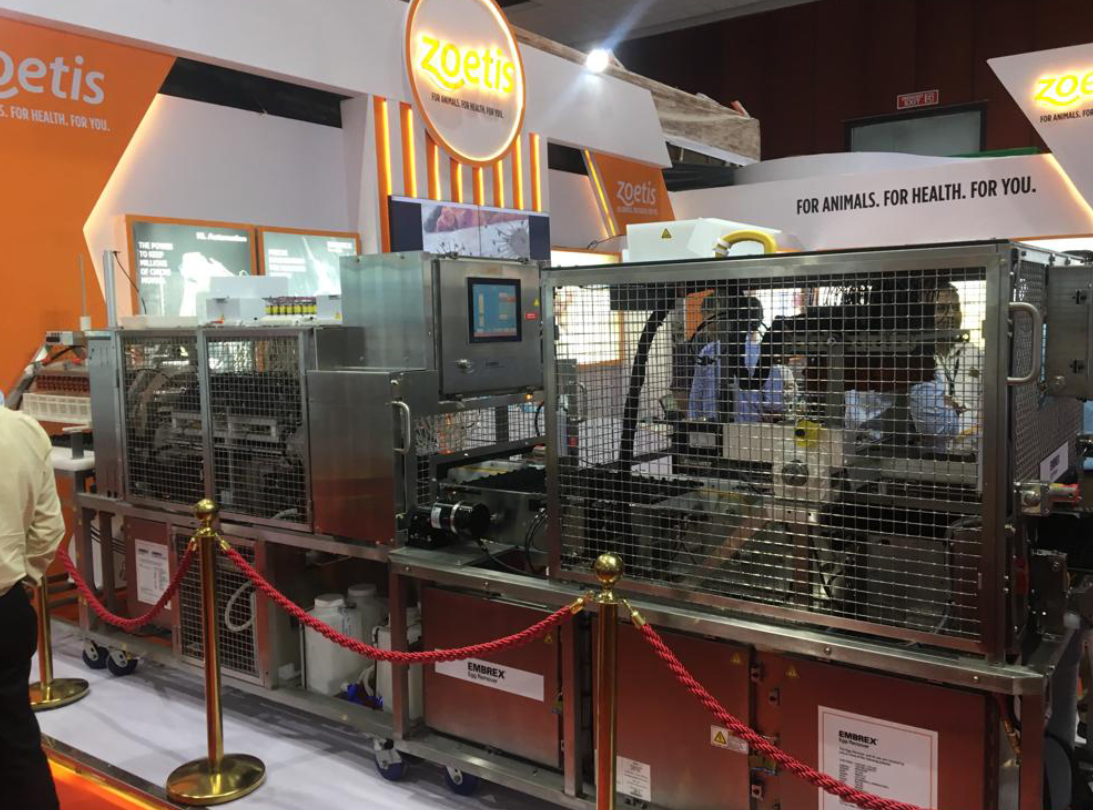 Delivering pioneering technology poultry producers in India
With the increased global demand for poultry meat, hatchery production systems require improved efficiencies in safe and sustainable conditions. With the Embrex Biodevice, Zoetis presents new solutions to Indian producers allowing simplified vaccination for safe, secure and stress-free production conditions, leading ultimately to reliable immunisation [1], disease protection at hatch [2], and more meat at harvest [3].
Supporting farm productivity via enhanced hatchery vaccination
"Biodevice and automation has become a key solution for effective in ovo vaccination to protect birds at hatch," said Ketan Dhamnaskar, General Manager, South Asia, for Zoetis.
Satinder Wahi, International Bio Device & Automation, Commercial Lead, APAC, highlighted the benefits of the new technology. "Zoetis added pioneering technology with the Embrex Biodevice to its current poultry portfolio. With more than 650 devices in operation today, the in ovo system has already vaccinated more than 275 billion eggs across the world. The technology improves birds' health, birds' feed conversion ratio and provides customers an accurate, compliant, secure and uniform solution to produce high-quality meat."
Arkhom Cheewakriengkrai, VP, Southeast Asia, India and Distribution Markets, said: "The Embrex automation system helps integrators prevent disease in day-old chicks, allowing them to grow in healthier and more efficient conditions."
For more information about the Embrex Biodevice, please visit https://www.zoetis.com/in-ovo-biodevices.aspx.
About Zoetis
Zoetis is the leading animal health company, dedicated to supporting its customers and their businesses. Building on more than 60 years of experience in animal health, Zoetis discovers, develops, manufactures and markets veterinary vaccines and medicines, complemented by diagnostic products, genetic tests, biodevices and a range of services. Zoetis serves veterinarians, livestock producers and people who raise and care for farm and companion animals with sales of its products in more than 100 countries. In 2017, the company generated annual revenue of $5.3 billion with approximately 9,000 employees. For more information, visit www.zoetis.com.