Aviagen Kft Awards Serbian growers for top breeder performance
Aviagen® Kft is proud to welcome Serbian producers Aviprom 2011 doo and Robins doo as the latest members of its Ross® 140 Club.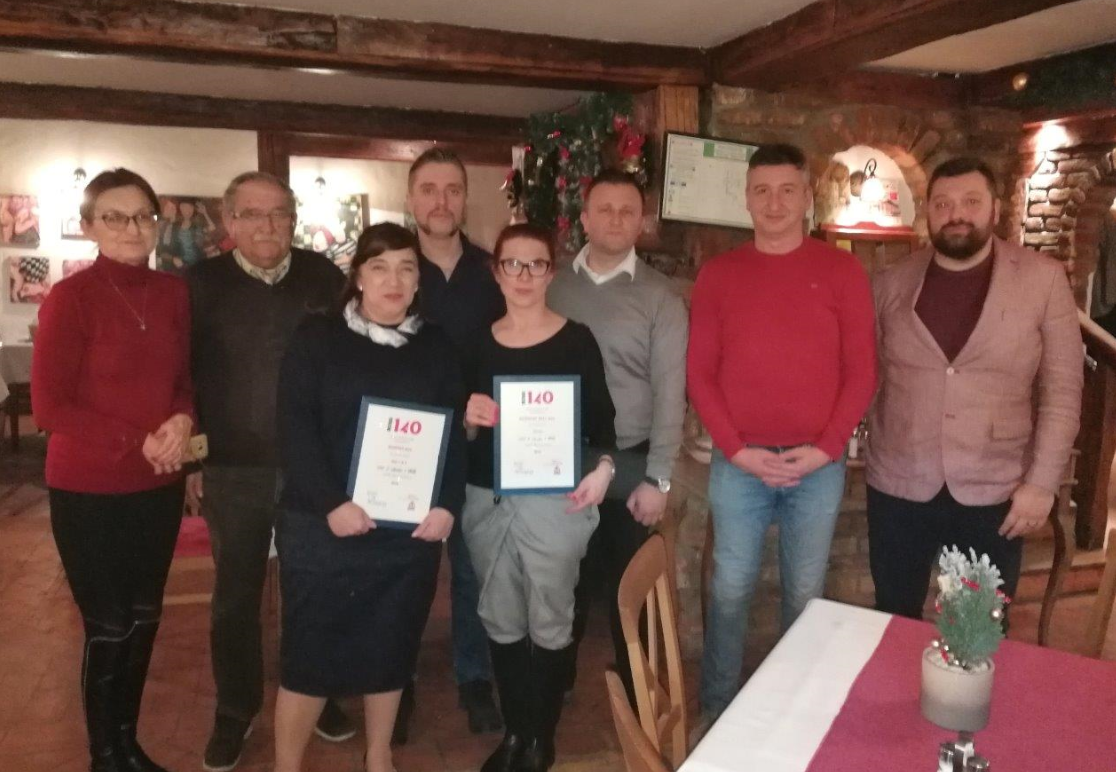 From left: Dubravka Milovanović, Aviprom 2011 production manager; Laszlo Bencik
Nevenka Nedović, Robins doo production manager; Dejan Bosanac, Aviagen Kft regional technical manager; Sanja Kostović, Aviprom 2011 associate; Ivan Stanojlović, Robins doo director; Nikola Kostović, Aviprom 2011 director; Marko Simonović, Aviprom 2011 farm manager
Aviagen Kft awards membership to farmers who, through dedication and excellence in stockmanship, demonstrate a breeder output of at least 140 chicks per hen housed (hh) at 60 weeks. Aviprom 2011 achieved 147.2 chicks/hh with its first Ross 308 parent stock flock ever, while Robins has advanced its record of 150.7 chicks/hh in 2017 to 156.3 in 2018.
Aviagen Kft introduced the Ross 140 Club in 2014, and membership has now grown to eight members in the Balkans, four of them in Serbia alone. However, this number may still rise, as 2018 results are not yet all finalised.
At a ceremony on Dec. 27, 2018, Aviagen Kft's Regional Technical Manager Dejan Bosanac rewarded representatives from both companies.
Dejan shares that Aviagen Kft plans to make the award ceremony a yearly event. Beyond recognizing the dedication of the winners, he sees the event as a forum to exchange ideas, strengthen relationships and plan for the future.
"The get-together enabled us to gather and review last year's work while awarding our two winning companies for exceptional results. Our Ross 140 Club is special. Not only does it demonstrate the genetic potential of our product, but, most importantly, the Club showcases the hard work our customers put into achieving top results. All parts of a company play a part -- from farms to hatchery to veterinary and feed mill departments; everybody must work precisely and together to achieve these award-winning results. Once again I congratulate Robins and Aviprom 2011 and hope to see them achieve even more in the coming years."
About Aviagen
Aviagen® is a global poultry breeding company that develops pedigree lines for the production of commercial broiler chickens under the Arbor Acres®, Indian River®, and Ross® brand names. The Rowan Range® and Specialty Males® are specialty breeding stock from Aviagen that offer greater flexibility for customers to meet specific or niche market requirements. The company is based in Huntsville, Alabama, USA with a number of wholly-owned operations across the United Kingdom, Europe, Turkey, Latin America, India, Australia, New Zealand, and the U.S., and joint ventures in Asia. Aviagen employs more than 4,600 people and has a distribution network serving customers in more than 100 countries.
For further information, please visit www.aviagen.com.