Moba launches new grading machine, Forta GT100
THAILAND - Moba, the world's leading producer of high-quality integrated systems for the grading, packaging and processing of consumption eggs, launched its new egg grading machine, The Forta GT100, at the VIV ASIA 2019 show held from March 13- 15 in Bangkok, Thailand.
The Moba Forta GT100 (Grading Technology 100) can produce 100 cases/hour or 36,000 eggs/hour and can be equipped with up to 18 packing lanes. By incorporating three crucial aspects for a worry-free operation, the Forta machine is the gamechanger in egg grading.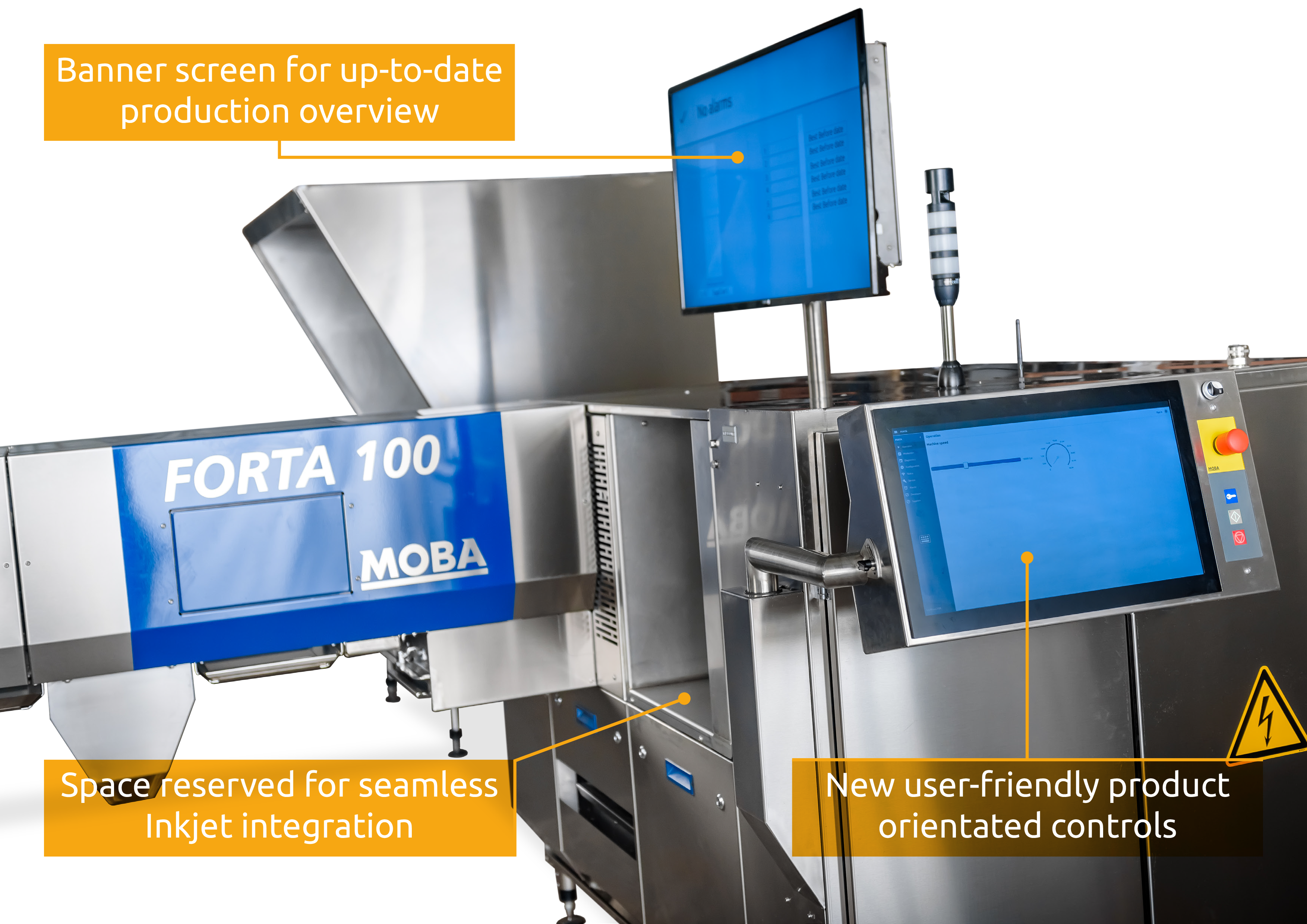 Topline technology
Proven and reliable systems, such as Moba's individual egg handling concept, are combined with the latest technology. With this system each egg is treated as an individual product, from the moment the eggs arrive on the rollers at the infeed section, all the way down to the consumer pack, any contact between eggs is avoided. Industry confirms that individual egg handling results in at least 2% increase in sellable eggs.
The Forta is user-friendly and based around two main screens. The main control panel enables a quick set up of new products on different packing lanes which produces constant product quality. The large status-screen tells which products are processed and to which quality levels they comply. The Forta is iMoba ready which means insight into the production and quality performance of the operation is easily provided.
Future-proof machine platform
Moba understands that needs and requirements can change throughout the life cycle of the equipment, therefore the Forta is designed to be a future-proof machine platform. This means that the egg grader can be configured to specific needs by expanding through different detection devices (optional) such as an EggInspector, Crack Detector and Blood Detector.
Hygienic design
Reliable and food-safe production starts with hygienic equipment which is fast and easy to clean. The Forta meets all the requirements of the highest hygiene standards such as a washable infeed and packing lanes with removable parts for cleaning post-production. From the time the eggs arrive on the rollers at the infeed section, all the way down to the consumer pack, any contact between the eggs is avoided. This reduces the risk of cracked egg shells, minimises the chance of cross contamination and allows data to be collected from each individual egg.
Specifications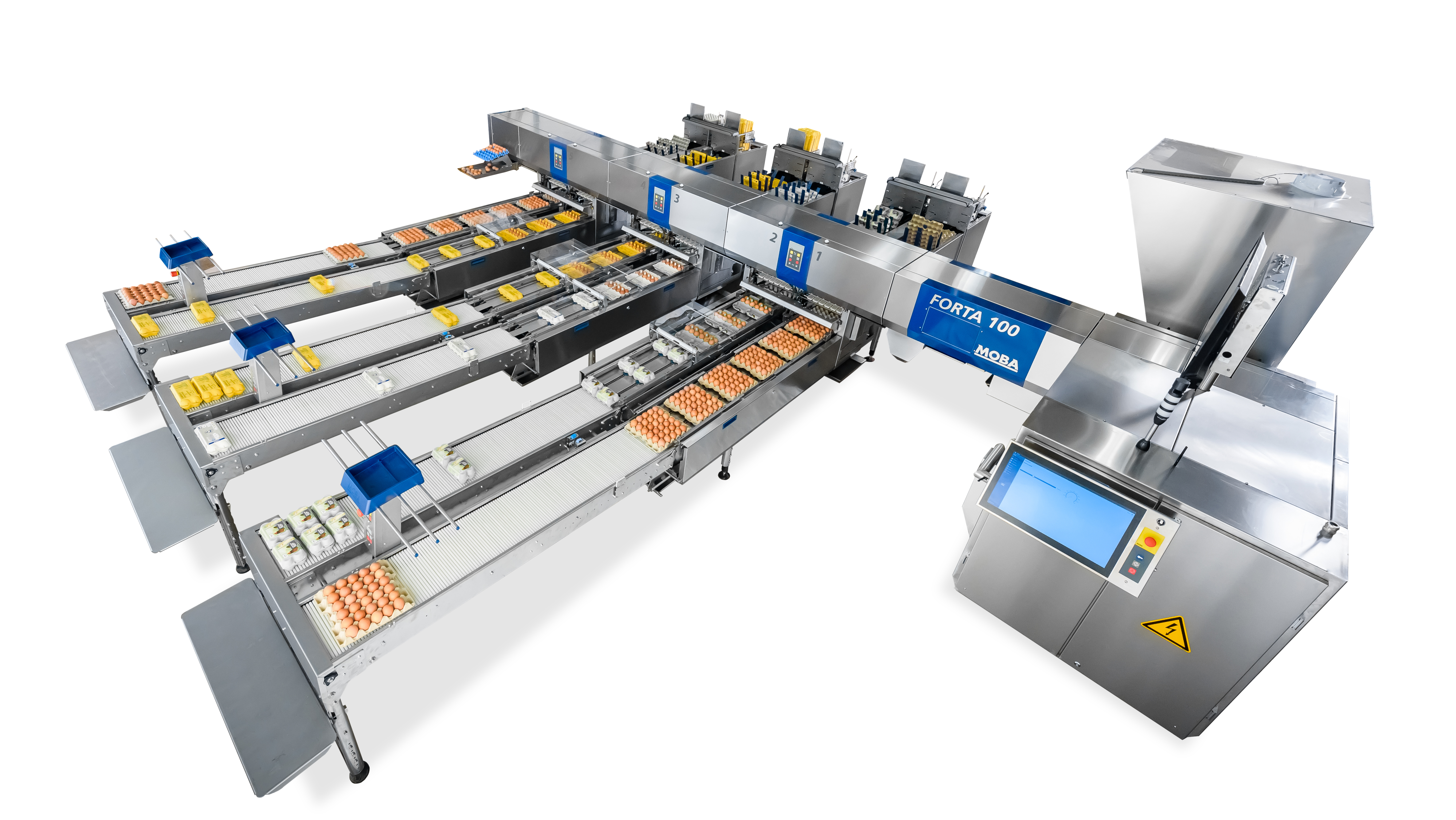 The Forta is equipped with standard features which can be expected of a Moba egg grader like for instance:
Foamable and low pressure cleanable infeed system with mechanical orientation system
Central dirt-water collection under infeed
Two roller cleaning brushes
Weighing system
Main control panel
Inkjet provisions
HelpDesk connection system (internet connection required)
Some of the high end features can be integrated optionally such as:
Crack detection
Egg washer and dryer integration
Blood detection
Dirt and leaker detection
Candling booth
Infeed extensions for customised layout
Manual packing lanes
The Moba Forta GT100 is now available.