Ross customers explore latest broiler and breeder topics
Aviagen® SAU welcomed more than 15 customers to Cambrils, Spain, on Feb. 26 and 27 for a meeting rich with information sharing and relationship-building. The company currently organises similar events throughout the year for customers throughout Spain, Portugal and Morocco.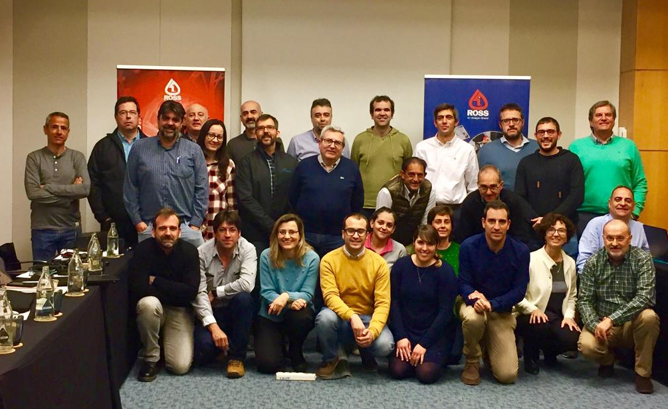 During the meeting, customers engaged with specialists from both Aviagen and the Autonomous University of Barcelona (UAB). Ana Barroeta, Ph.D., a veterinarian from UAB, discussed with them the influence of fat quality on poultry feed, while Natalia Majó, Ph.D., a UAB veterinarian, shared her expertise on emerging diseases. Aviagen SAU representatives presented a range of practical and relevant information, and customers participated in lively customer discussions on lighting in broiler and breeder housing.
"The event gave us the opportunity to update our customers about our new hatchery and Grand Parent facilities. The meeting is part of the support services that Aviagen SAU is giving to its customer in Spain, Portugal and Morocco," commented Sergio Illan, Business Manager.
About Aviagen
Aviagen® is a global poultry breeding company that develops pedigree lines for the production of commercial broiler chickens under the Arbor Acres®, Indian River®, and Ross® brand names. The Rowan Range® and Specialty Males® are specialty breeding stock from Aviagen that offer greater flexibility for customers to meet specific or niche market requirements. The company is based in Huntsville, Alabama, USA with a number of wholly-owned operations across the United Kingdom, Europe, Turkey, Latin America, India, Australia, New Zealand, and the U.S., and joint ventures in Asia. Aviagen employs more than 4,600 people and has a distribution network serving customers in more than 100 countries.
For further information, please visit www.aviagen.com.