Aviagen CEO explores "Responsibility to Feed the World" theme at FACTA 2019
Global food production will need to double within the next five decades to feed our rapidly growing population. Finding a sustainable solution with limited resources will be challenging. Speaking before an audience of 300 Brazilian poultry industry leaders at the 36th annual FACTA Conference, Aviagen® CEO Jan Henriksen shared his viewpoint on the role of the poultry breeding industry in meeting these challenges. Considered one of the most recognisable poultry events in the Brazilian industry, the conference took place May 14-16 at the Expo D. Pedro, in Campinas, state of Sao Paulo.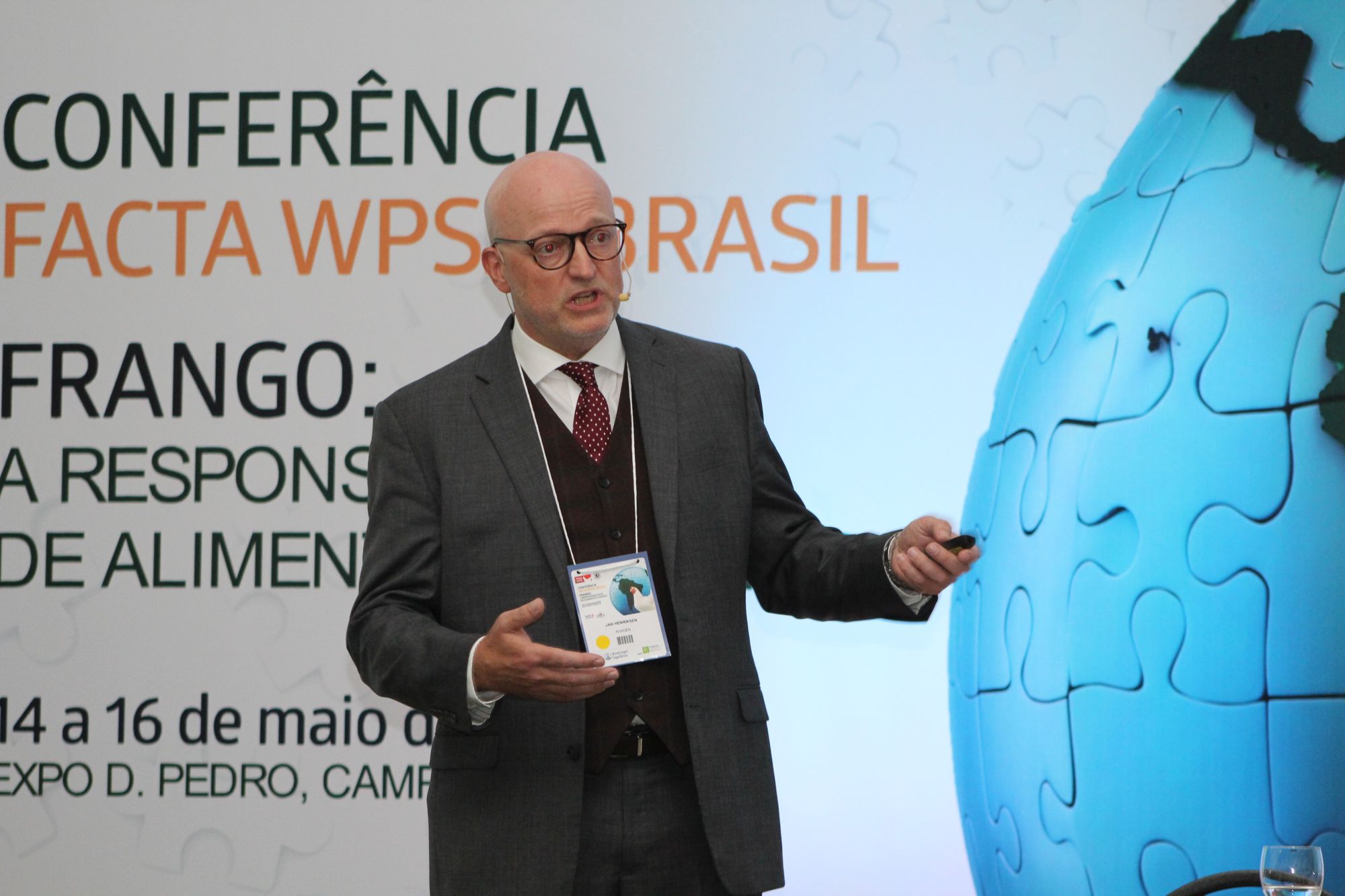 Poultry – the sustainable solution
Henriksen asserted that poultry is the most affordable, sustainable source of protein of the major meat-producing industries, and its popularity is rising across all socio-economic levels. And, it can combat many of the concerns across the full spectrum of the value chain.
Environmental sustainability. With a low carbon footprint, poultry production is friendly to the environment, making it a sustainable solution. Genetic advances in feed and water efficiency strengthen the sustainability benefit even further by contributing to the conservation of water, farmland, and farming costs.
Production efficiency. Some of the greatest challenges are limited resources in high-growth, emerging economies. The poultry industry is addressing these challenges with smart farming technologies that enable higher food production with fewer resources. Henriksen cited examples such as big data collection and analysis applied toward improvements in bird health and welfare, and greater accuracy in predicting production and processing targets. In order to continue the development of these sustainable methods and technologies, poultry leaders must continue to work closely with corporations, non-governmental organisations and governments, encouraging the industry to develop new sustainable methods and technologies to feed the world.
Security of supply. Among today's greatest challenges are food safety and trade barriers imposed by poultry disease, biosecurity is key to preventing and strict standards of hygiene coupled with farm intelligence has maximised our ability to prevent poultry diseases. Henriksen offered examples of robots cleaning and sanitising poultry housing, preventing floor eggs, preventing conditions that threaten bird health, comfort, and biosecurity. And, technology enables monitoring of everyone and everything that comes within the vicinity of birds, keeping away harmful pathogens. Another great tool being used today is the compartmentalisation certification scheme to ensure poultry breeding stock can continue to be shipped during time of disease outbreak in an exporting country. Aviagen facilities in the UK, the US and India have all achieved this certification.
Role of the poultry breeder
Many of today's production improvements are due to selective and balanced breeding techniques applied by poultry genetics leaders. Henriksen stressed that genetic selection has led to consistent improvements in growth rate, reproduction, feed efficiency and livability, as well as health and welfare. Additionally, intense research efforts have given great insight into the nutrition and environmental conditions that lead to the greatest bird health and welfare and enable the bird's full genetic potential to be reach. And of course, sharing this knowledge of ideal feeding and nutrition, animal health, biosecurity and stockmanship across the entire value chain is imperative.
A sustainable future
One of the most important responsibilities of the industry in sustaining its future, according to Henriksen, is to attract young, skilled talent with vision and passion. One way to accomplish this goal is to inspire and get them excited about agriculture and poultry production.
"For today's youth, a career is more than just a job to do. Instead, they want to feel good about their work, and know they're making a difference to society. And, we show them the great opportunities in a breadth of careers, not only in scientific occupations such as veterinarians, nutritionists, incubationists, geneticists and microbiologists, but also in export logistics, marketing, sales and finance. They need to know we can give them stimulating challenges, and the satisfaction of knowing they're making a true difference for now and for years to come."
Brazil's influence in feeding the world
Henriksen emphasised the importance of Brazil to the future of the global poultry industry. With a strong and well-structured poultry industry, Brazil is the world's top exporter of chicken and the biggest overseas supplier to China. High export expertise combined with an ability to meet the needs of different markets around the globe, positions the country to support the increased global need for animal protein for today and tomorrow.
"By working together as an industry, we have the ability to take control and fully meet the global food demands for generations to come, while creating profitable businesses for the world's farmers, and preserving our environment for our children and grandchildren. Together, we can shape the world's future," concluded Henriksen.