Novus attracts big players from animal production to present liquid methionine findings
Executives and producers from Latin America met in the US to hear the success story of liquid methionine and its results on farms.
Global animal nutrition company, Novus International, Inc., this week hosted a group of major producers from Latin American poultry and pork companies to hear "The Success Story of ALIMET®". The event took place at Novus's ALIMET® manufacturing facility at Chocolate Bayou in Texas, U.S. from May 13-16. The event provided a showcase for ALIMET® feed supplement (HMTBa), a liquid source of methionine activity that delivers an organic acid effect in poultry, swine, ruminants and aquaculture.
The visit included a tour of the manufacturing facility where ALIMET® is made, presentations from Novus executives as well as talks from Harvard Business School professor Thales Teixeira, and Douglas Zaviezo, an international consultant on animal nutrition who has worked with ALIMET® for years.
"The acceptance of liquid methionine by feed mills has been very rapid due to many operational and zootechnical advantages over powdered methionine. Among them, automated dosing, improved mixing and reduced particle loss," Zaviezo said.
Methionine is a first limiting amino acid in poultry and ruminant diets and a nutrient necessary in animal production. It works to reduce the amount of nitrogen excreted and allows for better performance, particularly in times of stress.
After more than 30 years research, Zaviezo said that ALIMET® has been shown to be an extremely effective source for methionine inclusion in animal diets.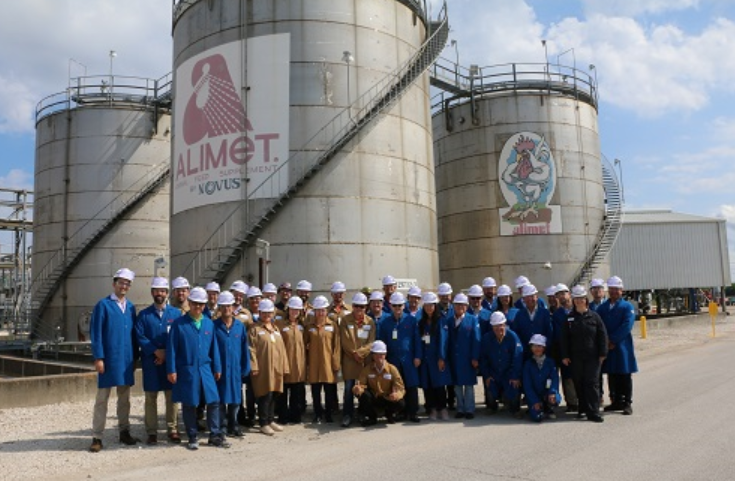 Zootechnical gains
Jackson Willian da Motta, supply manager at Lar Cooperative Agroindustrial, praised the event, especially for the technical content and the opportunity to exchange information with pig and poultry producers from different countries such as Brazil, Chile, Peru, Colombia, Mexico and United States.
"The experience has broadened my understanding of the product and confirmed its zootechnical and operational advantages in our farms. Currently, ALIMET® represents our entire supply of liquid methionine precisely because of this," he said.
Studies have shown that HMTBa allows for easier absorption in the gastrointestinal tract, even when faced with gut health challenges or thermal stress, and has antimicrobial properties against E. coli, salmonella and campylobacter.
Novus Attracts Big Players from Animal Production to ALIMET® event Executives and producers from Latin America met in the U.S. to hear the success story of liquid methionine and its results on farms
Operational benefit
In addition, other advantages in on-farm operation were detailed for the participants, as emphasised by Rafael Martineli, Novus's methionine manager for Latin America.
"ALIMET® provides an increase in productive efficiency with reduction of costs and zootechnical and operational gains, as well. The storage and full use of the liquid methionine are superior to powdered configurations," he said.
In this way, ALIMET® is a preferred source of methionine by many producers and most veterinarians specialising in animal nutrition, he said.
Economic return
Zaviezo acknowledged that poultry and pig farmers were the very first to identify the economic return of HMTBa, even before the researchers.
"The most interesting thing is that the producers first noticed favourable financial return, especially under conditions of thermal stress and in diets based on soy and corn," he said.
Novus has a solid portfolio of solutions that, in addition to ALIMET®, includes eubiotic (essential oils and organic acids), enzyme and organic trace mineral products. The products support clients on different strategies of optimisation of costs/profitability, alternatives to growth promoters/antibiotics, and programs aimed at improving productive performance.
Visit www.novusint.com for more information on ALIMET® and the complete line of Novus products.