Ross Clubs award outstanding MEA customers
Ross 400 and 140 Clubs grow thanks to customer dedication and hard work.
The largest poultry integrators in Egypt, Jordan and Lebanon have recently gained membership into the exclusive Ross® 400 and 140 Clubs.

The Clubs are a well-received Aviagen® initiative and reward growers who through expert flock management and diligence attain record performance. The Ross 400 Club is reserved for broiler producers who reach a European Production Efficiency Factor (EPEF) of 400 or more.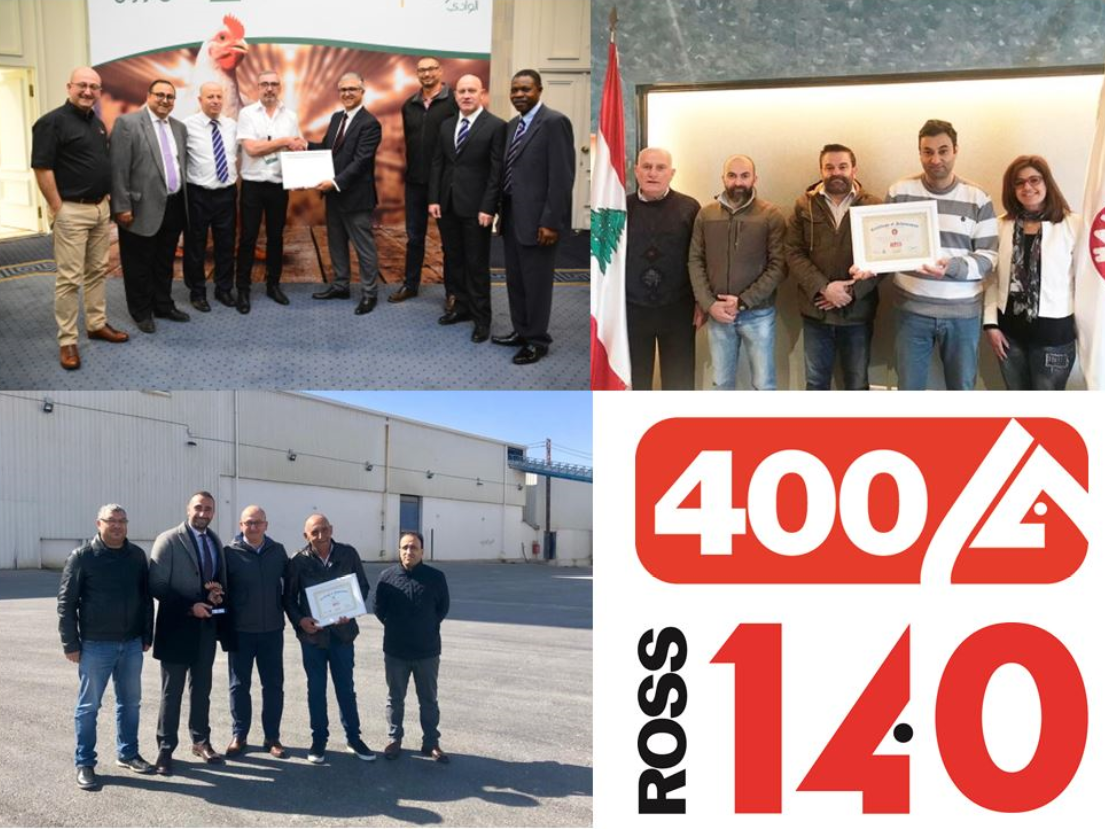 As a similar measure for breeder productivity, the Ross 140 Club recognises breeder output of at least 140 chicks per hen housed at 60 weeks. Attention to detail in areas such as biosecurity, nutrition and environmental management, which contribute significantly to bird health and welfare, are also critical to achieving winning results.

Union for Agriculture (Altahoneh) of Jordan.
The Union for Agriculture (Altahoneh), one of the most successful integrators in Jordan, is taking performance to new heights. In 2018, the company bred 141 chicks per hen housed. However, this year the Union's Breeder Farm 9 broke this record by producing 152 chicks at 60 weeks.
Hawa Chicken, Lebanon.
Hawa Chicken is the biggest poultry integrator in Lebanon, which has had continuous success with Ross Parent Stock (PS) flocks. Aviagen Middle East and Africa (MEA) has honoured the company for breeding more than 140 chicks with their 10 recent Ross breeder flocks. Hawa's flock 27 produced an outstanding 147.8 chicks at 60 weeks.
Egypt's Dakahlia Poultry.
A major integrator in Egypt, Dakahlia Poultry is a former Ross 140 Club winner, and its winning streak continues. Dakahlia's Natron 2 broiler farm has just performed at 404.62 EPEF, and Dakahlia Production Manager Jim Scoular accepted membership from Puzant Dakessian, Poultry Sector Chief of Ross distributor Wadi Poultry Group.
Aviagen International Commercial Manager for Ross MEA Bulent Tanyildizi comments: "The Ross 308 offers our customers exceptional performance to ensure the brand stays market leader in the MEA region. Our on-going R and D investments in Aviagen ensure our Ross customers can maximise the genetic potential of Ross 308 parent stock and broilers making it the complete package. The Aviagen and Ross Distributor Customer Focus teams are committed to consistently enhancing results in integraters and the MEA market, and devote their time, expertise and effort to helping them achieve success and become part of the exclusive 140 and 400 Clubs."