Aviagen Anadolu brings ventilation training to Banvit in Bandirma, Turkey
Seminar emphasises importance of ventilation to flock health, welfare and performance
The Aviagen® Anadolu team recently took to the road, bringing ventilation training to customer Banvit in Bandirma, Turkey. Taking place during the week of April 1-5, the workshop was held in two group sessions: the first group was for staff members from the breeder farms and the second for those working on the broiler side. The small and informal format of the sessions encouraged a lively exchange of ideas and experiences.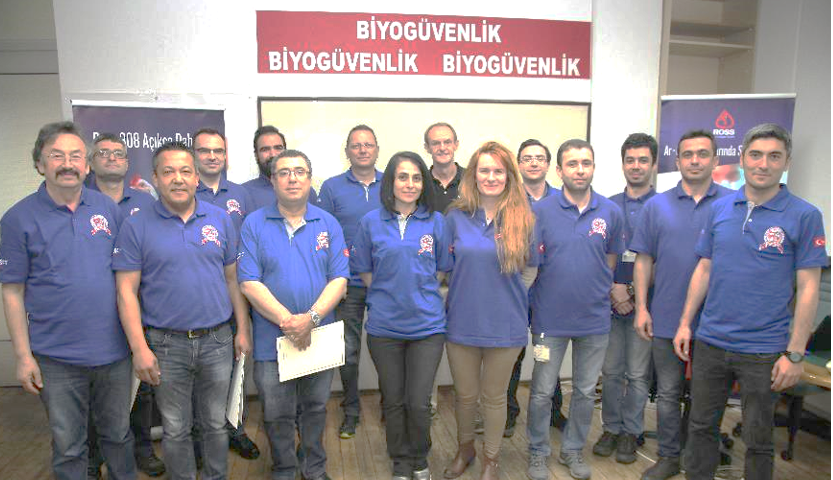 Balance of classroom and hands-on learning
Addressing both the breeder and broiler professionals, Aviagen Poultry Ventilation Specialist Bernard Green shared insights into essential ventilation topics, combining theory with on-the-farm learning in operational breeder and broiler houses. Students explored the three basic ventilation types – minimum, transitional and tunnel, and discussed the importance of observing bird behaviour and considering environmental conditions when choosing the type of ventilation.
The practical training in poultry housing allowed the groups to see firsthand best practices in areas such as air tightness, pressure, side-wall inlet settings, and cooling pads, as well as the number and capacity of fans based on house sizes.
Additionally, the breeder farm group explored the use of light traps, as well as other good ventilation management techniques.
Sinan Kıtay, Aviagen Anadolu technical manager, remarked, "Efficient management of ventilation systems improves biosecurity and leads to improved chick health, welfare and performance."
Enthusiastic attendee response
All topics were designed to demonstrate how critical proper housing ventilation is to the health, welfare and performance of both breeders and broilers, and were well-received by customers.
Nihan Buğdaycı, Banvit Technical Support and Training Manager, expressed her impression of the learning experience. "I'd like to thank the Aviagen Anadolu team for the support they offered us. Our colleagues who participated in the training gave positive feedback on the theoretical sessions and on-the-farm practical workshops. I believe that my teammates will use what they have learned to further increase the performance of their flocks."
On the last day of the training, the Anadolu team presented all participants with completion certificates, and pressure gauges were awarded to the highest achievers on the theoretical test. In the breeder group, Sercan Güner won this practical tool, and İlkay Canal was the broiler group winner.
Education champions success
Aviagen is committed to the success of poultry producers around the globe, and key to this success is sharing the latest management developments to maximise the genetic potential of breeders and broilers. As a forum for knowledge-exchange, Aviagen organises various training events and schools across the globe.
Ventilation is a significant part of the Aviagen educational portfolio, which continues to grow. Future courses that the Aviagen Anadolu team is planning for customers include animal health, nutrition and feed quality.