Jata Emona Farms in Slovenia earn Ross 140 Club membership
Showing great breeder management skill, Sušica and Ravenca production farms are recognised for their performance
Aviagen® Kft customers continue to impress, and in 2018 two Jata Emona production farms achieved a breeder performance greater than 140 chicks per hen housed at 60 weeks, earning their entry into the prestigious Ross 140 Club. Jata Emona is a leading supplier of Ross® 308 day-old chicks to the Slovenian market.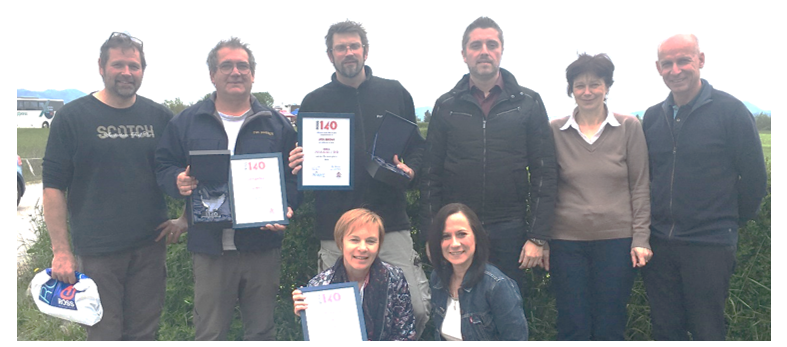 At an awards ceremony in Ljubljana, Slovenia, on May 8, poultry farmers Sušica and Ravenca were recognised for their remarkable 141.5 and 141.9 chicks per hen housed, respectively. Before the ceremony, Aviagen Kft Sales Manager Krisztina Németh, and Regional Technical Manager Dejan Bosanac, met with farm managers to discuss strategies for continued success in flock performance, health and welfare.
Krisztina explained the significance of entering the Ross 140 Club. "Aviagen wants our customers to be successful, and we work hand-in-hand with them to help them get the best results. These farms are examples of the chick output that is possible when the best management practices enable the full genetic potential of Ross birds to be expressed."
"We are very pleased and proud that two of our breeder flocks last year joined the Ross 140 Club," commented Jata Emona Director of Poultry Production Blaž Udovič. "Our company has been using Ross 308 exclusively ever since 1993. Every now and then we test the alternatives, but the test results have always confirmed that the Ross 308 is the optimal bird for our type of integration. When we add reliable customer support, the excellent cooperation between veterinary, farm and hatchery services and regular enhancements in our production capacities, the good results are evident. We're already looking forward to even better results of our flocks in the future."
This isn't the first time Jata Emona farms have reached star performance. In 2017, another of their farm teams gained membership into the club.