Aviagen and Moy Park bring Broiler Roadshow and Ross 400 Club Awards to customers in Northern Ireland
On Dec. 11, the Aviagen® UK broiler roadshow "Managing for Success" reached Northern Ireland to address Moy Park growers in the region.
And that's not all. During the roadshow, the team also presented the annual Ross® 400 Club awards to growers who reach the top rungs of performance and efficiency with their Ross flocks. Of the 70 attendees, nearly 50 received this prestigious recognition at the event in Cookstown.
The practical presentations given by members of the Aviagen UK customer support and R&D teams inspired lively conversations on hot management topics such as ventilation and lighting essentials, and biosecurity for protecting flock health and safety. The group also explored the latest developments in poultry genetics that keep elevating bird performance and welfare.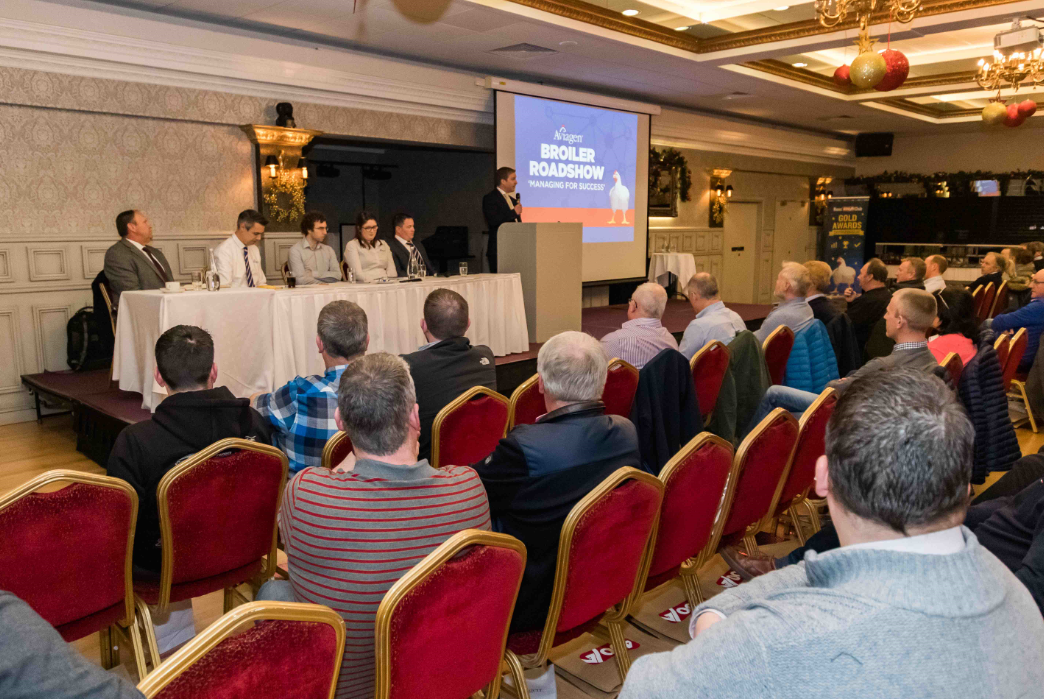 It is due to this genetic potential of Ross birds, combined with the dedication and skill of Northern Ireland growers, that top results were attained, and the award ceremony was a tribute to their hard work and success. In fact, the event also saw a number of Ross 400 Gold Club honorees. The Gold awards were introduced last year to recognize growers who either achieve three consecutive flocks with a European Production Efficiency Factor (EPEF) score of 400 or more, or attain an EPEF score of 440 or more in one flock. During the period of January 2018 to May 2019 a total of 113 Northern Ireland growers gained 400 Club certificates and 14 Golds were awarded, with Thomas Paul being a double winner as he achieved three qualifying flocks in a row and an EPEF higher than 10 percent of the threshold.
"The roadshow is a great forum to engage directly with our broiler growers on issues that are most important to them and the advancement of their businesses," explained Stuart Thomson, Head of UK Sales and Technical. "These broiler producers have done a tremendous job at continually improving the performance of their flocks, as is evident in their impressive scores. Our UK team is fully committed to our Northern Ireland customers, and we take every opportunity to advise and encourage them on their journey to success."
John Harrison, Live Operations Manager, Moy Park, said:
"Being a member of the Ross 400 Club is a significant achievement, and on behalf of Moy Park I would like to congratulate all of this year's winners. This is testament to the dedication and determination of our farming partners, who continue to operate to industry leading standards across every level of poultry production.
"The broiler roadshow was a great opportunity to hear the latest developments in breeding technology and participate in discussions on how to best maximise flock potential."