Aviagen customers explore best practices in breeder management at 2019 Ross training
The Aviagen® Asia team was pleased to welcome 70 students representing 35 customers from across the continent to the 2019 Ross® Asia Training Seminar (RATS).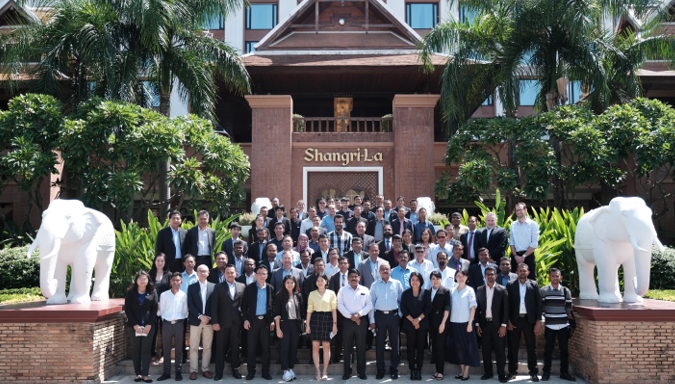 Taking place Oct. 7-10 in Chiang Mai, Thailand, the interactive sessions featured sharing of best broiler breeder management advice, as well as an enriched learning experience through good engagement among students and tutors.
RATS highlights: practical information and interactive learning
In-depth conversations centered on ideas for optimizing breeder performance, health and welfare, including husbandry focal points such as optimizing egg quality, uniformity, nutrition and housing environmental conditions. Alongside the presentations and discussions, hands-on workshops enabled attendees to practice beneficial skills such as using pivot tables for data analysis and grading. In addition to many networking and relationship-building activities, students were able to stay connected during the event through a mobile and desktop app. There they could view all presentations and videos, as well as ask questions and receive answers in real time, and offer their feedback to the Ross team.
"We care about our Ross customers, and are always seeking ways to improve our service to them. The app is one way we can leverage the latest technology advancements to enhance the learning experience," explained Asia Pacific Regional Technical Manager Greg Hitt.
Positive customer response
"It was great to learn new techniques for improvement in uniformity, lighting and other key areas that have a big impact on flock performance. Many thanks to the Ross team for a beneficial seminar and for the good care while we were in Chiang Mai," remarked Myint Lwin, GP Farm Manager, Crystal Diamond Livestock Co., Ltd.
"The Ross team led a splendid seminar on broiler breeder management for optimized performance, health and welfare. They did an excellent job offering practical information that we can use in our daily operations. The grading session was especially helpful in reminding us of common mistakes that are often overlooked. We thank them for sharing their knowledge and experience with us," added Dr. Deeptha Bakmeewewa, Veterinary Surgeon, Delmo Breeders (Pvt) Ltd.