Aviagen Group collaboration ensures security of supply for breeding chicks to Bangladesh during COVID-19
Shipment will translate to 110,393,893 kilograms of meat to help feed the citizens of Bangladesh
On May 29, Global poultry breeding company Aviagen® and sister company Hubbard®, along with their customers in Bangladesh, an airline, freight forwarders, Ministry of Fisheries and Livestock and export colleagues shipped a combined order of Ross®, Indian River®, and Hubbard day-old chicks to Bangladesh, despite passenger flight route restrictions imposed by the COVID-19 pandemic. The next day, the healthy, well-cared-for chicks arrived safely at the farms of customers throughout the country. The chicks will be multiplied to produce 110,393,893 kilograms (243,376,874 pounds) of meat for the Bangladeshi people.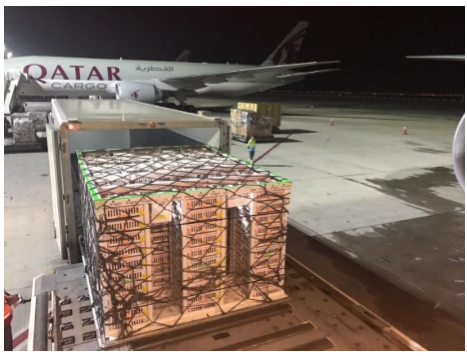 Solution to COVID-19 export challenges
The Aviagen Group is committed to ensure a safe and secure supply of breeding stock to customers around the world. Because flight route reductions imposed by the current COVID-19 pandemic prevented the companies from using usual export routes, the logistics teams needed to find a creative solution to assure food security for the people of Bangladesh. Thus, the group contacted Qatar Airways Cargo and utilized their flight traveling from Doha, Qatar to Hong Kong to make a stop in Bangladesh and deliver the 168,760 day-old breeding stock chicks – the largest single shipment of day-old breeding stock chicks ever. The strategy was for the chicks bound for the poultry producers in Bangladesh to share one flight to Bangladesh. The birds were shipped from three locations – Chicago in the United States, and Paris and Amsterdam in Europe – all converging in Doha, Qatar. From there they boarded the diverted flight of a Qatar Airways Boeing 777 freighter to travel to Bangladesh, where they were dispatched to the individual farms of Aviagen customers Kazi Grandparents Ltd. (Indian River) and Nahar Agro Complex Ltd. (Ross), as well as Hubbard customer Aftab Hatchery Ltd. The chicks arrived safely and on time on May 30.
Challenging logistical feat
The successful receipt of 168,760 healthy chicks to customer farms in Bangladesh required extraordinary logistical planning, organization and collaboration among all parties involved: the team of export specialists, Qatar Airways Cargo, JAS Worldwide freight forwarding company, NNR global logistics company, the Bangladesh Ministry of Fisheries and Livestock, U.S. Department of Agriculture (USDA), Foreign Agriculture Service (FSA), USDA Animal and Plant Health Inspection Service (APHID) liaison, the three customers and others.
From the moment the chicks left their respective hatcheries in the United States and Europe, until they arrived safely on customer farms in Bangladesh, their health and welfare were the top priority for the scores of people managing their care. They were kept well-hydrated, and their temperature and airflow were controlled and monitored along every step of the journey. All international animal transportation guidelines were followed to ensure the health, safety, and comfort of the chicks, and as an added safeguard, an animal attendant stayed with the birds and cared for them throughout the flight from Doha.
Several characteristics contribute to the historic nature of this shipment. First, it represents the most grandparent and parent stock chicks ever to be exported internationally in a single shipment. And, it is the first time multiple brands of multigenerational chicks destined for different poultry companies have shared an international flight.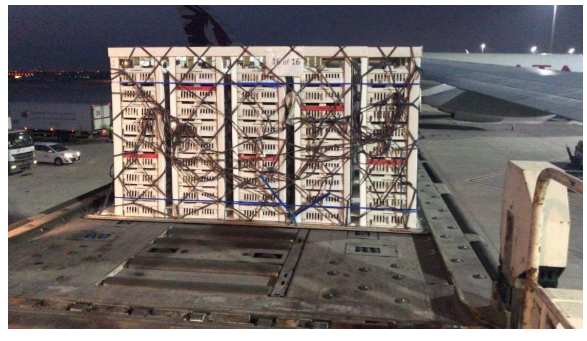 Security of supply for Bangladesh
With a population of nearly 165 million, Bangladesh is a country boasting a growing economy. According to the World Economic Forum, the country's Gross Domestic Product growth rate is forecast to be 8 percent in 2020. Because chicken meat lacks any cultural issues, poultry currently enjoys a rising market share, and poses a promising solution to fulfill the nutritional needs of the citizens with a healthy, affordable and sustainable source of protein for today's and future generations.
"Aviagen is committed to helping the poultry producers in Bangladesh put food on every table in their local communities. That's why we work hard to find innovative solutions to secure their supply in the event of trade barriers imposed by crises such as the current pandemic," explained Jan Henriksen, CEO of Aviagen. "We couldn't be more pleased with the positive outcome, and I'd like to thank all who planned, organized and collaborated to make this mega shipment happen."
"The collaboration between Aviagen Group, and all others involved was phenomenal, demonstrating our shared commitment to providing our customers in Bangladesh and around the world with a reliable source of nutritious and sustainable protein," remarked Hubbard Managing Director Olivier Rochard.
According to Rafael Monleon, Business Manager for Aviagen Asia Pacific, customer support was instrumental. "The successful delivery of this monumental shipment was possible because of the cooperation of our valued customers. I thank them for their relentless dedication to their own customers and ultimately to the people of Bangladesh."
Aviagen International Logistics/Export Global Manager Sheila Barcsansky added, "In addition to our customers, I'd like to express my appreciation to everyone who worked tirelessly to coordinate this project – Qatar Airways Cargo, JAS, NNR, the agricultural ministries and organizations, and our hatcheries, drivers and Export and Logistics teams. I'm extremely proud of the effort that was put forth to make it all happen."
Qatar Airways Chief Officer Cargo Guillaume Halleux said, "We are glad to support our customer Aviagen to transport their largest shipment of day-old chicks. We have expanded our operations during this crisis operating charters and freight-only passenger aircraft in addition to our scheduled freighter operations to support global trade and enable customers like Aviagen to transport their products seamlessly around the world."
"At Kazi Farms, we're committed to helping our local farmers feed their residents, and chicken is a popular meat in our country. Thanks to Aviagen, we're able to continue to provide them with robust Indian River breeding stock to sustain the people in their local communities," commented Mr. Zahidul Islam from Kazi Farms.
"We would like to express our special gratitude to Hubbard and Aviagen, including all supporting units, who have made this delivery easier and successful even during this pandemic situation. This was really memorable for us not only for the exact handling, but even more for the contribution to the economy of our country", commented Abu Lutfe Fazle Rahim Khan Shahriar, Managing Director, Aftab Bahumukhi Farms Ltd.
"Our team is extremely grateful for the coordinated effort of all those involved in the process that made this significant delivery a reality despite the COVID-19 situation and
widespread lockdown. Because of this accomplishment, we can now continue our plans for future expansion, fulfilling our farmers' demand for Ross 308 day-old chicks to meet the protein needs of the people of Bangladesh," said Rakibur Rahman (Tutul), Managing Director of Nahar.