OIE updates disease status and control programmes for members
Fifteen new disease status have been granted to OIE Members and an official disease control programme has been endorsed.
Due to the global exceptional circumstances linked to the COVID-19 pandemic, the OIE General Session has been cancelled this year. Nevertheless, specific Resolutions have been proposed for adoption by the World Assembly of OIE Delegates, by virtue of the establishment of an adapted procedure.
The Resolutions pertaining to the recognition of OIE official status and the endorsement of official control programmes for eligible diseases have been maintained, considering the very important role that they play in the import-export economy of OIE Members. By reflecting the level of transparency and the quality of national Veterinary Services, OIE official disease status contribute to increase the value of the livestock sector in countries. They facilitate regional and international trade of animals and animal products, notably in the context of negotiations according to the SPS Agreement of the World Trade Organisation (WTO).
OIE Members can apply for these disease status on a voluntary basis for six priority diseases. For this year, they could also submit their official control programmes for endorsement for three of these diseases.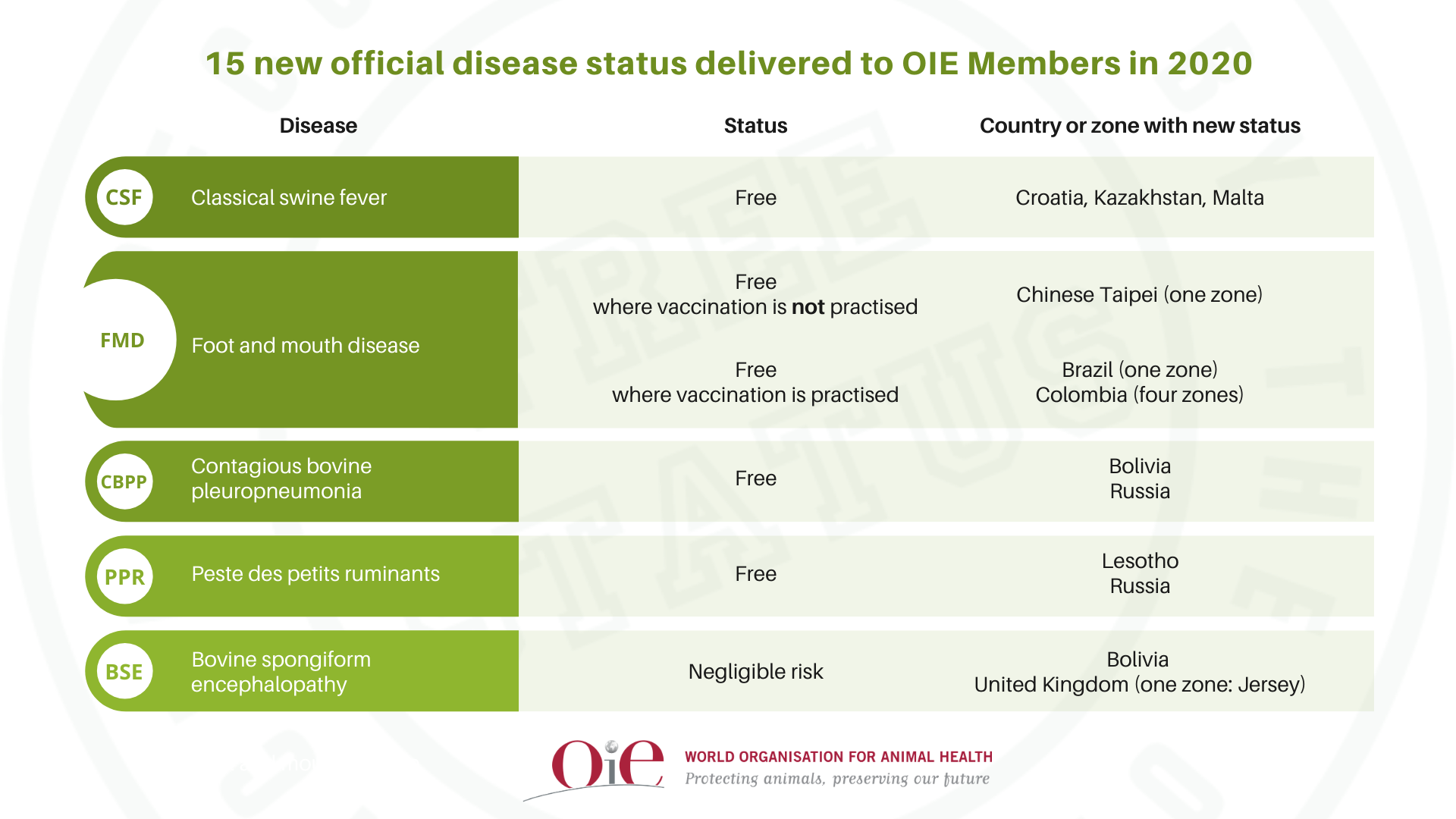 In addition, the official control programme for FMD of Kyrgyzstan was endorsed.
Towards the endorsement of official control programmes for dog-mediated rabies
Having an OIE endorsed control programme for dog-mediated rabies will pave the way for Members to self-declare freedom from dog-mediated rabies. This is a key step towards the elimination of human deaths from dog-mediated rabies.
The adoption of the first list of endorsed programmes is expected during the OIE General Session in May 2021.The deadlines for applications from Members will be communicated in the upcoming days. An online questionnaire provides OIE Members with guidance on the preparation of their dossiers.
OIE Members are highly encouraged to apply for such endorsement