Australia's farmers mobilise to accelerate COVID-19 recovery
Australia's National Farmers Federation has released its plan to assist the country's coronavirus recovery efforts.
The plan contains 35 recommendations to boost farm output and fuel growth in regional Australia.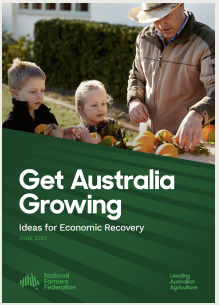 The plan, titled Get Australia Growing, was outlined in an address to the National Press Club by National Farmers Federation President, Fiona Simson, on 14 July.
Our plan to Get Australia Growing includes calls to:
Fast-track 20 new Regional Deals;
Reinvigorate regional manufacturing;
Create a $1 billion Biodiversity Stewardship Fund;
Slash red and green tape;
Fix the Murray Darling Basin Plan;
Get our regions digitally connected; and,
Help us get more people into jobs in agriculture.
The NFF believes the road to recovery begins in the bush.
Over the coming months, we'll be continuing to advocate for our ideas to Get Australia Growing, and we hope you'll join us in supporting this plan.
Click here to download a full copy of the Get Australia Growing plan.