Breeder management: Construction of twelve broiler breeder and production houses completed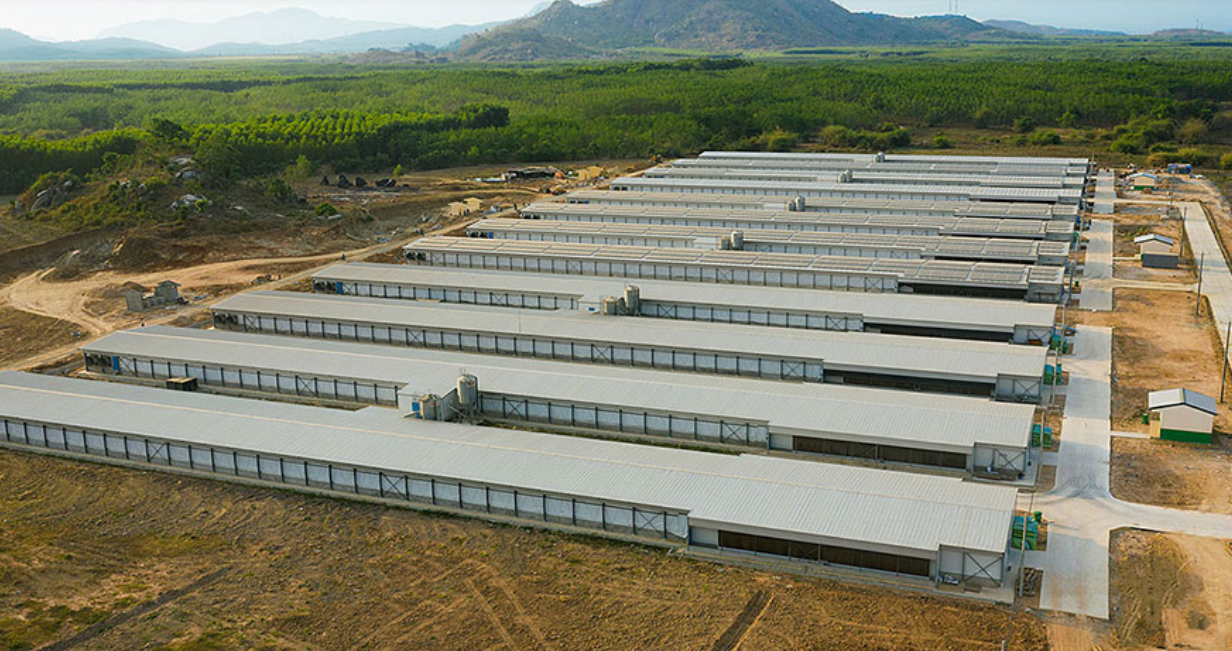 After signing a contract for twelve breeder and production houses in the Binh Thuan province in Vietnam that were supplied by Big Dutchman are now in full operation. Mr. Nguyen Huu Dam, a private investor, had brought Big Dutchman Asia in on his ambitious project in 2019.
Poultry house features
The farm, located in Southern Vietnam, features state-of-the-art equipment and buildings. More than 100,000 birds can be kept in the poultry houses, in which two thirds of the floor are covered by a slat (plastic flooring) system with manure pits to improve hygiene inside the house considerably. The suspended centre belt NXB nest, a single laying nest for broiler breeders, has partitions between the holes so hens can lay eggs without being disturbed. The nest also comes with a roof that allows easy access to and easy monitoring of the central egg belt.
A tunnel ventilation system was selected to keep the house environment cool. Furthermore, RainMaker cooling pads have been added, an ideal cooling system for tropical countries like Vietnam where the weather can be extremely humid and hot at certain times of the year. Advantages of the RainMaker system include easy assembly, minimum installation requirements and easy maintenance.
The ventilation system is controlled by the state-of-the-art ViperTouch computer. ViperTouch also controls the lighting system in the houses, which are illuminated by the dimmable FlexLED HO, an innovative and flexible LED tube lamp.
The pre-fabricated building structures were supplied by Agricon, the global Big Dutchman brand for turnkey solutions for modern poultry and pig production. The buildings are designed with external columns and a bolted steel structure concept. For a long life span and durability, the structures are made of galvanized steel, which also prevents rusting. The walls are made of PU panels with a flat zincalume ceiling.
With the successful construction of this latest turnkey project, Big Dutchman Asia continues to provide the market with quality products that ensure optimum results as well as service par excellence for its customers.
Breeder management: Interior view of a production houseTwo rows of the NXB laying nest with centrally arranged feed pansState-of-the-art: Complete solutions-houses for breeder management
Breeder management: Interior view of a production house
Breeder management: Interior view of a production house