EU moves closer to adopting carbon-crediting scheme for farmers
The European Parliament's plenary vote on the EU-wide Climate Law took place on 7 October, moving the trading bloc closer to a carbon farming model that incentivises farmers to boost carbon sequestration.
Following the 7 October vote in the European Parliament's Plenary Session on the report of MEP Jytte Guteland on the EU Climate Law, Copa and Cogeca welcome European Parliament support for establishing a carbon-crediting scheme for farming, with the aim to boost agricultural lands' carbon sequestration potential and increase agricultural incomes via a market-based approach.
The EU farming model, based on diversified, local and family farm structures, is among the most efficient farming system in the world. EU agriculture has increased its overall productivity by 25 percent since 1990 while reducing its GHG emissions by 20 percent over the same time period.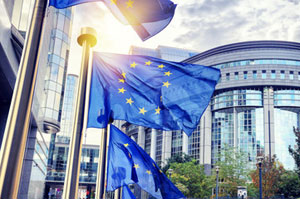 Agriculture has decoupled environmental impact from production growth. Nevertheless, EU Farmers are being the first to feel the impact of climate change, know that more needs to be done to enhance adaption and foster mitigation. Moreover, no other sector in Europe will be able to remove emissions from the atmosphere naturally, while at the same time supporting the development of a bio-based economy and guaranteeing food security.
Solutions exist as well as examples of best practice. What is needed is stronger political support and relevant financial instruments. Therefore, Copa and Cogeca welcome the work done by MEP Nils Torvalds (Renew), Asger Christensen (Renew) and Peter Liese (EPP) to establish a carbon crediting scheme for farming.
For Pekka Pesonen, Copa and Cogeca Secretary General, "The adaption in plenary of this amendment is an exceptional opportunity for European farming to harness the carbon sequestration-potential of agricultural lands. It will provide farmers with a vital additional market-based income and it will give perspectives for our young farmers.
"Farming's first strategic role is to produce food and ensure food security, which is more and more challenging in the face of weather extremes by the changing climate. The support for carbon farming in the proposed EU Climate Law shows the political commitment on European level to create synergies between food production and climate change mitigation and encourage our global partners to follow precedent. The chosen environmental approach behind the establishment of the carbon-crediting scheme is pragmatic and concrete, we need more tools of this kind."
In order to set grounds for the carbon-crediting scheme, Copa and Cogeca now call for a swift assessment report by the Commission to design the EU climate policy architecture for the coming decade.
The European Farmer and Agri-cooperative organisation also call for the involvement of farmers and other agricultural stakeholders in EU-wide applied research focusing on precision farming to preserve soils. This knowledge will prove to be crucial for the design and implementation of carbon farming.
The Climate Law dedicates a special role for carbon removal potential of ecosystems where agriculture and forestry can naturally bring significant contribution for societal benefits. Regarding an ambitious greenhouse gas reduction target for 2030, Copa and Cogeca underline the importance of having a net target, where reductions include greenhouse gas removals as well. Therefore, European farmers and forest owners, as the main stewards of the land, support the enhancement of European carbon sinks in the proposed EU Climate Law.