Aviagen Asia Pacific hosts virtual training seminars for customers during COVID-19 pandemic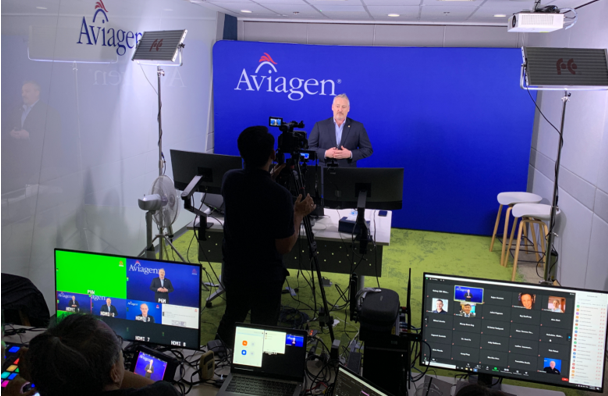 Between Nov. 4 and 13, Aviagen® Asia Pacific hosted its annual Seminars: Arbor Acres® Training Seminar Asia (AATSA), Indian River® Training Academy (IRTA) and Ross® Asia Training Seminar (RATS). In normal times, the team would host three- to four-day conferences held face to face with customers in various locations throughout the region; however, during the current COVID-19 pandemic, the sessions were held virtually. The content included a mix of live stream, recorded presentations, panel discussions and question-and-answer sessions. The intention of the seminars is to share beneficial information with Arbor Acres®, Indian River® and Ross® customers, helping them to continually improve the health and welfare of their flocks and the productivity of their businesses.
To stay in touch with customers during the current travel restrictions and social distancing guidelines of the pandemic, Aviagen has produced a number of online events. To support these virtual sessions, the company established a state-of-the-art broadcast studio in the Bangkok office, equipped with innovative features and capabilities for increased interactivity to enhance the customer experience.
Welcome message to all customers
On Nov. 4, Dr. Rafael Monleon, Business Manager for Aviagen Asia Pacific, and Greg Hitt, Regional Technical Manager, kicked off the meetings by welcoming Arbor Acres®, Indian River® and Ross® customers. Afterward, Dr. Santiago Avendano, Aviagen's Global Director of Genetics, spoke on Aviagen's strategy to deliver the right bird for the right market globally, with Arbor Acres Plus, Indian River and Ross 308 meeting the specific needs of Asia Pacific customers. The brand-specific meetings followed this initial session.
"We could not have been more pleased with the engagement of our Arbor Acres, Indian River and Ross customers during these online sessions. We're proud of our customers throughout the region and the results they are seeing, which is due to their hard work and skill in maximizing the genetic potential of their birds," commented Hitt.
"We value every opportunity to get together with our valued customers," added Dr. Monleon. "In the current turbulent times, we've found the webinars to be an effective alternative to our normal in-person meetings, and have received an overwhelmingly positive response."
Arbor Acres – Optimizing bird performance
Arbor Acres breeder teams explored the theme, "Optimizing bird performance through good management." Attendees followed the journey of the breeder from day-old chick to offspring in the hatchery, discussing effective veterinary care, ventilation and nutrition for maximum chick production. A highlight of the program included a presentation by Dr. Jeanna Wilson from the University of Georgia, one of the foremost experts on fertility and male management. Yash Jaiswal, who was recently appointed Brand Manager for Arbor Acres Asia Pacific, commented, "Having Jeanna join us demonstrates that the highest caliber experts see Arbor Acres as a brand they wish to be associated with."
Indian River – Breeding sustainability
During the Indian River sessions, a host of internal and external experts explored the topic of "Breeding Sustainability: Feeding future generations."
Multiple speakers discussed the sustainability of the industry through smart farming tools:
Dr. Lenny van Erp, Professor of Precision Livestock Farming at HAS University of Applied Sciences in the Netherlands, discussed the use of robots and visualization tools to improve our understanding of what was occurring in the chicken houses and ensure the optimal environmental conditions for the birds.
Mark Wright, Business Development Manager with Skov Asia, spoke on using sensors to collect "big data" throughout a poultry operation, enabling customers to make more accurate and timely decisions throughout the production process, leading to less waste and more efficiency.
Wilbert Wilkens, Founder and Director of Food Insights, explained the potential use of blockchain technology to provide enhanced transparency and real time provision of data between links in the food production chain.
Additionally, Dr. Tuen Veldkamp, Senior Researcher in Poultry Nutrition at the University of Wageningen, the Netherlands, spoke on the use of algae and insect protein as alternative feed ingredients to promote sustainable agriculture. Dr. Rafael Monleon, Acting Brand Manager for Indian River Asia Pacific commented, "Aviagen's advancements in feed efficiency contribute greatly to the sustainability of our planet, but we are always looking at ways to further reduce the carbon footprint of poultry production."
Ross – Broiler management
Customers participating in the Ross virtual rooms shared ideas on best management practices to optimize broiler performance in Asia Pacific. Topics included:
Dominic Elfick, International Product Manager for Aviagen Asia Pacific, discussed Ross performance potential in Asia.
Dr. Susan Watkins of the University of Arkansas presented ways to ensure high-quality water, which is paramount to bird health and welfare.
Twan van Grewe, Global Technical Manager at EW Nutrition, explained novel nutritional approaches when producing Antibiotic Free (ABF) birds.
Dr Sarge Bilgili of Auburn University covered strategies to maximize meat quality.
Larry Blackstone, Brand Manager for Ross in Asia Pacific, expressed his thanks to all clients who attended and noted, "Our clients across the region are seeing the advantage of using the Ross 308 in their operations. Many customers are exceeding current reproductive performance objectives and are seeing extremely competitive broiler performance, especially in the area of feed efficiency."
Encouraging feedback from attendees
"The virtual Training Seminars gave us the opportunity to learn about the most up-to-date, best practices for strengthening the performance, health and welfare of our birds," remarked from Dr. Serene Amatya, Executive Chairperson of P.B. Poultry, in Nepal.
Gary Uy of Foster Foods in the Philippines noted, "This webinar provided not only a much wider reach, but also a greater engagement for the farm workers who should be the primary target audience of this type of seminar. This wider coverage will be more beneficial and productive compared to just sending a select few to an off-site event."
Dr. Sugeesh N. Gamlath, Consulting Veterinarian of Jaya Farm in Sri Lanka, added, "The use of various software such as social networking platforms, quizzes and video conferencing enabled us to interact with the speakers and other participants in a fun and engaging way."