Glowlit feed market trends November 18th 2020
This week's Feed Additive Focus, brought to you by Glowlit, takes a look at the latest price changes in DL-Methionine https://glowlit.com/products/7d0565e-animal-feed_amino-acids_dl-methionine
Joe Biden has been declared the winner of the 2020 United States election, with current President Donald Trump now challenging the results. Companies are assessing scenarios and forming plans according to how each administration would stabilize the economy while fighting COVID. A change in the seat of power in Washington DC can send ripples throughout the world.
Both candidates have made campaign trail promises to protect American industry. As countries attempt to close their borders to imports, each market has the potential to develop a unique price, and global supply and demand rules make way for localised micro economies. As global supply shifts to rely on local production over imports, Glowlit sees the impact of these announcements (and rumors) on price.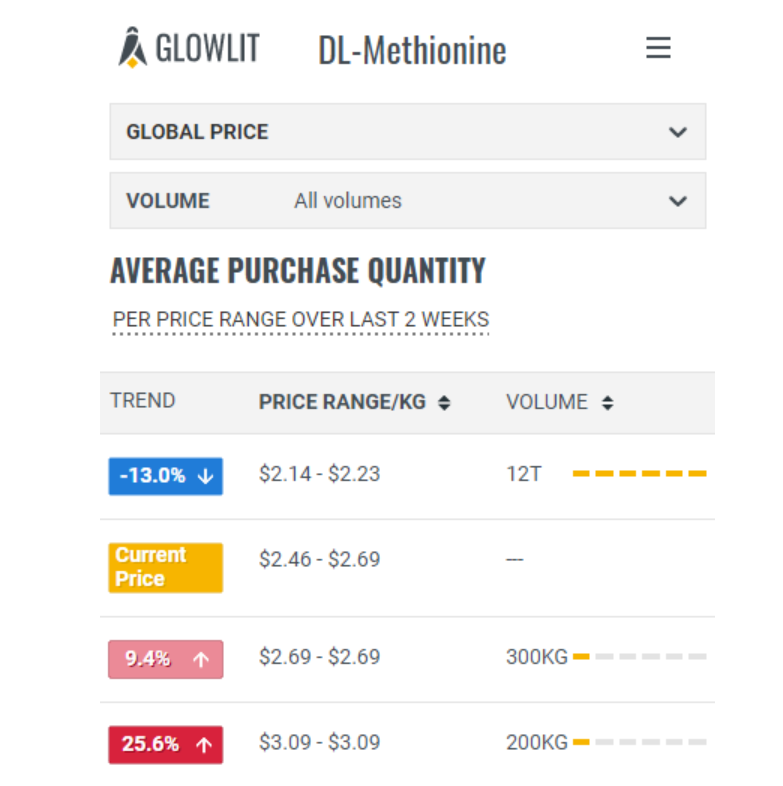 We see the impact of regulation on Methionine from antidumping investigations in the United States (still ongoing) and China (completed) to re-organization of production facilities around the world by Evonik https://corporate.evonik.de/de/presse/pressemitteilungen/standorte/standort-wesseling/evonik-stellt-methionin-produktion-neu-auf-145054.html. Companies spend enormous resources trying to understand the impact of these policies on their bottom line.
While regulators can impact supply substantially, there is a limit to how much regulation can change demand. Multinational companies can change their supply routes to account for taxes and tariffs, but local demand will always be affected by the number of animals farmers need to feed, whether or not it can be met. While we live in an uncertain political climate, it is African Swine Fever that has dramatically changed the demand landscape. Business strategy should focus on demand distribution as the more relevant variable in its supply chain.