AAMEA virtual meeting "Shapes the Future" of the Arbor Acres Brand
Third AAMEA meeting held virtually to continue providing world-class customer support during the COVID-19 pandemic
The Aviagen® Arbor Acres® MEA team recently organized a virtual Arbor Acres Middle East and Africa Association (AAMEA) meeting on Nov.10, to deliver the current Aviagen progress and perspectives in the region and to bring commercial value to Arbor Acres distributors businesses.
"Meeting with our Arbor Acres Grandparent (GP) distributors is greatly important to both Aviagen and our distributors. Our Arbor Acres distributors are a part of the Aviagen family and their cooperation with us throughout the years is greatly appreciated, and we like to show this through this AAMEA meeting. This year, due to the COVID-19 pandemic, we have had to adapt to the current conditions and adopt a virtual meeting between Aviagen and Arbor Acres management, and our distributors in the MEA region. This year's motto was "Shaping The Future", and we had many successful and in-depth discussions, focusing on how the Arbor Acres Parent Stock (PS) business has and will continue to adapt to the recent challenges and the new expected difficulties that both Aviagen and our distributors, may face. We need to, and agreed to continue walking side by side to continue to progress within our industry and to ensure the continuous success of the Arbor Acres brand. We are committed to maximizing the performance and efficiency of Arbor Acres flocks in the region, and together we will continue to ensure Arbor Acres remains the leader within markets in the MEA region", commented Khalil Nassar, International Commercial Manager, Arbor Acres MEA, and Florian Blevin, Commercial Product Service Manager, Arbor Acres MEA.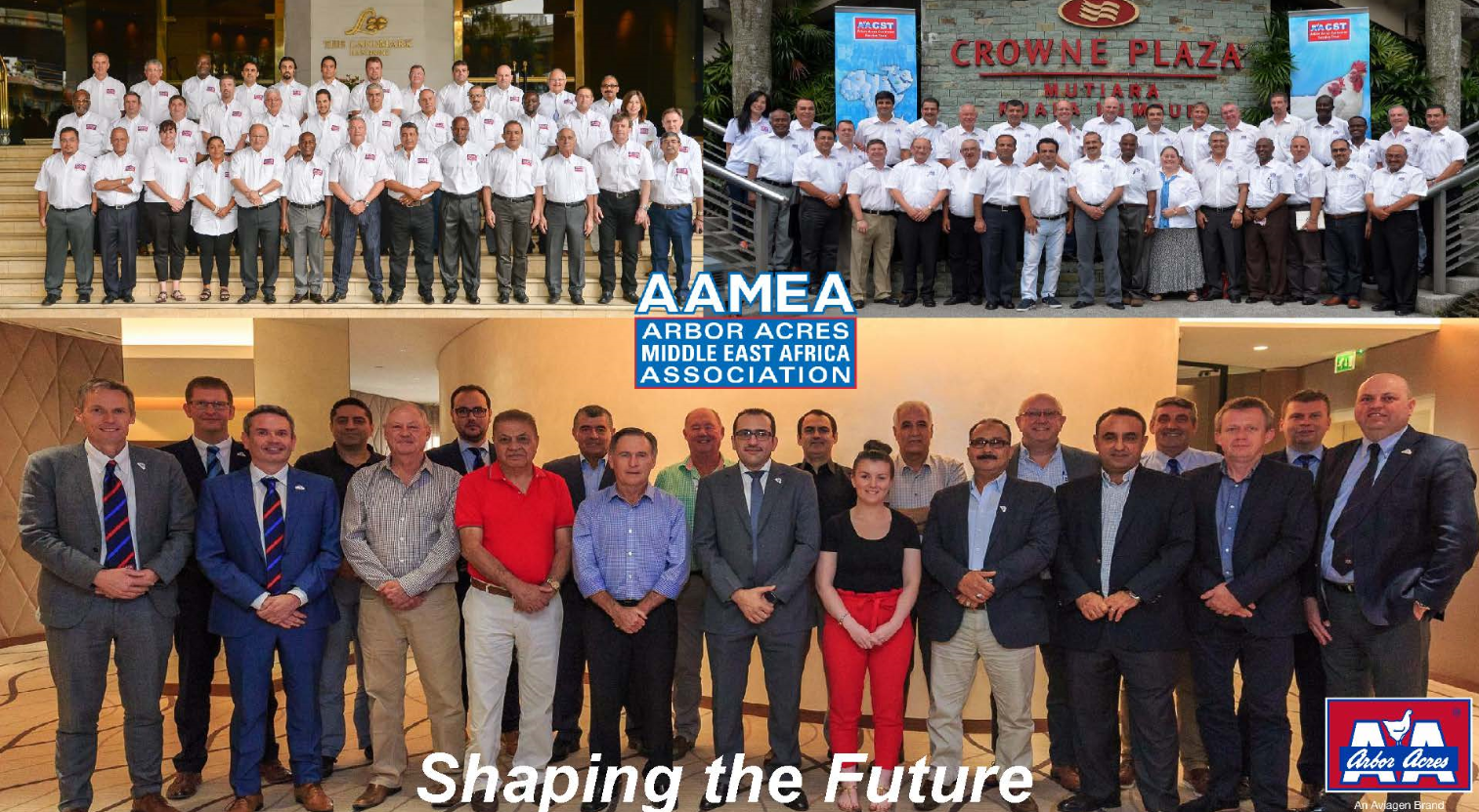 Joining the group were Aviagen executives including Jan Henriksen, CEO, Tom Exley, President of TMEA; Michael Garden, Business Manager, MENA, Robert Roszkopf, Business Manager, SSA; Tolga Erkus, Incubation Specialist and Neil Clark, Head of Technical Operations.
Aviagen confirmed their continued strategic investment in new, dedicated Arbor Acres team members to continue enhancing our level of customer service for the Middle East & North Africa (MENA) and Sub-Saharan Africa (SSA) regions and the future expansion of the regions. One of the most popular topics was the regional benchmarking update from Neil Clark, Head of Technical Operations, which focused on GP and PS benchmarking data along with broiler trends within the region.
Dr. Khaled Mostafa, General Manager, CPC expressed his thanks to the Aviagen and Arbor Acres team; "I would like to thank the Arbor Acres and Aviagen team for all the efforts in preparing this meeting. The meeting on Tuesday 10 November was full of important and interesting information especially the GP, PS and broiler benchmarking session. This provided the Arbor Acres distributors with field performance in different regions which would help us and everyone to evaluate our performance and check the criteria that we need to focus on to get more out of the genetic potential of the Arbor Acres breed. The introduction of the newly structured customer support team clearly showed a group who is ready to contribute and assist distributors in ensuring the success of the Arbor Acres breed. We look forward to working closely with the Arbor Acres team to determine the best way to continue to increase the performance of the Arbor Acres broiler in our market. We consider the success of the breed is the success of Arbor Acres, Aviagen and CPC."
Derar Aboudi, General Manager, Production, Fakieh Poultry Farms, added "Although this year's meeting was virtual due to the travel restrictions imposed by COVID-19, it was well organized and enabled us to exchange knowledge and opinions on a number of different topics. The benchmarking session was particularly informative and will help us within Fakieh, to focus on our performance and continue to get the best possible performance from our Arbor Acres flocks."