Include feed delivery and storage protocols in bird flu biosecurity measures
Adhering to strict biosecurity protocols for feed delivery and storage can help keep winter outbreaks of bird flu at bay.
With a winter outbreak of avian flu hitting the UK, Fred Liddell, poultry specialist at Wynnstay, urges producers to assess the biosecurity measures they have in place for feed delivery and storage, and to respond promptly to any weaknesses.
"Avian flu is spread through bodily fluids, so any situation where traces of faeces from wild birds come into contact with feed, or areas where hens peck, represents an opportunity for disease to be introduced to a flock," says Fred.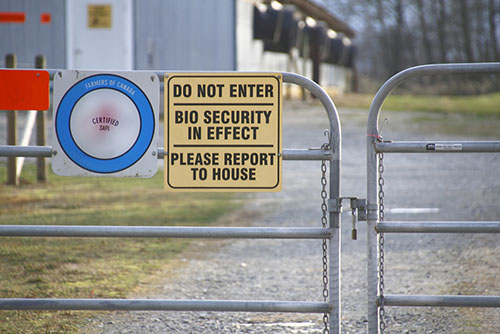 He explains that without thorough disinfection protocols in place and adhered to, the arrival of a large vehicle for delivery or collection can create a vulnerable point for disease transmission.
"Our lorries are thoroughly hot washed and then drive through a disinfectant wheel deep as they exit the mill, however there is potential for the lorry to become contaminated on the journey.
"This is why it is essential for poultry producers to have a biosecurity protocol in place for feed deliveries."
Fred advises setting up and maintaining a vehicle disinfection point suitable for all sizes of visiting vehicles, which should be close to the farm entrance and away from the feed bins.
"As a minimum use a pressured sprayer, such as a knapsack sprayer to disinfect the lorry before it approaches the bins. And check the disinfectant's label to ensure it's correctly diluted before use and non-corrosive to vehicles," he says.
In addition, Fred recommends placing a separate visitors book, which delivery drivers must sign, in a water and rodent proof box in a safe and covered area near the feed bins.
"As long as the box is big enough for the driver to put the feed samples in, they will be able to sign the book and drop off the samples together, avoiding the need to enter any buildings.
"It's also essential to clear away any spillages outside the shed as soon as possible, to prevent attracting wild birds," he adds.
"Likewise, there shouldn't be any spilt feed beneath the feed bins, so frequently check the seals and replace any that are broken.
"General hygiene around the feed storage area is crucial. Regular cleaning of the concrete pads beneath the feed bins will prevent a build-up of feed dust or dirt which could harbour disease."