Burger King's Plant-Based WHOPPER: Making Progress Step by Step in China
Burger King launched their "new meat" product the plant-based WHOPPER in their 325 outlets across Beijing, Shanghai, Shenzhen and Hangzhou on December 23, 2020.
Besides their offline restaurants, the new WHOPPER is also available for sale online in the Chinese market: ELEME, Meituan, WeChat, Alipay, etc.

Different from the plant-based meatballs served in IKEA's restaurants in China, at first I learned this news from a Chinese mukbang (eating show) on Sina Weibo, rather than any traditional news agencies. A local vlogger with 3.4 million followers on that platform tasted this creative WHOPPER on its launch day and attracted 634,000 views. Furthermore, the vlogger also shared a purchase URL in his advertisement copy to Alipay for Burger King's one-week campaign: Buy one plant-based WHOPPER, get one original beef WHOPPER.
This is a big progress not only in new media marketing but also for better communication and localized precision marketing towards targeted consumer groups, as Weibo is one of China's largest social media platforms for young Chinese generations.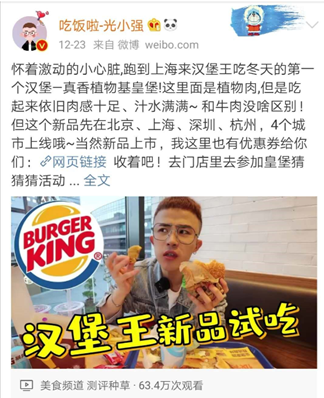 During his six-minute broadcast, the persuasive vlogger conveyed 4 key advantages of Burger King's plant-based WHOPPER:

As a meat lover, he doesn't think there is any difference between the plant-based WHOPPER and its original beef WHOPPER, no matter whether in appearance or taste.
Popularize the definition of plant-based meat: advanced "meat", namely, flame-grilled soy protein.
As a low-calorie and low-fat burger with 0% cholesterol, it is more suitable for vegetarians and those who want to lose weight.
Emphasize that it's as chewy and yummy as real beef.
The feedback from this mukbang is good, as many of his followers commented that they want to have a try, including me.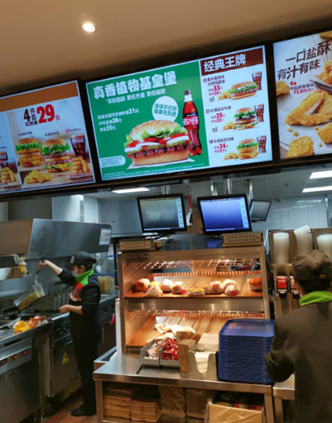 My onsite visit to a local Burger King's outlet in Shanghai found that the poster of the plant-based WHOPPER is taking the center stage. After unwrapping the packages, the new and original WHOPPER look quite similar to each other.


When it comes to one of the decision factors in the success of a product, namely, the taste, the plant-based WHOPPER has also lived up to the expectations. This is another successive progress following that in new media marketing.

The new WHOPPER of Burger King is made of plant-based patties and the same vegetables, ketchup and mayonnaise as the original beef WHOPPER. It's worth mentioning that the soy flavor of the patty is greatly reduced or masked after being grilled by flame. In addition, when the flame-grilled patty is eaten together with the broadly-flavored vegetables (onions, tomatoes, pickled cucumber, lettuce), bun, ketchup and mayonnaise, the gap in taste and flavor between the plant-based and original beef WHOPPERS is narrowed almost to a vanishing point.
This could explain why Burger King's plant-based WHOPPER tasted much closer to meat than the plant-based meat ball of IKEA Restaurant, which is generally eaten alone. In other words, if we take out and eat alone the plant-based patty and original beef patty, there would be more obvious difference.
As a kind of affordable fast food, the retail price of the plant-based WHOPPER also plays a leading role in Chinese consumer behaviors. As listed on Burger King's menu, both the plant-based and original beef WHOPPER mark the same price of CNY25 (≈USD3.9) for each.
This is another watchable progress in the pricing strategy, compared with the plant-based meatballs of IKEA Restaurant, which are 114% more expensive than their Swedish meatballs. Considering the long history and development of vegetarian diets for more than 2,000 years in China (A Different Story about the Origin and Development of Alternative Protein in China), local consumers are shackled by preconceived notions that vegetables or vegetarian products SHOULD cheaper than meat products.
Therefore, for the sake of sustainable development of their enterprises, all stakeholders in China's plant-based meat industry are faced with only two options: Either they can achieve lower costs and set more affordable retail prices than meat products with their economies of scale, or they can manage customer expectations and mark up their preconceived anchor pricing through niche marketing.
Last but not least, the plant-based patties inside the creative WHOPPER are made and supplied by the Vegetarian Butcher, a Dutch plant meat brand and also a subsidiary of Unilever. This plant-oriented team has conducted a bunch of research in China's food market and known very well the long tradition of local vegetarian diets.
Consequently, they are pursuing a core competitive strategy for the most promising emerging market: aiming at health and nutrition without sacrificing the meat-like texture and taste. To fulfill this goal, their cutting-edge production technology provides strong support.
An interview by Bloomberg in 2018 described the new machine from the Vegetarian Butcher as a secret weapon: "It can be programmed to mimic protein, be it chicken, fish, or pork, up to 1,000 times more precisely than extrusion. There's also no limit to the size of the resulting vegan steaks - they can be printed by the foot."
Some day when the plant-based meat alternative market size expands as large as any animal protein category in China and worldwide, and we look back to this age, the above-mentioned progresses made by Burger King could be trivial. But just as Rome was not built in a day, so is the development of this promising emerging industry.
As reported by Angela Zhang, Head of Business Intelligence Division, IQC Insights
Want to know more about China's huge food market in the context of the emerging alternative protein opportunity? Please visit any of the two websites below for our latest in-depth study Chinese Protein Alternative Market – The Next Front in Alternative Proteins:
http://www.iqc-insights.com/subscribe.html
http://www.iqc-china.com/en/newsinfo.php?id=3150
Based in Shanghai, IQC insights is a research & analysis company focusing on both China's traditional animal protein and the emerging protein alternative industries.
Their mission is to provide clients and partners with exclusive and trustworthy analysis and market understanding to guide and inform on major trends and the driving forces shaping the future of China's animal protein and alternative protein markets.