Placement year brought Niamh Molloy to successful poultry career
Harper Adams University students often find that their placement year is a turning point. By experiencing how their theoretical knowledge works in practice, they are able to discover where they see themselves in the future. The year-long experience brings them back to campus more determined than ever to succeed in their degree studies.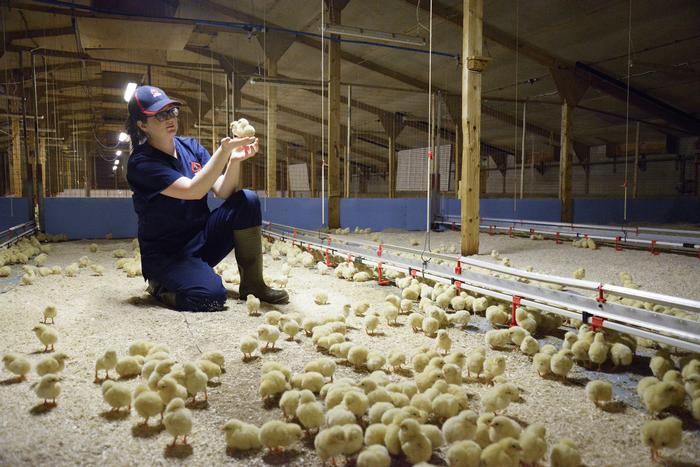 Niamh Molloy, who studied BSc (Hons) Animal Science and graduated in 2013, found career success during her placement year with Aviagen. Her work over the year gained her a graduate position and she now is a part of the UK Technical Service team. Niamh gave us an insight into her Harper experience and her career with Aviagen so far.

"The attraction of Harper was the rural setting with the access to the farm for hands-on learning," said Niamh, 29, from County Londonderry in Northern Ireland. "I grew up on a beef and sheep farm in Northern Ireland and wanted to eventually work in this sector but I didn't have a specific job role in mind.
"The Animal Science pathway was ideal for me as it dealt with production animals only and had the perfect balance of practical and scientific study. It ensured I could always use my favourite word - why!"
Reflecting on her overall experience, Niamh thrived on her newfound independence at university and relished the opportunity of meeting new people from across the globe.
Niamh commented: "Although I was quite homesick for the first three months - Northern Ireland isn't just a car journey home at the weekends - I found a great support network with others from the Island of Ireland. The University has a thriving Harper Ireland student society so life was made easier with an organised social calendar and knowing that others were in the same situation.
"Overcoming homesickness was just about getting stuck in and keeping busy with my job in the Students' Union bar as well as fundraising efforts – all making for great memories."
Having settled at Harper Adams, Niamh decided to make a move further away from home for her placement year and join Aviagen in Australia and New Zealand.
Talking about why she applied to Aviagen, Niamh explained: "My thought process was that your placement is only for a year, and I didn't have to commit to anything afterwards. It was also a great incentive, being offered the chance to go to the other side of the world with a global leader in the industry, to gain valuable insight to a new business sector."
Despite having only large animal experience and what she considered to be a general aversion to birds, Niamh undertook the challenge and found herself thriving in her work. Over the year, she had assignments on rearing and production farms as well as at the hatchery. Starting at ground level was critical for Niamh, as learning to pick up and hold a bird became as important as understanding feeding levels, egg production and general bird husbandry.

With this in mind, Niamh focused her Honours Research Project on studying SPIDES - short periods of incubation during egg storage - and how this affected chick quality. Having collected much of her data over her placement year, Niamh carried her interest through to graduation.
Niamh has undertaken a variety of roles since her return to Aviagen. She said: "Following graduation, I worked as a Quality Assurance Coordinator in the Stratford upon Avon hatchery. There my responsibility was to ensure quality standards were assessed and upheld in the hatchery with daily reviews, as well as proactive efforts to improve quality entering and leaving the hatchery.
"I then moved to Scotland as Trial Farms Production Manager, looking after the trial farm facilities, hatchery and processing plant; being responsible for the smooth running of trials and maintaining high levels of bird welfare as well as accurate data collection.
"During my time in this job I also had the opportunity to spend some time with the UK Technical Service team, which I joined four years ago. This move was exciting as it allowed me to get out into the field to work with a lot of excellent individuals within the UK and Scandinavian industries.
"I visit farms to see flocks and offer management improvement plans on optimising performance of the Ross 308 birds. I am also able to present to large audiences on key areas of bird management as well as represent Aviagen at industry events."
Looking to the future, Niamh is excited to develop the commercial aspect of her role. She shared: "One of my short-term goals is to work with members of the industry to entice the next generation of poultry people.
"Poultry was not something I had considered before my placement year. Yet, the passion we have for our business is contagious! It's a thriving industry, consistently researching and developing, and can sustainably support the increasing world population."
Based on her journey so far, Niamh offered her advice for others looking to follow a similar path: "You need to have the drive to succeed. Ambition and passion are very sought-after qualities; but don't give up if you are not successful, just put it down as a learning experience.
"If you don't know what you want to do, leap out and try something new - you might like it and find yourself a rewarding career that was otherwise not considered.
"Mostly, remember you only get one chance to make a first impression - a firm handshake and a smile are a good start."