Canada's National Poultry Show goes virtual
We are all feeling a bit cooped up these days. Make the most of it by getting your ticket to the premier poultry event in Canada, coming to you in a virtual format this year on 7 and 8 April.
Mark your calendars for Engage - a virtual National Poultry Show event, sponsored by Aviagen, taking place on 7 and 8 April 2021 from 10 AM to noon and 1 pm to 3 PM each day. As the show that gives back to the industry, the National Poultry Show is a partnership between the Western Fair District (WFD) and the Poultry Industry Council (PIC).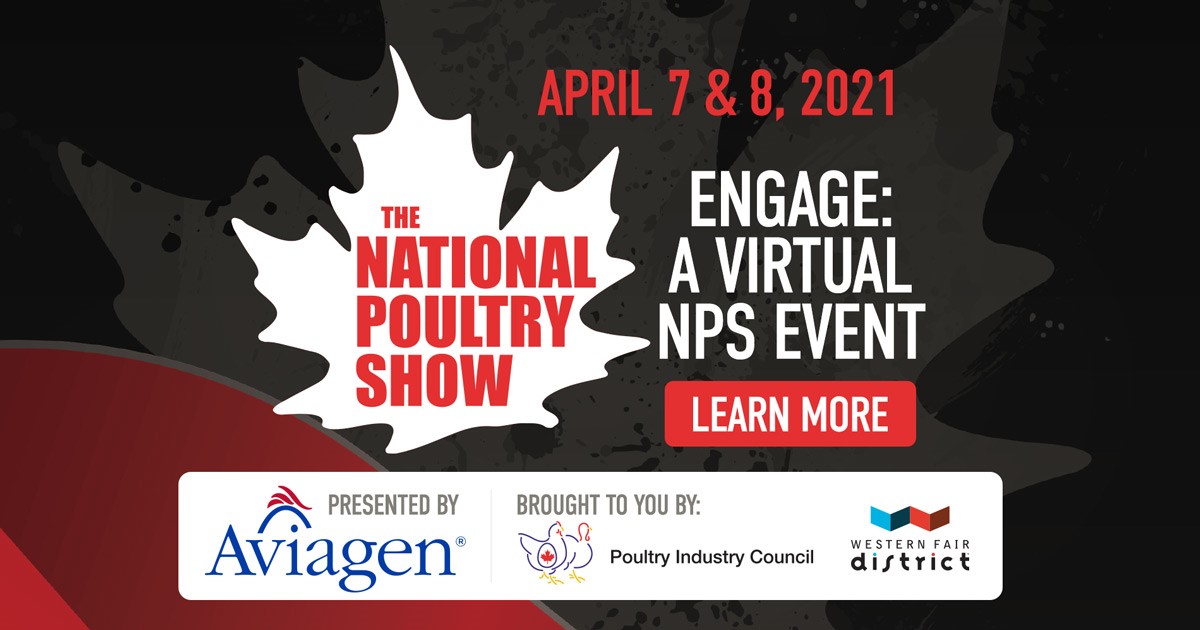 The attendees of this year's virtual show will enjoy two days of engaging and educational content, with the following speaker "hen-semble":
Biosecurity: The game is changing. Rigorous biosecurity processes can only go so far and producers need to keep adding new tools in their tool kit. Hear from a leading expert on how managers and operators can assess the risks and tackle the issues before they get to the farm. Keynote speaker: Dr. Algis Martinez, Cobbs Senior Director of Tech Services & Vet, sponsored by Cobb-Vantress.
Health Management: It is the underpinning of successful overall production. While tracking your flock, how does it compare to others, and how can key KPIs be improved? Don't miss our keynote speaker sharing his experience and expertise in this field. Keynote speaker: Dr. Maarten De Gussem, VetWorks Global Poultry Consultant, sponsored by FCC.
Equipment: Intended to help you do the same job, even better and with less effort. When equipment hits the farm, producers need to work out the kinks to keep it running top notch. What new ideas should be considered? Keynote speaker: David Speller, CEO/ Founder of Applied a Poultry Farming & Consultancy.
Innovation: In the poultry sector, innovation can happen slowly over years, then appear on the farm in the blink of an eye. What are the innovations that may have the biggest impact on this sector and how will producers adapt to including them for their benefit? All this and more will be revealed.  Keynote speaker: Aidan Connolly, president of AgriTech Capital and CEO of Cainthus, sponsored by Masterfeeds.
Find out what's new during the exhibitor showcase talks and join for an evening of fun and to connect with colleagues during the industry trivia night, 7:00 – 8:00 p.m. on Wednesday April 7th, 2021. Guests can also engage with the show on social media with the #CdnPoultryfarmer and the #LoveCdnPoultry photo competitions.
Your $20.00 ticket will give you access to the virtual event and help support the show for future years. Click here for more information on the National Poultry Show virtual event.