This week's price trends from Glowlit - April 30th, 2021
Choline Chloride prices begin to drop
As the price and supply of ethylene oxide and trimethylamine have stabilized, the price of Choline Chloride has also begun to drop. Coupled with decreases in feed demand reported across China and the stabilization of shipping costs, DDP price entries on Glowlit are down 28% globally from their peak registered in February 2021.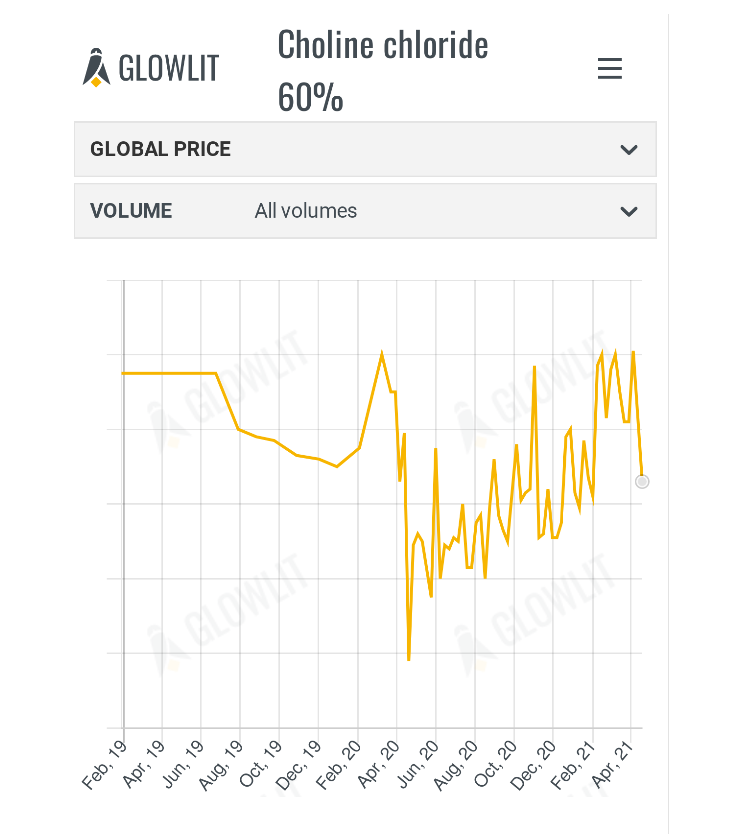 Vitamin B3 prices steadily increase
From a low of 5.5 USD per kg in November 2020, the price of vitamin B3 is now rising steadily around the world. Most recently, Shandong Kunda Biotechnology Co raised the price of 3-cyanopyridine, a precursor of nicotinamide, and raised the price of nicotinamide itself. Kunda blames this move on the rising cost of raw materials. Additionally, the turmoil in India due to rapidly increasing rates of COVID may cause buyers to hedge their supply with Chinese origin products. Our thoughts are with our colleagues in India.

We previously reported that on January 5th of this year Pritzker Private Capital acquired the Vertellus group. It seems they got into the Vitamin B3 market at just the right time.