Gedik Piliç celebrates excellent performance with Ross 155 Club Award
Customer in Turkey is recognized for outstanding breeder performance
Gedik Piliç, a Ross® 308 customer from Turkey, recently received a Ross 155 Club award for their impressive breeder performance.
The Ross 155 Club recognizes producers who achieve a breeder performance of 155 or more chicks per hen housed at 60 weeks; those who produce 160 or more chicks are named as "Platinum" members.
Performance is consistently high in every breeder flock, due to the genetic developments of the Ross 308 and the knowledge and intense efforts of Ross customers in the region. In a recent 2020 flock, Gedik Piliç achieved an impressive result of 164.5 chicks per hen housed at 60 weeks of age, making them a Platinum 155 Club member for the second time.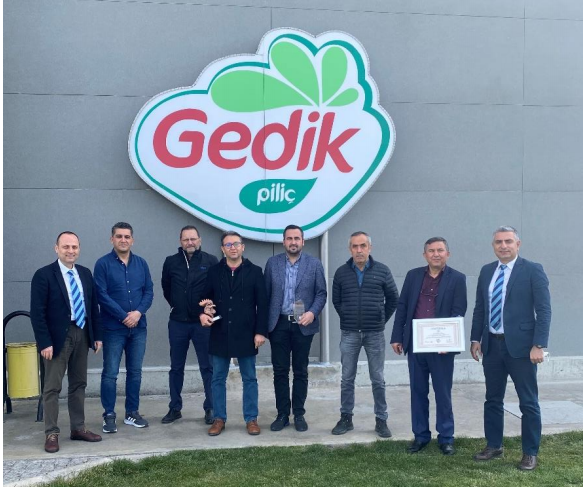 "We are very pleased to be part of the exclusive Ross 155 Club. In 2018, we achieved a high performance result of 164.8 chicks at 60 weeks of age in our breeder laying farm. The Ross 308 is the leading breed in the Turkish market, and as you can see, the birds are achieving exceptional breeder performance within our operation. I would like to sincerely thank my production team and the Aviagen Anadolu team for making this achievement possible," commented Mehmet İlhan, Breeder Manager, Gedik Piliç.
"Correct flock management is the biggest factor in uncovering the genetic potential of the Ross 308. This award and recognition is due to the hard work and dedication of the Gedik Piliç production team, and, due to this, we can see that the Ross 308 breeder flocks are able to reach their highest biological and economic potential. I would like to congratulate the Gedik Piliç production team on behalf of Aviagen Anadolu for their commitment to the Ross breed, and for their close collaboration with the Aviagen Anadolu team," commented Murat Yakar, Senior Technical Manager, Aviagen Anadolu.