Registration is now open for PSA's Annual Meeting
The Poultry Science Association is recognizing its 2021 PSA Award winners as it opens registration for its annual Virtual Meeting.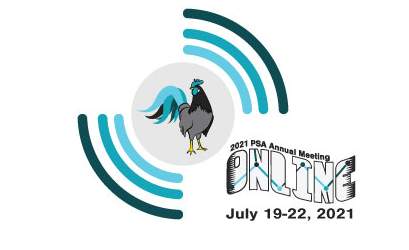 The Poultry Science Association is pleased to recognize this year's award recipients. One of the highest achievements that PSA honors is the award of PSA Fellow. The distinction of Fellow is the highest award bestowed by the Poultry Science Association and is granted for professional contributions to the field of poultry science and service to the Association. The recipients of the 2021 Fellows Award are: Richard "Jeff" Buhr (USDA), Alan L Johnson (The Pennsylvania State University), and Douglas R Korver (University of Alberta).
For a complete list of the 2021 PSA Award Winners, please visit the PSA website. All award winners will be on display within the virtual platform for the Virtual 2021 PSA Annual Meeting. PSA Fellows, Student Competition Certificate of Excellence Winners, and all other award winners will be recognized during the virtual Awards Ceremony on Thursday, 22 July 2021 at 4:30 PM CST. Registration is required in order to view the awards ceremony as it is part of the meeting.
The Poultry Science Association is pleased to announce that this year's PSA Annual Meeting is open for registration and will once again be hosted in a virtual setting on 19 to 22 July 2021. Due to the circumstances revolving around COVID-19 in the United States and the world at the start of 2021, the PSA Board of Directors voted early to move the 2021 Annual Meeting to a virtual setting and to postpone the biennial Latin American Scientific Conference to the fall of 2022. This decision was made with the best interest of PSA's members and meeting attendees in mind.

"We understand the value our Annual Meeting brings to poultry scientists from all across the world. With the unpredictable situation regarding the pandemic early this year, and having already completed a highly successful virtual meeting, we decided early on that this year's meeting would also be virtual. We look forward to sharing new features and improvements to this year's virtual platform and then we anticipate seeing everyone in-person again in 2022." Says Jacelyn Hemmelgarn, PSA Executive Director.
The Virtual 2021 PSA Annual Meeting will provide a virtual conference setting where attendees can explore a lobby, watch oral and symposia presentations, review digital posters, as well as connect and network with each other. As Rebecca Ries, PSA Membership and Meetings Manager, says "We are working to create even more networking and interactive features between attendees than was available last year."
Click here to register for the PSA Annual Meeting. Further details regarding the conference are available on the PSA website. Attendees are encouraged to register by 13 July 2021 to receive immediate access to the virtual platform when it opens on 19 July 2021. Registrants who register after 13 July 2021 may experience a delay in accessing the virtual platform.