Summer preparations begin
June signals the start of the summer months as the weather begins to warm and trees are once again in full bloom. As the sun shines a bit higher in the sky, countries are most literally beginning to see the light. After a tumultuous period, brought on by multiple waves of COVID infection and subsequent lockdowns, summer comes as a welcome respite. School children are wrapping up the academic year as our own industry prepares for summer vacation.
The signs of summer are apparent as orders pick up in advance of the annual August lull. The Glowlit platform is already showing increased frequency of entries for certain products, while others have yet to be impacted. As August approaches, we can expect to see more of this trend. Until then, enjoy the warmer days and final weeks of vacation planning.
Here are some of the most significant market trends identified by Glowlit in the last week:
Slight Increase in the Price of Vitamin A1000
The global price of Vitamin A1000 has increased 2.9% since last week, continuing a trend of incremental increases since April. Glowlit has also seen a 12.5% increase in the number of entries from last week to this week, indicating either more deals or more interest in making deals. Exactly one year ago, when the COVID pandemic was still wreaking havoc on markets, the global price of Vitamin A1000 stood at 101 USD.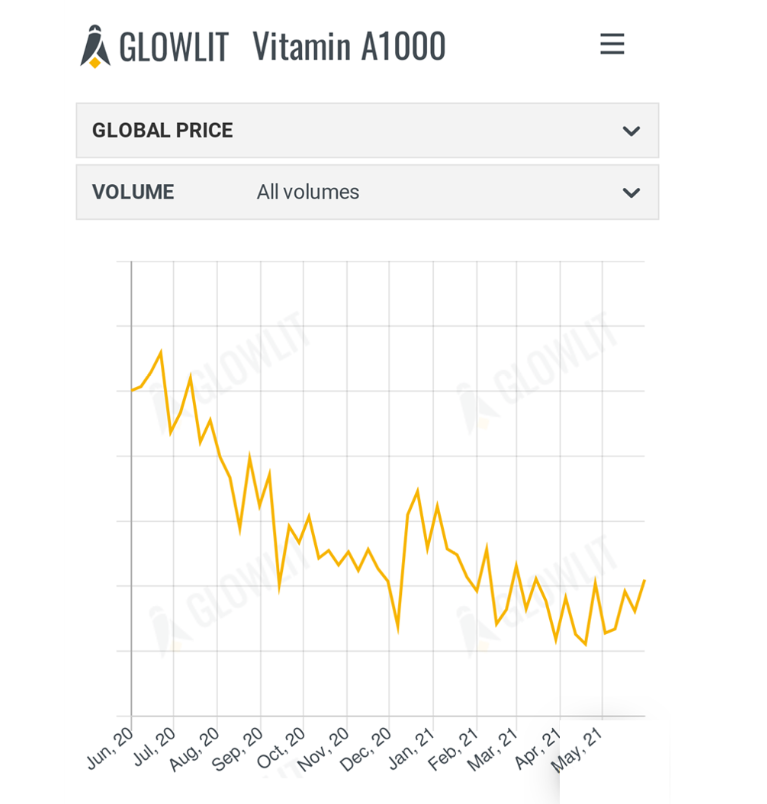 Decreased Interest in Threonine
The global price of Threonine has increased .4% in the last week. Interestingly, the Glowlit system actually saw a 13% decrease in entries from last month to this month. We will wait to see whether June makes up for this decrease in entries ahead of summer vacation. One year ago, the price of Threonine stood at 1.4 USD.