Combined steam-ultrasound technology for decontamination of freshly slaughtered poultry
SANOVO Process SonoSteam has developed a system for decontamination of pathogens on the surface of poultry.
The system applies a quick burst of steam and ultrasound in just 1-2 seconds. The combined treatment of steam and ultrasound is delivered simultaneously by a specially constructed nozzle. When steam is pushed through the nozzles, it starts generating the ultrasound. Ultrasound sets the air of the laminar zone in a state with intensified molecular oscillations, resulting in the destruction of the protective characteristics of the laminar sublayer.
Hot steam is then able to reach microstructures and pits on the surface. The continuous pumping of new steam creates a fast and substantial flux of heat to the surface structure. While steam decontaminations are commonly known to cause thermal changes, the combined effect of steam with ultrasound counteracts this impact on the skin and meat, because the treatment is stopped before the heat can penetrate and cause visible changes.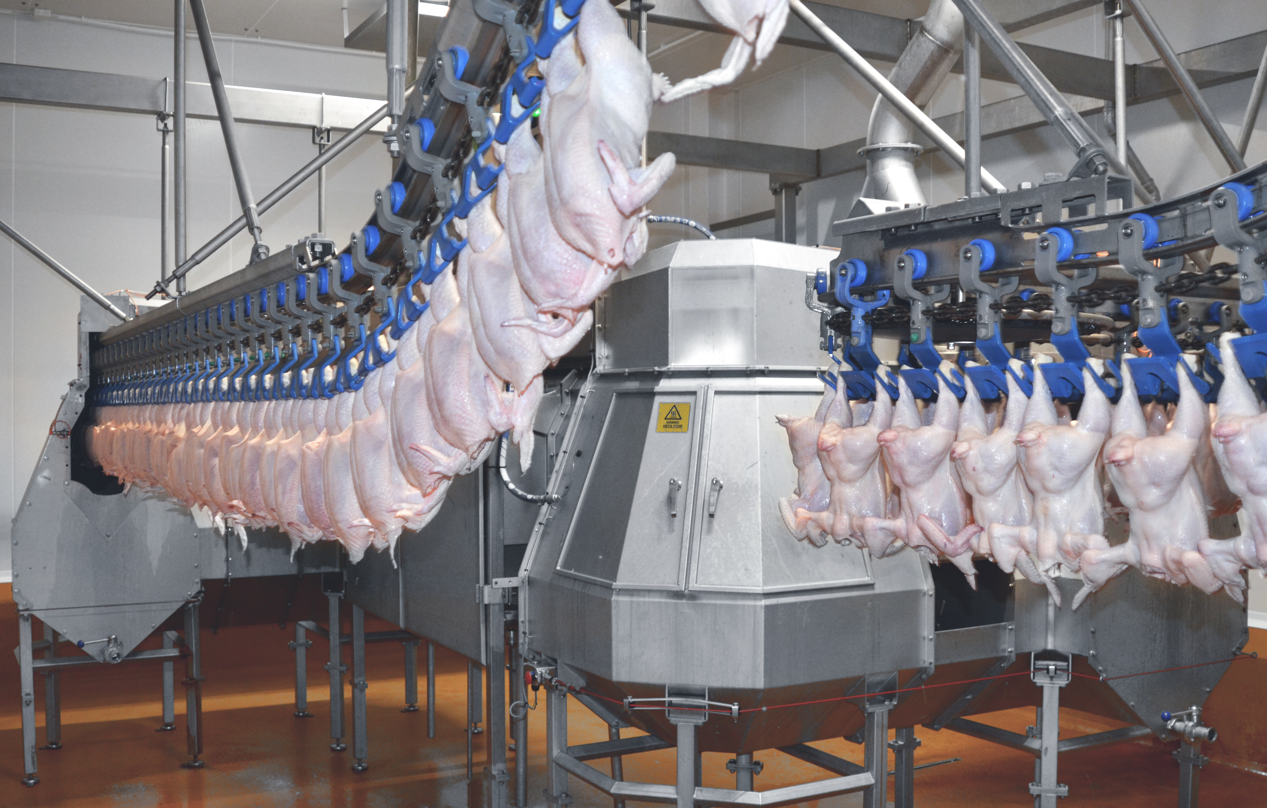 Over the past few years, six full-scale installations for treating whole carcasses have been introduced to European slaughterhouses with capacities from 11-15,000 birds/h. To this date, millions of freshly slaughtered broilers have been processed through a chamber of steam and ultrasound and no visible or thermally changes have been detected. The combined process of steam and ultrasound have been evaluated before, showing more than 90-95% reduction in pathogens such as Campylobacter and TVC (reference).

Decontamination of chicken and turkey cut parts
More recently, this technology has been constructed for continuous decontamination of chicken and turkey cut parts with capacities ranging from 1-2 tons per hour. Results showed more than 85% reduction in Salmonella and Enterobacteriaceae on turkey breast filets in an unpublished study. On freshly slaughtered skin-on cuts, the combined process of steam and ultrasound reaches higher reductions of >95%. The process can be applied just before packaging to benefit from possible synergistic effect from the thermal treatment followed by modified air packaging (MAP). The fast process time using affordable steam generated through maintenance-free nozzles may be a profitable solution for companies looking to avoid economic losses through product recalls and reduced shelf-life.