Aviagen Asia Pacific hatches new crop of young artists in annual competition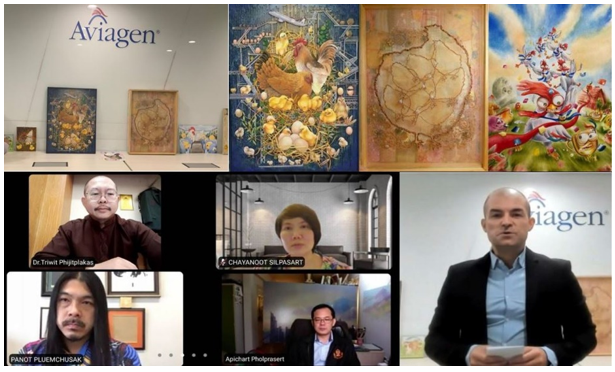 Aviagen® Asia-Pacific is thrilled to announce Nawapon Madsuden from Poh-Chang Academy of Arts Rajamangala, University of Technology Rattanakosin, as the overall winner of the 2021 Hatching Young Artists (HYA) competition for his artwork "Breeding development of Aviagen." Pitsawat Wannafoo, from Chulalongkorn University, was awarded first runner-up for "The Chicken Stars," and Wutthichai Sirirangkun, also from Chulalongkorn University," with "Winner Chicken" placed as second runner-up. Seven other entrants were recognized with "talent awards." This year's competition boasted the theme "the poultry industry," and all art media was welcomed.
Of the more than 50 applicants, 16 artists produced bespoke works that were presented to the judging panel at a virtual awards ceremony on Oct. 15. The winners received cash prizes and certificates, and their pieces will be displayed across Asia as part of Aviagen Asia-Pacific's advertising campaigns for the coming year.
Commitment to Social Sustainability
The company launched the annual competition in 2020 as one way to give back to its local communities by supporting university students of the fine arts. It was a successful project. Works from the previous year's competition were featured in social media posts, an online gallery, company greeting cards, calendars and posters. They were also presented as gifts to clients. The artist and their contact details were featured in all of these promotions.
Dr. Rafael Monleon, Business Manager for Aviagen Asia Pacific, commented, "Aviagen is highly committed to sustainability, and we initiated this art project as part of our social responsibility. We also promote social sustainability by continuously improving the welfare of our bird populations, and caring about our birds, our customers and the people in the communities we serve. Despite the challenge of COVID-19, we continued the Hatching Young Artists project, as we believe that supporting creativity and imagination from our young generation is important."
"Our team cares about the citizens in our local communities, and we are committed to encouraging our young people," commented Dominic Elfick, Product Manager for Aviagen Asia-Pacific. "We were blown away by the quality of the art that was presented this year, especially as the universities in Thailand are currently running online only programs. It just shows that, despite all the difficulties facing young people at the moment, they know how to rise to every challenge."
"It was so exciting to see a company that values both the fine arts and art with a more commercial bent," added Professor Pluemchusak. "It was a joy to see the variety of both entries and finalists."
This year's judging panel consisted of Dr. Rafael Monleon, Business Manager, Aviagen Asia-Pacific; Assistant Professor Apichart Pholprasert, Head of the Department of Art, Music, and Dance Education at Chulalongkorn University; Assistant Professor Panot Pluemchusak, Deputy Dean of the Faculty of Decorative Arts, Silpakorn University; Dr. Chayanoot Silpasart, Chairperson, Visual Arts Department, School of Fine and Applied Arts, Bangkok University; Dr. Triwit Phijitplakas, Head of the Department of Art Education, Faculty of Fine Arts, Srinakharinwirot University; Jaruvipa Tantisaswat, Marketing Manager, Aviagen Asia-Pacific; and Dominic Elfick, Product Manager, Aviagen Asia-Pacific.
Check out the creative and inspiring entries from this year's Hatching Young Artists competition here.