To breed the best, we need the best – Aviagen's UK and North American Scholarships
Many countries around the world have been impacted by recent labour shortages in the poultry industry. To ensure the sustainability of our sector, we have the fulfilling challenge of finding innovative ways to attract bright, enthusiastic people, who have a passion for making a difference in feeding the world with a healthy protein source. A good place to start is with learning establishments, because they are our connection with future talent, and we share with them a commitment to the Sustainable Development Goal of Quality Education. To breed the best, we need this best, and we put this commitment into practice by offering a scholarships and placement programmes in the United Kingdom, North America, and in our operations around the world. This article gives an overview of ways we endeavour to promote social sustainability through education, using our UK and North American operations as an example.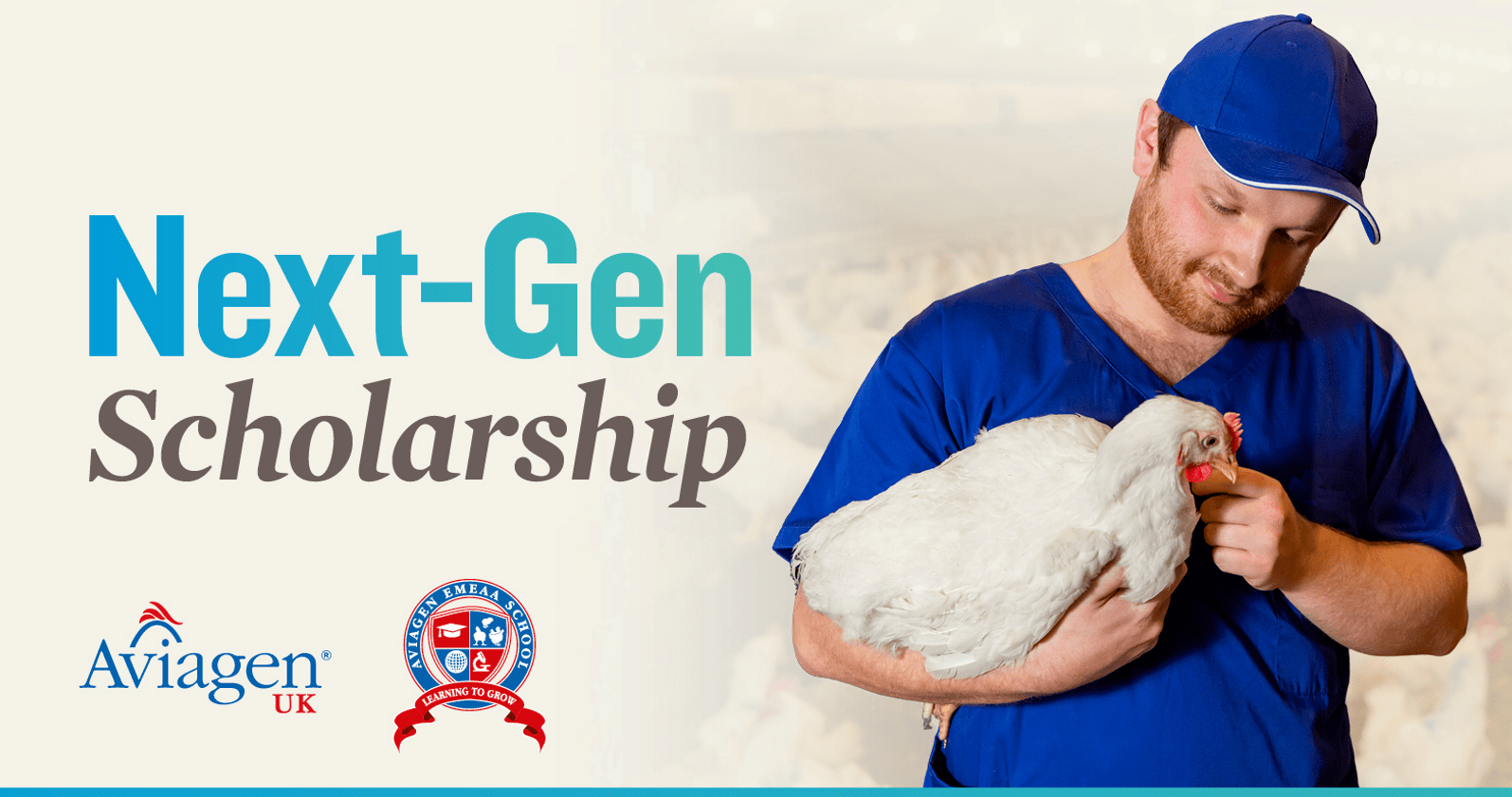 UK initiatives
Our UK scholarships and work placements offer real-world experience and insight into the UK poultry industry.
Next-Gen Scholarship. A recent initiative is our UK-exclusive Next-Gen scholarship, enabling two developing UK poultry professionals to participate in the Europe, Middle East, Africa and Asia (EMEAA) Production Management School in Edinburgh. One scholarship will be awarded for the Breeder Module and one for the Broiler Module. (Learn more about this scholarship here.)
University of Edinburgh. We cooperate closely with the University of Edinburgh, which has strong agriculture and animal science strands. Through this alliance, we endeavour to give student first-hand learning through placement opportunities.
Coming from a dairy farm in Northern Ireland, I have gained greater insight into the poultry industry through my placement with Aviagen. This insight includes the importance of consumer confidence, product quality and safety, and how the emergence and re-emergence of diseases will continue to pose a major challenge for the industry and its future. Good biosecurity and hygiene on farms are crucial as front lines of defence, perhaps the greatest lesson we have learned from the COVID-19 pandemic. I have gained invaluable skills and experiences that will no doubt help me with my future endeavours in the agriculture industry. ~ Lauren McNeill, University of Edinburgh Agricultural Science/Animal Science student who recently spent time on our farming base at Aviagen Limited in Scotland.
We also work on providing dissertation scholarships to help students gain understanding to assist with their university research projects with both the University of Edinburgh and Scotland's Rural University College (SRUC).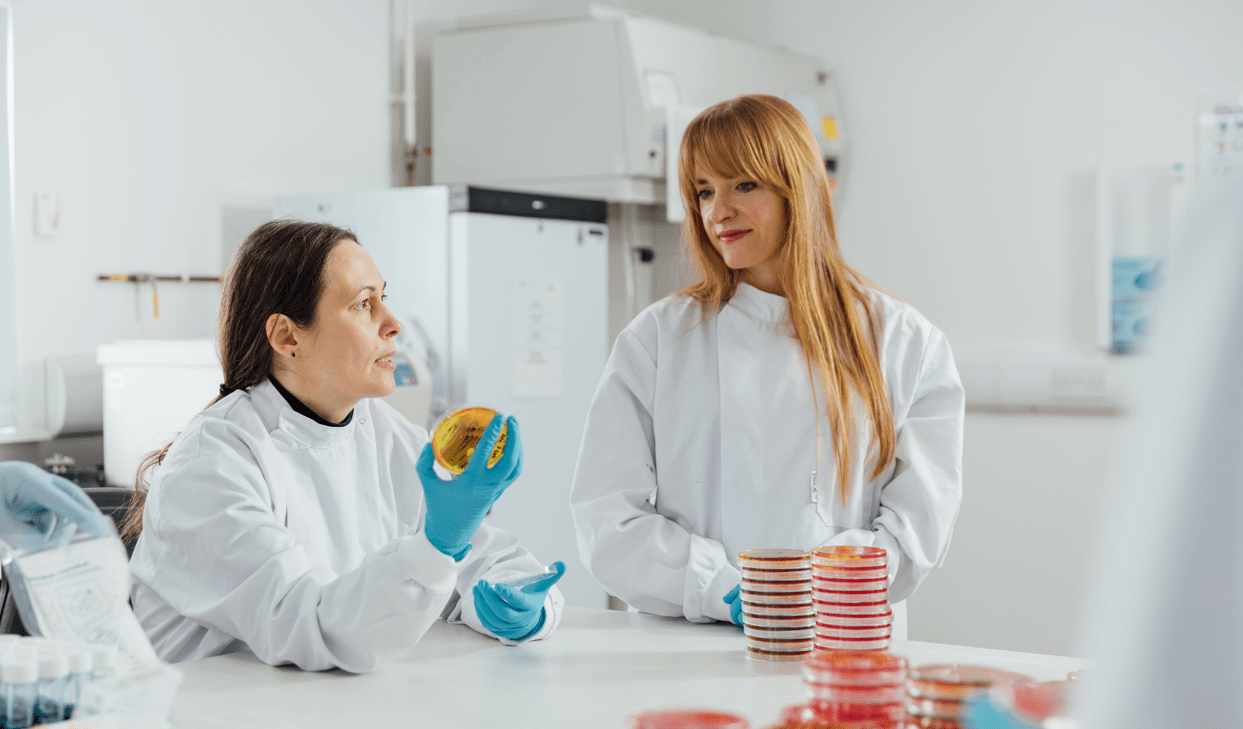 Harper Adams University. According to the QS World University Subject Rankings metric, an internationally accepted annual publication that uses proven metrics to capture university performance, Harper Adams now ranks number one globally for agriculture and forestry in the category of employer reputation. This is due to the growing popularity of the university's graduates among employers. Aviagen has a close and longstanding relationship with Harper Adams. Each year we sponsor Harper Adams University students through the British Poultry Council scholarship scheme. The selected students receive financial support, as well as a placement to enable them to experience various areas of our UK business. They gain real-world experience on pedigree, great grandparent and grandparent farms including hatcheries. Further broadening the experience, they then have a chance to spend three months at one of our overseas production facilities.
Coming from an agricultural background, I was in my element working in the production operations, watching various flocks at various ages and the management differences at these levels…I would definitely like to come back to Aviagen one day. ~ Wilson McLeister, 2018-19 Aviagen Harper Adams scholarship recipient. And he did make good on that promise, now serving as Grandparent Production Manager.
Aviagen UK Head of Human Resources Debbie Watson adds that Harper Adams has been a rich source of Aviagen recruiting. "We have a number of success stories of Harper Adams students among our ranks, some coming through the scholarship, others through work placements or joining the business after graduation. Aviagen values our relationship with Harper Adams and numerous institutions of high learning. They do a brilliant job preparing our youth for a fulfilling and challenging career in poultry."
Aviagen operations work reciprocally in their endeavours to develop the next generation of poultry people and Aviagen UK looks forward to hosting two students from Auburn University soon. Aviagen enriches the world of opportunities by broadening them beyond direct farming roles. For example, the UK also offers an Information Technology (IT) modern apprenticeship and an annual IT work placement for a university student.
Debbie explains, "These UK initiatives number among the numerous scholarships that Aviagen offers to students and young professionals around the world on a regular basis. As a global breeding company, we realise that the sustainability of our industry and the communities we serve depends on our ability to attract bright, innovative people with a passion to make a difference in feeding the world with a sustainable, affordable and readily available source of protein."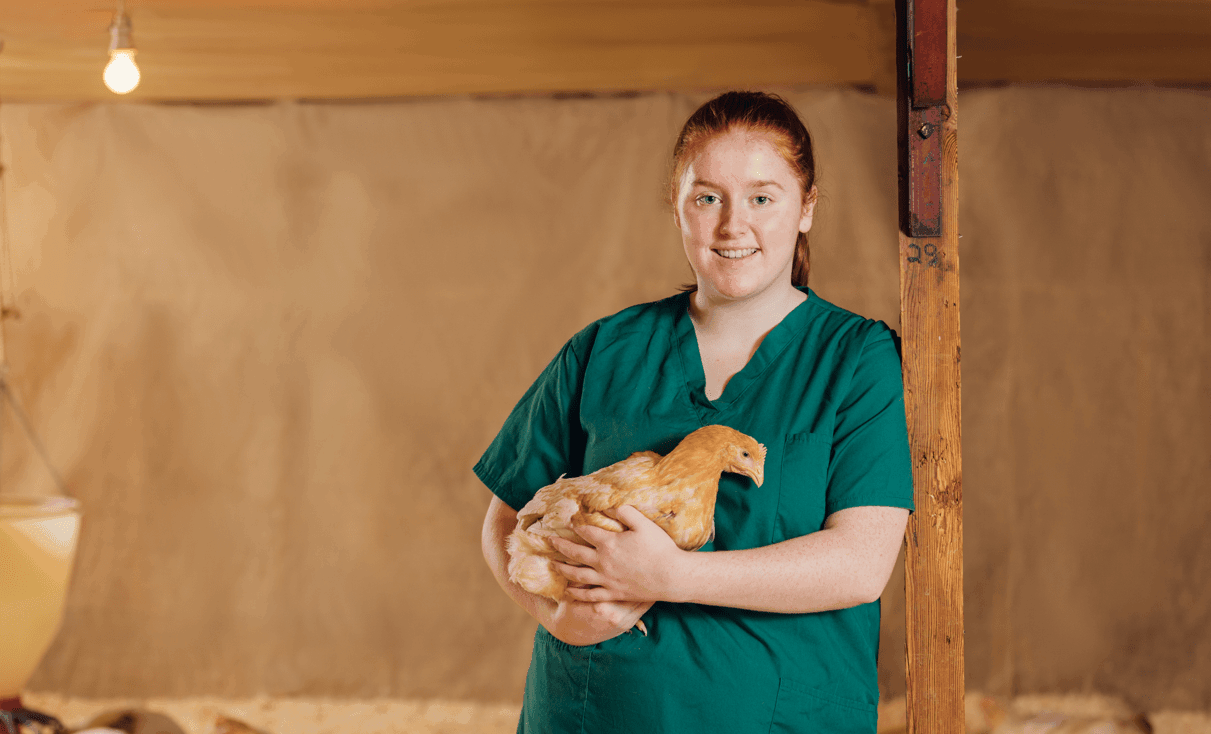 Programmes in North America
Aviagen North America believes in investing in education and offering opportunities designed to develop the industry's emerging talent at different stages of their academic career and in multiple areas of study.
Contributions to universities. Aviagen recently made financial contributions to universities across the southern United States. These are mainly schools with which we ally for research and for getting to know and recruiting students. Many funds were earmarked for poultry science department facilities, student fellowships and endowed professorships. To read more, you may link to our press releases below:
CPRC scholarship. Aviagen is a proud supporter of the Canadian Poultry Research Council (CPRC) and the great work it does to advance the industry and encourage aspiring students in poultry fields. In 2019 we debuted the Aviagen Poultry Genetics Scholarship as part of our annual donation to the CPRC. Recipients are often chosen based on the importance of their graduate research to the poultry sector.
The goal of my research is to promote sustainable poultry production and increase bird health and welfare by helping birds become more feed efficient. I am grateful to Aviagen for this scholarship, which will help me further my research and fulfil my passion to work toward continual advancements in precision agriculture to enrich our ability to help feed the world with sustainable and healthy chicken meat. ~ Thiago Noetzold, University of Alberta graduate student and recipient of the 2021 Aviagen Poultry Genetics Scholarship
High school scholarships. Every year Aviagen North America donates scholarships to high school seniors in communities where we have production operations. In 2021, we contributed to the future of 11 students with monetary awards to cover tuition and books at the college or university of their choice. Read more here.
Summer internships. This past year we were excited to host 12 students during our annual summer internship programme. The interns represented poultry, veterinary, and other majors at U.S. universities from coast to coast, and they spent May-September of 2021 gaining valuable, hands-on poultry breeding experience at our U.S. operations, including Veterinary Services, Quality Assurance, Grandparent (GP) and Great GP (GGP) Production and Research and Development. This summer internship is one of the many opportunities we regularly provide to poultry science students.
My internship with Aviagen Veterinary Services allowed me enhance my diagnostic skills and develop professionally. I was able to meet dozens of veterinarians whom I can reach out to as I approach my future career. More importantly, I formed friendships that will outlast my time at Aviagen, as well as an enduring excitement for what the future holds. I will forever remember this summer and look forward to working with this amazing group again as a member of the global industry. ~ Jennifer Irwin, 2021 Aviagen North America summer intern and pre-veterinary student at Virginia Tech University.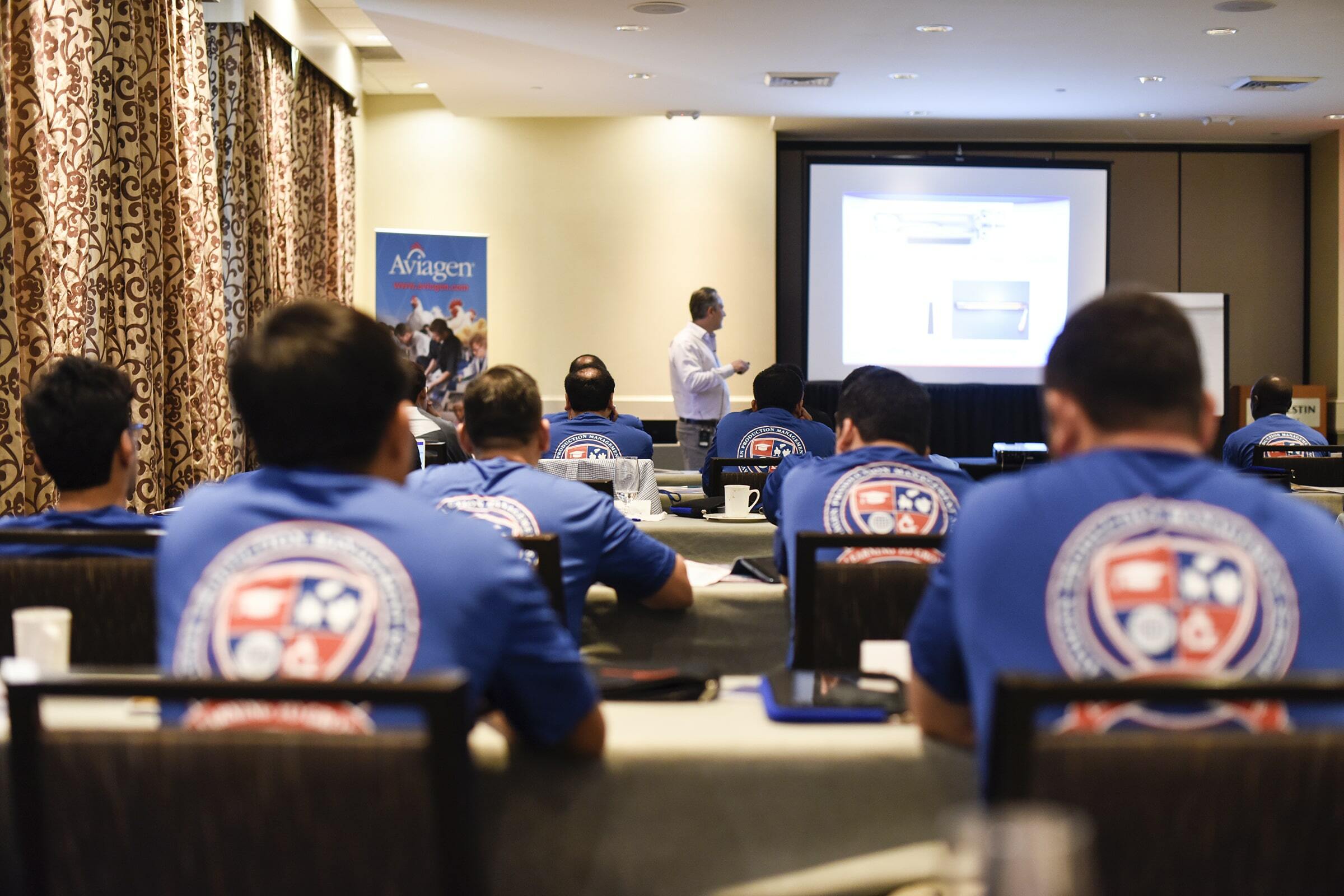 MAM scholarship. We routinely team up with BioChek diagnostics company to grant four scholarships supporting veterinarians who wish to pursue a Master of Avian Medicine (MAM) degree at the University of Georgia (US), home to a world-leading advanced degree in Aviagen Medicine.
Developing graduate students. We recently introduced the Aviagen Technical Development programme to help launch graduate students into an array of exciting careers, from nutrition to poultry science. This series of three to four rotations provides real-world experience in an array of areas, such as pedigree production, technical transfer and customer service, and a variety of geographical locations, including an international assignment. The goal is to help develop the best and brightest minds to be part of solving future challenges of our industry. Learn more at Career Development (aviagencareers.com).
‍Intro to Poultry Science class. Aviagen North America has been working with the Athens Technical School to offer an introductory study in Poultry Science for high school students across North Alabama in the U.S. Beginning in the spring of 2022, the programme is designed to give students insight into the world of poultry production. Aviagen specialists will teach and engage with the students, leading them through the care and expertise that go into producing a quality, affordable and sustainable source of protein for families in communities around the world.
Internship abroad. As mentioned in the UK section, this year we launched an internship abroad opportunity for Poultry Science students at Auburn (Alabama, U.S.) University to work during the summer of 2022 at our operations in the UK. Interns will have the chance to gain hands-on poultry breeding experience, presenting the results of their real-world project that they have worked on to Aviagen management at the end.
Engagement with Poultry Science Club students. Aviagen North America is actively involved with student clubs at the six U.S. universities (Arkansas, Auburn, Georgia, Mississippi State, North Carolina State, Texas A&M) that have dedicated Poultry Science departments. We regularly sponsor events and activities, offer speakers on helpful topics at club meetings, and more. We also mingle with students at career fairs at these universities and others in the proximity of our facilities. Our goal is to show them the modern, exciting careers that poultry can offer to bright, progressive and caring individuals.
According to Amanda Williams, Human Resources Business Partner for Aviagen North America, "Aviagen supports these initiatives and others around the world because we are committed to educating and encouraging our future poultry leaders and to promoting research and development that strengthen the sustainability of our industry. By contributing to education, the building block of sustainability, we feel we are helping to advance the industry and the world's communities by investing in their future."
Sponsored Article
---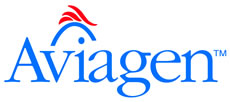 Our Partners
---