Poultry growing: manual feed distribution on chick paper no longer necessary
Introducing FLUXX 330 feed pan
To help farmers save time and provide broilers with easy access to feed, Big Dutchman now offers its FLUXX 330 feed pan, which has proven itself in poultry houses a million times over, with an automatic overflooding mechanism. The new feature makes the manual distribution of feed with a feed cart or chick paper in the first days of the batch unnecessary. "We have developed a mechanism that is activated centrally," says Big Dutchman product manager Philipp Klomburg, explaining how the innovation works. The flooding mechanism ensures that the chicks find feed quickly and constantly during their first days of life – an important prerequisite for an ideal chick start.
Overfilling starts when the Augermatic feed line with the pans touches the ground and stops when the line is raised. "Of course poultry managers can retrofit existing FLUXX 330 pans with the overflooding mechanism," affirms Klomburg. The retrofit is easily done by replacing the inner and outer cylinder.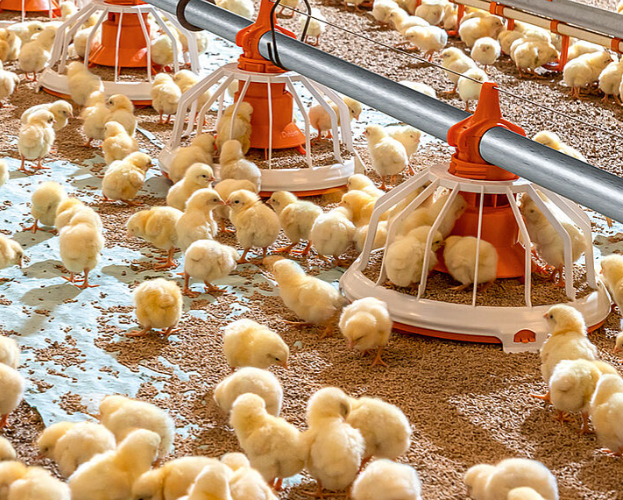 More advantages:
the pans can be overfilled at any feed level;
different overflooding amounts are possible;
the feeding window to be overfilled can be selected as required;
Augermatic feeding system: poultry managers the world over have been swearing by this Big Dutchman bestseller for years.