Automated Measurement of Foot Pad Lesions
By Welfare Quality®, Science and Society Improving Animal Welfare. This article was published in Update8 e-zine. The scoring of foot pad lesions in broiler chickens is one of the parameters of the broiler welfare assessment system that is currently being developed in Welfare Quality®.
Moreover, it is likely that foot pad lesions will be included as a welfare parameter in the European Council Directive for the protection of broilers in the near future. This means that an animal based parameter will be referred to in legislation, whereas until now housing related parameters are almost exclusively used. Scoring animal based parameters routinely is not easy. Thus far, foot pad lesions are measured at the slaughter plant by trained veterinarians. To automate this, video imaging might be useful. This technique is currently used to monitor aspects of carcass classification at the slaughter plant, like bruises and breast blisters.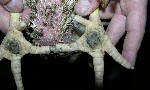 Foot pad - severe lesions © ASG-WUR
The Animal Sciences Group of Wageningen UR, Meyn Food Processing Technology BV and the Flandrex slaughter plant started a project with the objective to develop a prototype of an automated system to measure foot pad lesions in broilers at the slaughter plant. The existing video imaging system was quickly found to be unsuitable for measuring foot pad lesions. Therefore, a new camera system was developed and the best position identified: after removal of the feet just before the feet are automatically de-shackled. A prototype was installed in-line and images were made from 51 flocks. From each flock, 100 feet were selected and scored by a trained researcher according to the Swedish scoring method (score 0: intact foot pads; score 1: moderate lesions; score 2: severe lesions).

From these 51 flocks the prototype system photographed 95.8% of the foot pads. Missing images were caused by empty shackles, a wrong position in the shackle or feathers on the foot pads. The percentage of agreement with our scoring was 85.6% for score 0, 16.7% for score 1 and 77.8% for score 2.

It can be concluded that the prototype was successful with respect to the percentage of foot pads that can be photographed and scored. However, the software needs further improvement as it fails in scoring foot pads with moderate lesions. The camera system and upgraded software will be used in a new implementation task: foot pad lesions will be automatically scored in 120 flocks from 40 broiler farms (per country) in the Netherlands, Italy and the United Kingdom.

More information: Ingrid de Jong and Marien Gerritzen, [email protected]

April 2008