Biofuel By-Products Find New Life in Feed
Chicken nutritionists at the University of Georgia are studying algal meal, distillers grains and glycerin as ingredients for poultry feed, writes Stephanie Schupska for Georgia FACES.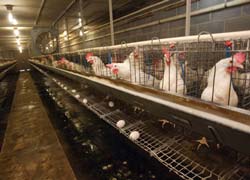 Chickens at the University of Georgia's poultry science facility.
Photo: John Amis/UGA
In recent years, poultry farmers and the US ethanol industry have been in an economic fight over corn, which is used to feed flocks and make biofuel. But there could be a viable solution. Biofuel leftovers can be turned into chicken feed.

"Biofuels are just another competitor for corn," said Amy Batal, a poultry nutritionist with the University of Georgia College of Agricultural and Environmental Sciences. "There's so much demand, and many people have been freaked out that there are not enough supplies of corn."

Ethanol demand has driven corn demand in the US, which produced 6.5 million gallons of ethanol in 2007, according to the Renewable Fuels Association.
Mixing in Algae
Companies are now looking to use the oil in algae to make biodiesel and hope to feed the remaining algae meal to poultry and other livestock. Dr Batal's research will determine if it is a feasible feed additive.

Biofuel by-products like algae meal can be added to chicken feed but first, nutritionists like Dr Batal have to make sure they are safe for chickens. And in the case of algae, that they will not make the meat taste like seaweed-wrapped sushi.

"If they use it, we have to know how it will affect not only performance but also if it will affect palatability of the diet, pellet quality and can it flow through a feed mill," she said.

She also wants to determine if and how algae might affect chicken meat and eggs. For example, "if you feed them too much fish meal, chickens can have a fishy taste," Dr Batal explained.
Ethanol Co-Products
Alongside her algae research, Dr Batal works with more common corn-based ethanol and biodiesel byproducts like glycerin and distillers dried grains.

Distillers dried grains have been around since whiskey was first produced. Due to the ethanol industry, there is a lot more of it now. It is an acceptable feed because it has protein, fat and phosphorus, Dr Batal said. Currently, 80 per cent of distillers dried grains goes to feed cows, eight per cent goes to swine and six per cent to poultry.

The problem with the grain, she said, is that its quality can vary, and it is not always available. But recent improvement in shipping straight from ethanol plants to feed mills has helped.
Biodiesel By-product
Dr Batal is also studying the use of pure-grade glycerin which can be used in cosmetics and soaps. The kind she is studying ranges in consistency from clear and water-like to dark and solid.

"What we've found is there's pretty much no one in the poultry industry using glycerin commercially," she said.

But as more companies are making biodiesel, the glycerin glut is increasing.

"If they can get a handle on the variability of glycerin and the price drops you may see glycerin in some poultry diets," she said. "Our studies have shown that it's relatively safe depending on what it has in it."

She has found that glycerin may be used in small amounts as a partial fat replacement in broiler diets. Too much of it will keep chicken feed from forming into pellets, though, the preferred form for chickens.

In the case of both distillers grains and glycerin, Dr Batal said that poultry producers should always test the products before they add them to feed.

There will likely be more by-products from alternative fuels to use in the future, she said.

"A lot of the ethanol industry is not mature," she said. "They're still making modifications to make more money, which affects their by-products."

April 2009