Brazil: Poultry and Products: Annual Poultry Products Report 2008
USDA Foreign Agricultural Service GAIN Report by Joao F. Silva, Agricultural Specialist. A link to the full report is provided. Broiler and turkey meat production to increase in 2009 by 5 and 8 per cent, respectively, reflecting strong export and domestic demand.
Report Highlights:
Post projects broiler and turkey meat production to increase in 2009 by 5 and 8 percent, respectively, reflecting strong export and domestic demand. The improved outlook for the Brazilian economy also supports higher domestic demand for animal protein in 2009.

Executive Summary
Post projects broiler and turkey production to increase by 5 and 8 percent, respectively, in 2009. The increase in production reflects strong export and domestic demand for both types of meat. Poultry packers, however, remain concerned about higher feed costs, despite record Brazilian corn and soybean crops.

The improved outlook for the Brazilian economy supports higher domestic demand for animal protein in 2009, as consumers' real income increased by over six percent in the past 12 months, and analysts project continued economic growth in 2009. Broiler consumption should benefit from higher disposable income since chicken meat is highly competitive in the retail market, compared to beef and pork. Broiler and turkey exports remain firm in the world market, and the Brazilian product is benefiting from disease free areas and competitive prices in most traditional poultry markets. Continued market promotion also helps to boost sales to emerging markets.

Commodity Outlook, Broiler
Production
Post forecasts an increase in broiler production in 2009 of 4 percent, supported by the following factors: a) increase in exports due to continued higher world demand; b) firm domestic demand; and, c) aggressive market promotion efforts in overseas markets.

However, the following constraints could affect the performance of the Brazilian broiler industry in 2009: a) continued appreciation of the Brazilian currency; b) higher production costs due to higher feed costs in spite of a projected record Brazilian corn and soybean crop in 2008-09; and c) possible new market access constraints in the European Union that may reduce exports of processed broilers to that market.

Animal Health Update
Since the outbreaks of Avian Influenza in Asia, the Brazilian government has encouraged the Chamber for Poultry and Swine to develop preventative measures against the possibility of Avian Influenza being introduced into Brazil. In addition to the animal health requirements, which are part of the National Poultry Health Program, several preventative measures have already been adopted, such as, tightening controls at ports and airports for tourists and visitors arriving from Asia, prohibiting importation of paddy rice from Asian countries, prohibiting visitors from Asia visiting Brazilian poultry farms. New restrictive import requirements for imported poultry genetics, such as day-old chicks, have also been implemented.

The "Regionalization of Sanitary Controls for Poultry" involves a protocol between six states from the center-south regions of Brazil. These states established tight border controls on transit of birds, eggs, and any other related poultry products and byproducts on interstate commerce.

The Brazilian government also published on April 10, 2006, Directive Number 17, which establishes the National Plan for Prevention of Avian Influenza and the Control and Prevention of Newcastle Disease. According to our trade source, the main problem with the implementation of Directive 17 is a lack of funds. The Brazilian government promised to allocate US$ 130 million for this plan in 2007, but funds have not been released yet.

Since 2002, Brazil has an inter-ministerial program to monitor migratory birds from the South Pole, Argentina, and Paraguay. In 2003, this program was improved to monitor and test birds with the potential to carry the Avian Influenza virus. The program is a joint effort of the Ministry of Agriculture, Ministry of Health, and Ministry of the Environment.

Production Factors
The following table provides an overview of the production of parent stock and day-old chicks in Brazil:

Note: a/ Monthly average quantities for layers.
Source: APINCO, UBA
Production costs
Although Brazilian poultry companies do not release production cost information, there are some representative costs supplied by trade sources. During the first half of 2008, the estimated average cost of broiler production reached R$ 1.67 per kilogram, live weight, up nearly 18 percent from an estimated cost of R$1.42 per kilogram, live weight, for the same period in 2007.

Post projects feed prices to increase during the 2008-09 crop year (October 1/September 30), in spite of an estimated record of corn and soybean crops. The new crop plan announced by the federal government will likely maintain the same volume of subsidized funds available to corn producers to finance their cost of production. However, poultry producers are concerned about the impact of ethanol prices on major world commodity prices. Also of note is that for the first time this year, Brazil will be producing biotech corn and trade sources estima te that up to 10 percent of the crop is likely to be biotech which is expected to increase yields.

Sao Paulo: Broiler production costs and wholesale prices for broilers (RTC), corn, and soybean meal: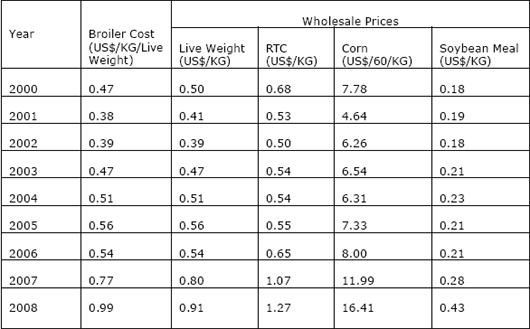 RTC= Ready to Cook
Source: Trade
Consumption
Post forecasts domestic broiler consumption to increase by nearly 3 percent in 2009. Current economic forecasts are for continued expansion of economic growth, inflation at lower levels, stable unemployment rates, and continued improvement in consumer purchasing power. Competition from other meats is not expected to affect broiler consumption since broiler meat is more affordable to lower income consumers than beef and pork. In addition, demand is expected to increase from the food service industry for products such as frozen chicken meals, pre-cooked meals, and chicken burgers.

There are no public statistics available on the break-down of domestic broiler consumption between whole birds and parts. Brazilian consumers still have an overwhelming preference for large whole broilers, although according to some market analysts, the structure of broiler demand is changing. There has also been a shift in consumption toward more highly processed broiler products, mostly among the Brazilian middle and upper classes. The traditional diet staples, rice and beans, are losing ground to animal protein products such as poultry, beef and dairy products. Large Brazilian poultry processors are responding to these changes by shifting their sales mix strategies toward broiler parts (mostly leg quarters and breast meat) and further processed value-added branded products, such as pre-cooked meals, chicken nuggets, and chicken burgers. The institutional, food service, and fast food markets also offer great potential for Brazilian firms. Tailoring products to these sectors' needs is the center of processors' new strategies.

Trade
Post projects broiler exports to expand by over ten percent in 2009. Our forecast is based on higher world demand for broilers due to the reduction of the concern over Avian Influenza, an increase in exports to traditional markets due to continued higher demand for the Brazilian products which are very competitive, and aggressive market promotion efforts by Brazilian poultry exporters in new markets. However, concerns remain about the European Union's possible restrictions, mostly for processed broilers.

Post revised export estimates for 2008 to include most recent trade data. During January- July 2008, exports increased significantly by over 13 percent, as compared to the same period in 2007. The increase is mostly attributedable to higher exports to Japan, Saudi Arabia, Hong Kong, United Arab Emirates, and Venezuela. The value of exports increased substantially by 45 percent during the same period reflecting higher average export price.

Policy
There have been no changes in poultry production policy since our previous annual report. For recent farm credit policy changes, please see BR 6611.

Marketing
The Brazilian Poultry Exporters Association (ABEF) was one of the first private organizations to implement its export promotion jointly with the federal government's market promotion agency (APEX). ABEF targets its promotional activities to traditional overseas trade shows, mostly in Europe, Asia, and the Middle East. Other promotion activities include in-store promotions, general media activity, and market research. Although similar to FAS's market promotion programs, ABEF also includes several market access activities such as eliminating sanitary barriers and conducting trade servicing. ABEF's 2008/09 budget for market promotion is estimated at US$ 4.7 million, of which APEX funds 45 percent.

Commodity Outlook, Turkey
Production
Post forecasts Brazilian turkey production to increase by 10 percent in 2009, primarily in response to strong export and domestic demand. In addition, some investment projects to increase turkey production are now in place, and production is now reaching the market.

Consumption
The projected economic growth of 4 percent in 2009, combined with an estimated lower unemployment rate, and higher disposable income, will likely contribute to keeping domestic demand firm for animal protein, benefiting turkey demand. However, most of this demand comes from the food service industry.

Frozen Ready to Cook (RTC) turkey consumption remains highly seasonal in Brazil, but this is changing rapidly. Trade sources estimate that 70 percent of whole turkey sales occur during the pre-Christmas period, because consumer habits in Brazil favor turkey consumption during this holiday season. However, processed turkey products, such as sliced loaf and nuggets are consumed throughout the year. Other frozen turkey entrees, like lasagna, pizza, and hamburgers are found in most supermarkets.

Trade
Post projects turkey exports to increase by 11 percent in 2009 due mostly to continued strong demand from the European Union. During January-July 2008, turkey exports in volume increased by 25 percent compared to the same period last year. The value of exports during the same period increased substantially more than volume, rising 53 percent, due to higher average export price.

Further Reading
Other Reports in this Series
To view our complete list of 2008 Poultry and Products Annual Reports from USDA FAS GAIN, please click here
September 2008