Canadian Poultry and Egg Statistics - April to June 2009
By Statistics Canada - This publication provides data on the production, supply and disposition and value of Canadian poultry meat and eggs for the second quarter of 2009.
Highlights
Value of poultry products increases
The value of all poultry products totalled $3.2 billion in 2008, a 13.1% increase from 2007. Sales of poultry meat, including turkey, showed an increase of 15.0% for a total value of $2.4 billion. The value of egg sales increased 7.9% from 2007 to stand at $823.0 million.

Canadian farmers produced 1.2 million tonnes of poultry meat in 2008. Chicken, including stewing hens, accounted for 85% of all poultry meat produced, up 1.2% from 2007. Turkey production stood at 180 thousand tonnes in 2008, an increase of 6.5% from the previous year.

The quantity of poultry available for consumption has continued to increase over recent years, reaching 13.6 kilograms per person in 2008, a slight increase of 1.5% from last year and well above the 11.7 kilograms available for consumption per person ten years ago. The introduction of varied and readily available easy-to-prepare and ready-to-eat poultry products appeals to the time conscious consumer and has contributed to poultry's on-going popularity.
Chart 1
Value of poultry products, Canada, 1999 to 2008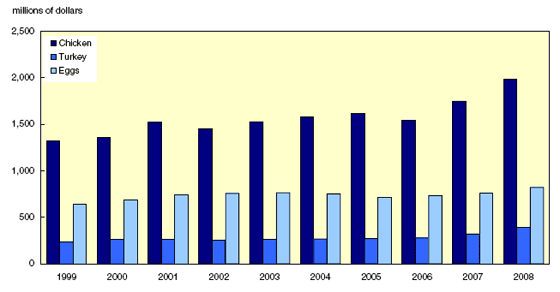 Chart 2
Poultry meat production, Canada 1999 to 2008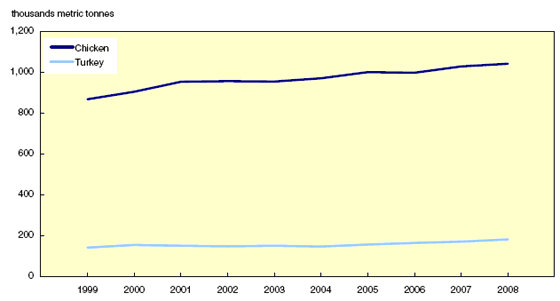 Chart 3
Quantity of meats available for consumption, Canada, 1999 to 2008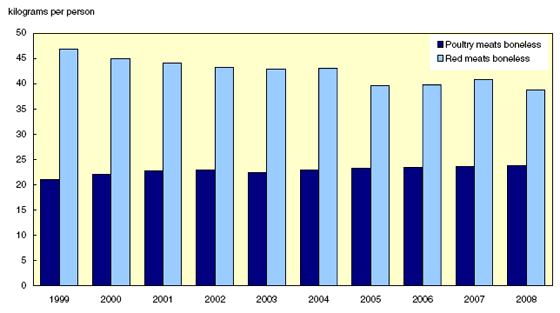 Egg production increases in 2008
Egg production was 579.9 million dozen, an increase of 0.4% from 2007. The central region produces over half of the eggs in Canada with Ontario producing 227.8 million dozen eggs and Quebec producing 100.5 million dozen.

During the first 6 months of 2009, egg production totalled 283.3 million dozen, a decrease of 1.7% from the same period in 2008.

Annual egg consumption has stabilized in recent years and was pegged at 12.0 dozen per person in 2008, following a decrease in 2007. Generally, the recent sustained growth in eggs available for consumption can be attributed to the publicity surrounding the nutritional benefits of eggs, the increased use of eggs by the food service sector, the growing popularity of value added products and the expanded use and availability of processed egg products.
Chart 4
Production of eggs, Canada, 1999 to 2008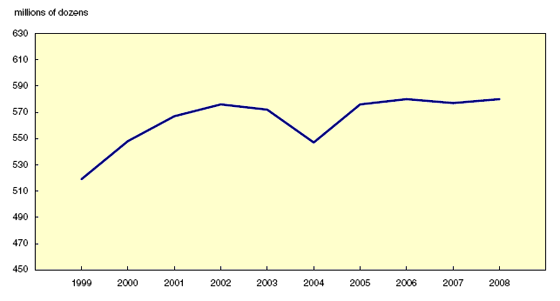 Chart 5
Quantity of eggs available for consumption, Canada, 1999 to 2008
Further Reading
September 2009