Challenges Facing the World's Poultry Industry
Dr Paul Aho of Poultry Perspectives in the US predicts a promising future for global poultry production, even in the face of diminishing natural resources and a worsening in the economic situation. Jackie Linden, editor of ThePoultrySite, presents the highlights of his recent presentation.
"The big picture is the need to feed the world," explained Dr Aho in his presentation at the 2010 Poultry Market Intelligence Forum in Atlanta earlier this year.

He said that, according to conventional wisdom, agricultural production will double in the next 40 years. "But what if that doesn't happen?" he asked. It is a possibility that future grain production could be held back by soil and water reaching their limits.

After a decline over many decades in the cost of a million calories of energy from $400 in the 1970s to just over $100 at its lowest in the early 2000s, the cost appears to be on its way up again, already at around $150.

The current per capita consumption of meat and eggs is 43kg for the present global population of seven billion. By 2050, the population is projected to increase to nine billion but, asked Dr Aho, will the average consumption by then have risen to the projected 60kg or drop to 30kg? Compared to current total output of 304 million metric tons (mmt), the total requirement would be 540 or 270mmt, respectively.

Dr Aho predicted that poultry meat and egg output will increase between now and 2050, whether there is a crisis on world resources or not. This would be 150mmt if there is no crisis, or 40mmt in case growth is limited. Most of the increase, he said, is likely to be in middle-income countries in Asia, Eastern Europe, the Middle East and Latin America. Because egg production is even more efficient than poultry meat in terms of resources, world egg production would be reduced only marginally in case of a crisis.

Future success will depend on the competitiveness of the industry,said Dr Aho. Countries with this advantage are those that export grain or have low tariff barriers on feed ingredients, those with a good general business climate, and those where labour costs are low.
Impact of Oil on the Poultry Industry
As well as natural resources, soil and water, another vital element in the future is that of the oil suply, said Dr Aho, because of its close link to the price of corn (maize). World oil production may reach its peak between 2030 and 2050, and extraction of oil from wells existing today will tail off over the coming years.

Dr Aho said: "We need eight times Saudi Arabia's output to meet our oil requirement by 2040."

Oil prices are expected to return to their 2008 peak again as soon as 2012. With corn and oil prices historically so closely linked, oil prices of $50, 70 or 90 per barrel would push corn prices up to an estimated $134, 188 and 240 per tonne, respectively.

In 2010, an estimated one-third of the US corn crop will be used for ethanol production, and it is projected that, by 2015, the amount of corn going into ethanol production in the US will be 150mmt, which is about 50 per cent of the amount going into poultry feed worldwide. Dr Aho added that the amount of feed going to the world's poultry industries has increased relentlessly from around 130mmt in 1985 to an estimated 320mmt in 2010.

Although feed costs have fallen from their peak in 2008 of 32 US cents per kilo, they are rising again towards that record level. Dr Aho predicts the per-kilo price to approach 30 US cents by 2012.
Poultry Meat Consumption Follows GDP
It is accepted that meat becomes a luxury for a larger proportion of the population during an economic recession, and a recession can therefore provide a preview to the limits of growth (if such limits exist).

2009 saw negative growth in the world economy or the first time since the 1940s, and falling incomes are bad for meat consumption. However, average income is expected to rise in 2010 and again in 2011, and this trend could stimulate a growth in average meat consumption again.

Dr Aho demonstrated how chicken consumption closely matches the pattern in world average gross domestic product (GDP). The relationship broke down in 2006 because of the extraordinary occurrence of avian influenza but it has since returned.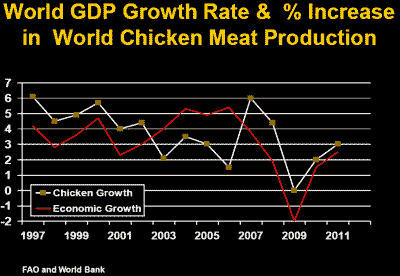 World poultry production increased by an average of four per cent per year during the 20th century, but this is expected to halve to just two per cent annually in this century.

By adjusting for inflation and using 2000 levels as a basis, Dr Aho showed how the cost of producing each live kilo of broiler fell from 80 US cents in 1985 to between 54 and 57 cents for the period from 1990 to 2005. For 2010 and 2015, the costs are expected to be 80 cents and $1, respectively.

Should there be a crisis in the supply of grains, Dr Aho predicts that poultry meat output may be impacted and fall before that of eggs.

The factors that influence the production of poultry meat and eggs, he said, are real income per capita, the distribution of that income, the cost of grain and the size of the human population.

"Poultry will do well despite higher grain costs," said Dr Aho. This is because, at around 2:1, feed efficiency is better for poultry meat than pork (3:1) or beef (4:1), largely thanks to the tremendous progress made by broiler genetics companies over the last 50 years or so. Another important factor is the difference in water requirement: 3,000 litres for chicken compared to 6,000 litres for pork and 16,000 litres for beef.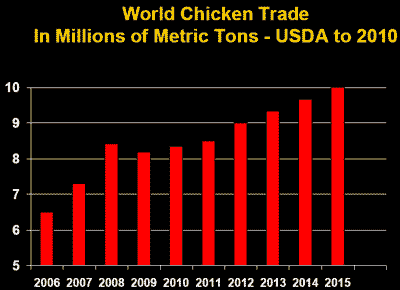 Future Trade in Poultry Products
"Trade is likely to increase in future because it represents a way of importing water," said Dr Aho.

And water could become a significant factor as drought in just one major grain-producing country can hit world stocks, as shown following the 2008 drought in Australia on world wheat stocks.

In 2009, leg quarter prices peaked in June but this year, prices are expected to remain lower than in 2009 and peak slightly later. They are, however, likely to remain higher than 2009 for the second half of this year, Dr Aho reckons, on the assumption that agreement will be reached with Russia over the use of chlorine in the processing plant by that time.

He explained that the Russian Federation has historically been a leading destination for US poultry meat exports but that government's current policy to increase self-sufficiency in many basic foods (including poultry meat) means that US exports to Russia could cease after 2012, even if agreement can be reached over the present dispute.

Dr Aho expects the situation over the price of deboned breast meat to be similar to that from leg quarters, with slightly lower prices than 2009 for the first half of the year, and higher prices for the rest of 2010.
April 2010